Rainbreakers announce they'll be supporting Wille and the Bandits on tour in 2019
5th March 2019
Rainbreakers are delighted to announce that they'll be supporting Wille and the Bandits on tour, as their special guests, in March 2019
Shrewsbury based four-piece Rainbreakers expertly brew up the anger, anguish and frustrations of modern-day life and bottle such feelings into charged, passionate songs delivered by Ben Edwards' forlorn, poignant vocals, carried by melodies that artfully alloy and interweave blues, soul and gritty garage band rock. What's more, as gig-goers and Rainbreakers' growing fanbase will tell you, it's brought to life by committed, passionate performances.
Vocalist and lead guitarist Ben Edwards says "We are really excited to be out on the road again with our friends Wille and the Bandits. It's great to be around other musicians who have a similar mindset to ourselves to the business and outlook on life! We really connected with them last time we were on the road, and this time we are out for a month which will be a hoot!"
Touring with such kindred spirits brings Rainbreakers' distinctive 
blues, rock and soul to a range of UK venues, giving new fans and old fans a chance to sample and soak up their introspective brand of 
brooding, quintessentially English-rooted-rock.
Of the forthcoming tour, Ben reflects, "It's the longest tour we will have done which we are eager to do and play our most extensive set of dates across the U.K. for the first time! It's always good to play in new places to new faces and that is what this tour will be about for us. Though we do hope to see some familiar faces too!
It's crazy to think that our small band from Shrewsbury, Shropshire with no label behind us is able to join a national support tour like this, and this is just the beginning! We are already booked to play in several new countries this year which is incredible. We are indebted to bands like Wille and the Bandits for gifting us the opportunity to come and open on their tour and play to new audiences. It helps us grow and we are very thankful to them and their team for having us along for the journey."
Rainbreaker's highly-anticipated debut album 'Face to Face' dropped in August 2018, having been recorded at Monochrome Studios with renowned producer Tom Gittens (who's worked with Robert Plant and Broken Witt Rebels).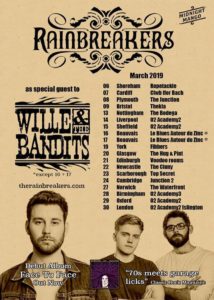 Tour Dates
MARCH
Wed 6th Ropetackle Arts Centre, Shoreham
Thu 7th Clwb Ifor Bach, Cardiff
Fri 8th The Junction, Plymouth
Sat 9th Thekla, Bristol
Wed 13th Bodega, Nottingham
Thu 14th O2 Academy 2 , Liverpool
Fri 15th O2 Academy 2, Sheffield
Sat 16th Le Blues Autour Du Zinc
Sun 17th Le Blues Autour Du ZInc
Tues 19th Fibbers, York
Wed 20th Hug and Pint, Glasgow
Thu 21st Voodoo Rooms, Edinburgh
Fri 22nd The Cluny, Newcastle
Sun 24th Junction 2, Cambridge
Wed 27th The Waterfront, Norwich
Thu 28th O2 Academy 3, Birmingham
Fri 29th O2 Academy 2, Oxford
Sat 30th O2 Academy 2, Islington