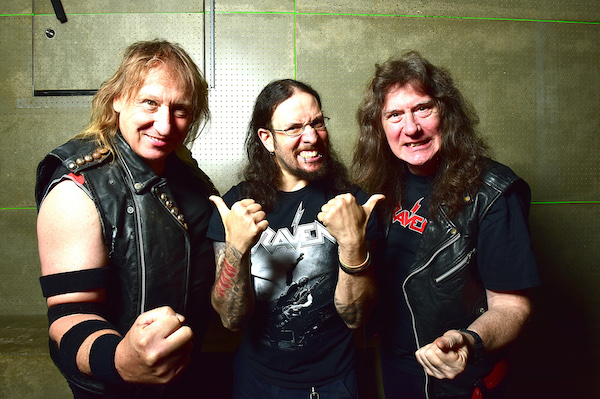 RAVEN ***Seminal British Heavy Metal Trio's Stunning New 'Metal City' Studio Album Released September 18th On Steamhammer / SPV***
11th August 2020
0
By
John Deaux
New Wave Of British Heavy Metal legends Raven have announced the release of 'Metal City', their first new studio album for five years, on September 18th on Steamhammer / SPV as a Digipak CD, 140 gram purple vinyl LP (with printed inner sleeves), download and stream. 'Metal City' picks up from where 2015's hugely acclaimed 'ExtermiNation' album left off, packing an even more exuberant musical and creative punch than its mighty predecessor – which was hailed "A superpowered album of pure crackshot heavy metal" by Classic Rock's Geoff Barton in his 8/10 July 2015 album review.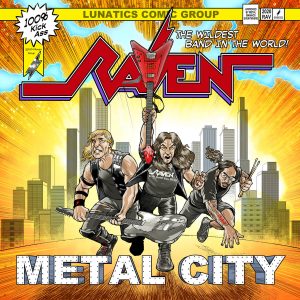 'Metal City' marks the arrival of new drummer Mike Hellor (Fear Factory, Malignancy), who replaced long-standing drummer Joe Hasselvander after he suffered a heart attack (putting an end to his active music career) immediately prior to Raven's Spring 2017 US tour. "Our initial goal was just to raise the bar once more. We did a good job on 'ExtermiNation' and decided we just wanted more of everything next time," grins bassist / vocalist John Gallagher; "however things changed once we got Mike on board. Attitude and tempos got revved up a lot! Mike is a ball of energy. He has a good ear and is a big fan of the early albums, especially the crazy feel. He's kicked us into a higher gear where we feel that we can play anything and everything we write with no restrictions."
'Metal City' is the sound of a band who have evidently pushed the envelope to up their game to the next level, perfectly combining their classic strengths with exhilarating, contemporary influences. Gallagher notes that "We definitely have a couple of traditional Raven rock & roll tunes on the album. 'Top Of The Mountain' definitely has lineage to the past. Also 'Not So Easy' has a bit of that early vibe. Besides that there's so much aggression in songs like 'Human Race', 'Cybertron' and 'Break'."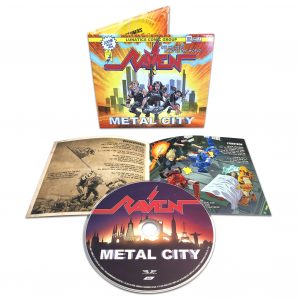 The album's title track itself is a homage to the Gallagher brothers' hometown; "Newcastle upon Tyne has been referred to as 'Metal City' for good reason. We come from there for a start. But it's about a mindset, the people there have a tenacity and an ability to go beyond the limits to get to where they are going." Gallagher also reveals that "'The Power' is our Game Of Thrones song, all very cut-throat! 'Break' is a kind of anarchistic rallying cry, and 'Cybertron' is all about the surveillance state and the AI singularity, disaster porn. 'Human Race' is just blistering, then we change gears radically in the middle. You also have our little epic 'When Worlds Collide' and a few with an anthemic feel like 'Battlescarred' and 'Metal City'. But there's serious left turns in all the songs." The album's striking cover artwork, meanwhile, reflects the band's notorious sense of humour; "it's a comic book inspired theme, we are all lunatics and we figured we all wanna be superheroes, so we went for it".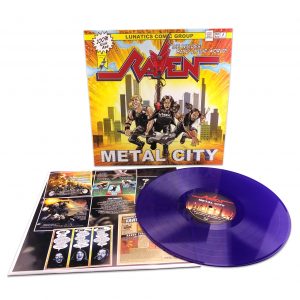 'Metal City' was recorded at production legend Michael Wagener's studio in Nashville; "The album was produced by us, Mike Heller engineered his drums and Michael Wagner engineered everything else. We then turned the tracks over to a guy called Zeuss who did a great job mixing and mastering it. So it's been a departure for us process-wise. We kinda got dragged into the 21st century kicking and screaming…but the new tools are great as long as you use them, and they aren't using you."
How useful was this post?
Click on a thumb to rate it!
Average rating 0 / 5. Vote count: 0
No votes so far! Be the first to rate this post.
Related
About the author
Some say Yank My Doodle, It's A Dandy! is a biographical movie based on John. Some have even said that his favorite artist is Chesney Hawke! All we really know is he sleeps inside out and his hair tastes like candy floss.