Skarlett Riot – Bannermans Edinburgh – 24/02/16
28th February 2016
0
By
John Deaux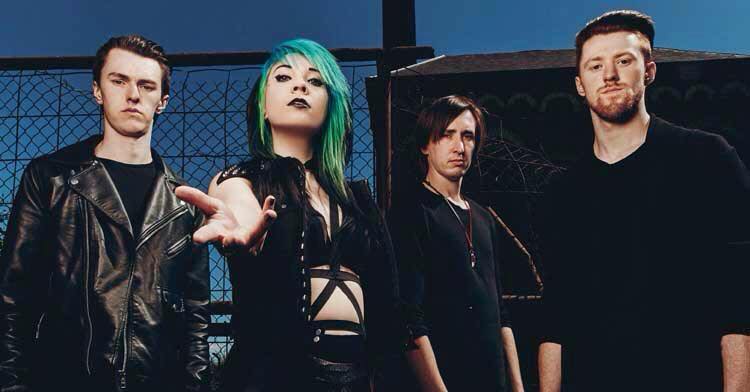 Skarlett Riot are one of those bands that give me hope for the next generation of rock & metal that are coming through.
Despite being under the weather, Chloe was absolutely banging & delivered a vocal performance to be proud of. She is one hell of a front person & soon has the audience eating out of the palm of her hand.
It's not often you have a female fronted hard rock & metal band that doesn't have operatic vocal gymnastics.
Drummer Luke is like a neanderthal behind the kit. Tenderising the skins to be thrown on the BBQ later.
Martin is a solid bass player & seems to have a lot of fun in his own little world.
Danny is a very cool guitar player. Solid rhythm & leads. Nothing flashy but perfect for Skarlett Riot.
Skarlett Riot may only be a 4 piece band but they have such a large sound & the certainly don't lack confidence.
After a short intro tape the opener Divide Us, taken from new release We Are The Brave (available here), pummel the audience into submission. For those who had no idea what was coming were thrown backwards by the sheer force of this band.

From then on there was no letting up for this Scunthorpe based quartet & the Edinburgh audience.
Cascade & Wake up are the other new tracks taken from We Are The Brave, fit in so well with the older material which is taken from their debut album Tear Me Down (available here).  Both of which are well worth purchasing.

Although it was just a short set they were phenomenal & it's no wonder why they were added to the Devilskin tour
If you get a chance to see Skarlett Riot in a town near you & it's a nice intimate venue, don't waste anytime thinking about it, just go, as next time round they WILL be playing bigger & better venues.
They are going to be one of those bands that you will say that you saw at "insert small venue here" & people either won't believe you or be in total shock n awe that Skarlett Riot were that unknown.
This is one band that I'll personally go & see again when they are next up in sunny Scotland which hopefully wont be too long as there's new material in the pipeline (more on that at a later date).
Line Up
Chloe – Lead Vocals/Guitars
Danny – Guitars/Backing Vocals
Martin – Bass/Backing Vocals
Luke – Drums

Set List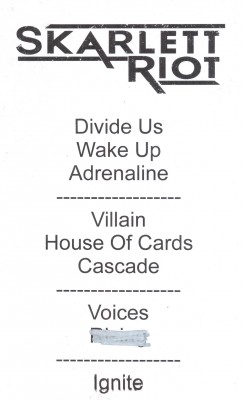 Score 8.5/10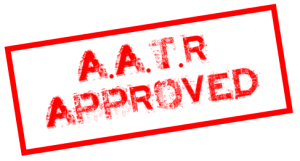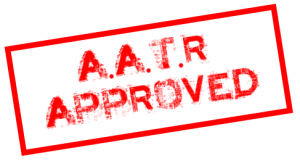 Bannermans is such a great venue & Heff did a great job on the sound as always.
How useful was this post?
Click on a thumb to rate it!
Average rating 0 / 5. Vote count: 0
No votes so far! Be the first to rate this post.
Related
About the author
Some say Yank My Doodle, It's A Dandy! is a biographical movie based on John. Some have even said that his favorite artist is Chesney Hawke! All we really know is he sleeps inside out and his hair tastes like candy floss.