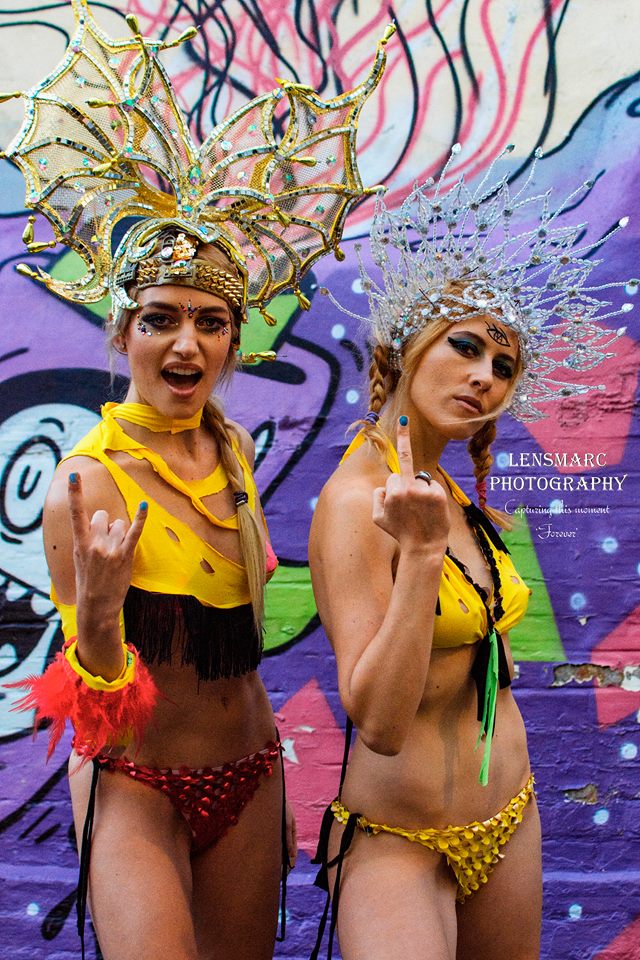 The SoapGirls are REVOLT ROCK
15th May 2018
The SoapGirls Armed with unforgettable melodies and catchy choruses, The SoapGirls energy, rawness and authenticity live, has earned them a formidable reputation.
Performing continuously throughout 2017, these fearless French-born sisters Millie and Mie, have slayed critics and earned a dedicated group of followers known as the 'The SoapSuds', who follow the band across the UK and Europe.
The SoapGirls are society's rejects and their punk credentials were rubber stamped by scintillating performances at the legendary Rebellion Festival last year and such was the their success that they were asked back to play the Blackpool event again in 2018. The SoapGirls write outsider anthems that are androgynous, audacious and straight from the heart. Following the release of their album ​Societys Rejects,​ features on their band have appeared in Classic Rock, The Mirror and Vive Le Rock, while their last two singles were played on BBC Radio and play listed by Planet Rock Radio.
Fighting prejudice and haters with a sword of honesty and a shield of integrity The SoapGirls have endured much, but have always risen above those that have sought to derail them. The girls shine during their exhilarating, firework-strewn live performances, putting inclusivity and freedom of expression at the core of each show.
They are keen to show that music should be for everyone and everyone should be free to be themselves. Alluring, hypnotic and nonchalant The SoapGirls started their career in Cape Town performing as street artists for eight years and were given their name by the general public. "We have been The SoapGirls since we were 8 and 9 selling hand-made soap and street performing for various causes, we did this 365 days of the year for 9 years". At twelve and thirteen they began their recording career and signed to Universal Records releasing their debut album in 2011 which topped the domestic charts. After conquering South Africa, The SoapGirls with their thirst for knowledge and justice, wanted to broaden their musical horizons, leading them first to stages in the United States and then the UK and Europe, with a determination to fight against struggle and heartache.
The SoapGirls first toured the UK 2015, releasing their first independent well received album ​Calls For Rebellion,​ with one critic accurately calling the album "Raw, catchy, anarchistic Rock and Roll​." Guitarist Mie sets the pace beautifully as she powers through each song with a certain style and grace, that captivates every audience. Her biggest musical influences are Fleetwood Mac, Joan Jett and the Blackhearts, Heart, Nirvana,The Butthole Surfers and R.E.M and prefers more chilled out melancholy music.
Bass player Millie is a fan of heavier music from acts like Alice in Chains, Marilyn Manson, The Smashing Pumpkins, Korn, Alanis Morrissette, Hole, Aretha Franklin, Nirvana, Napalm Death and L7. This is evident in her performance as she connects and hypnotised the crowd. Both Millie and Mie swap vocal duties giving them scope to show their individual nature in a way that adds to The SoapGirls dynamic. Their common ground is grunge, but their ethic is punk. What's in a genre anyway? It's all music at the end of the day.
The SoapGirls remind us that music can still be straight to the point, efficient, honest and exciting, so brace yourself for The SoapGirls's next chapter​.
Stinks Like Punk Tour – April-December 2018
I was invited along by The Soap Girls to take some photos and see what I thought of their gig at The Swan in Ipswich.
I had only seen the girls on YouTube and obviously checked out their Facebook page, so I wasn't familiar with them at all, but the music was right up my street and I was intrigued by their look and style.
I arrived early to check out the The Swan as I had never been, get my bearings and settings ready for their arrival. The first words I heard upon my arrival was "Soap girls", this was a band that was generating excitement already. I found the pub staff friendly, accommodating, the atmosphere electric with people in the courtyard and pub that were there for one thing, Live music. They were certainly not going to be disappointed tonight.
First Impressions.
'It's About The Music'
As the staff were awaiting the arrival of The Soaps Girls there was banter about a large pink bus with fluffy pink dice delivering the girls, but they arrived in an older minivan, dents, rough around the edges and packed to the ceiling with band gear, it was instantly clear to me, these girls were about the music.  The manager Sam got out first and without even a pause shook hands with the pub staff, introduced herself in a friendly casual way, looking on, it dawned on me that she was protecting the girls, diverting attention so the girls could get out of the van and sorted out before appearing round the side to introduce themselves.
The first thing I saw when The Soap Girls appeared, was their smiles, beaming, now bearing in mind these girls have been touring hard with few days off, there was no sign of tiredness or attitude other than genuinely pleased to have arrived to gig. I will never forget that first impression.
The girls were wearing see through high-heeled boots, a short fake fur coat and bare legs, dressed pretty much identical at this point, other than Ca(mille) was wearing a fancy head-dress, a work of art. No doubt I will get shredded for saying this, but, I was surprised, that as soon as the girls had introduced themselves, they started unloading the van, carrying heavy cases across the road, into the pub. Before you scream sexist, it wasn't that, these girls were wearing thongs, maybe 4" heels (being a bloke I have no idea how high the heels were, but they were long and thin) and Noe, a headdress that was apparently more secure than it appeared as it didn't fall off. All the band, the drummer/driver, the manager and the girls emptied the van with equal effort.
The Interview.
'Fuck The haters'.
Once the girls were settled in, I took them into the pub courtyard for a few photos and an informal interview. In front of the camera the girls flowed, though the sisters look similar, Ca had the more 'aggressive' pose whilst Noe(MIE) the sweeter, and whilst talking with them, Ca spoke with me the most. I certainly wouldn't call Noe shy or reserved, but Ca appeared to be the more upfront of the two.
I asked the girls why their Facebook profile picture had Fuck the haters written on it, Ca answered, "we have haters, which I could understand to some extent if they hated our music, but actually they hate how we dress, our nudity, they need to get over it and realise there are far bigger things to hate in this world than skin, that's all nudity is, skin, we all have it, we all wear it, there is no big deal about skin and showing it". Ca continued, "We have had guys speaking to us after a gig saying for the first minute they would be staring at our nipples but very quickly the nipples became forgotten, they got used to seeing it and nipples no longer mattered".
One thing that became apparent very quickly about these girls is their 'mirror attitude'. These were two pleasant women, treating everyone with smiles, respect, having time for anyone that wanted a selfie with them (our informal interview was over very quickly as fans constantly interrupted for selfies or a chat), but the girls didn't mind at all, even though they were tired and trying to fit me in, get ready to gig etc, not once were they rude, I have seen far less popular bands ignore fans, even rudeness, but not these two. Yet, it was also apparent the girls had thick skin, insomuch as Ca saying, "Sometimes people heckle us, we give them what they give us, if they continue we give them worse than they give us". Do not underestimate The Soap Girls, they are driven, they have attitude, they have thick skin, they will mirror your attitude to them, but, they are refreshing, speaking with them I came away smiling, thoughtful, happy but most of all, looking forward to hearing them on stage.
The gig.
'There is no music without fun'
The girls stood on the very small stage, a stage far too small for their personalities, as Ca introduced themselves the banter started, aimed at her sister and the drummer. The poor drummer hahaha, I am laughing now as I remember the girls verbally shredding him throughout their set, yet throwing him compliments too, you can see the respect they have for each other, the unity, a team of good friends.
As I took photos of the gig I noticed the crowd were a healthy mix of females and males, of all shapes and sizes, there was no heckling, only headbanging/jigging (I can't call it dancing as there was barely room to squeeze a mouse through the crowd and I was at points photographing from outside, through the bursting doorway). Their whole gig was loud, relevant, very entertaining. On a couple of occasions, they called for a few members from the crowd to join them on stage and interact with them, one time a male and female fan were to drink from a bottle of alcohol from Africa, which they did with valour and became very drunk, very quickly. Another time two male fans were invited on stage, stripped, put in adult nappies with chocolate mouse inside and waxed by two female fans.
The set was 90 minutes of pure energy which consisted of 21 songs, ending with champagne cocaine. The entertainment, with bursts of morals here and there, such as their strong dislike of 'cheaters' seemed like 30 minutes, the whole crowd were with The SoapGirls, singing, laughing, jigging along.
At the end of their set, I noticed females flocked to The Soap Girls, asking for selfies, giving the girls high praise and having quite lengthy chats with both parties laughing and smiling. I saw nothing to suggest these girls had upset anyone. In fact, the queue for T-shirts afterwards, again men and women buying, having selfies and still, the girls had time for their fans, whilst dealing with money, photos, questions, praise and packing up their gear.
Summary.
'There is nothing to hate'.
The Soap Girls gave no one a reason to dislike them, sure their music may, or not be to your taste, but that is true of every band, sure their dress code may not be to your taste, but neither would mine be, we are all individuals and these women make good use of women's rights, the right to be who they want to be.
The girls will be judged, no doubt by shallow people who see too much skin and all too quickly make assumptions, but how wrong those people are. These girls work damn hard on their music, on their stage act and on their life, the girls have strong ambition to make it and by sheer hard work, making time for their fans, enjoying what they are doing and most of all their music and stage performance, these girls are getting where they want to be, with bookings in America coming and talk of Australia. I wish them all the best and hope to see them again, soon.