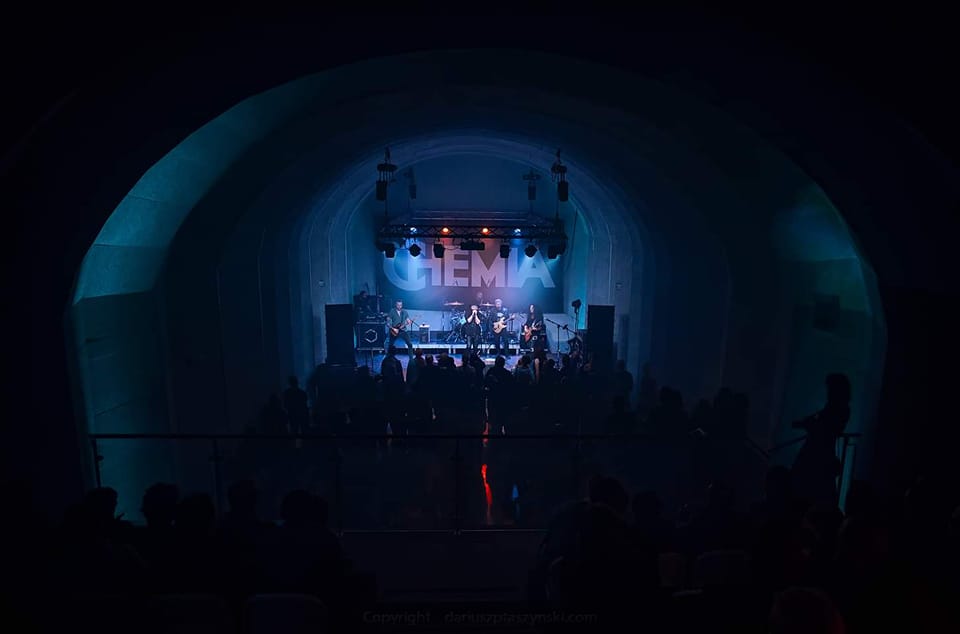 'Something To Believe In' from respected Polish rockers Chemia
22nd March 2022
The Warsaw-based rock band Chemia will release 'Something To Believe In' on 29 April 2022 through Absolute Label Services; the first single from the album 'New Romance' will be released 18 March. The album was produced by Andy Taylor [Duran Duran, The Power Station] and he also worked with the band on lyrics. 'Music has the power to break down barriers globally and is all about breaking rules,' says Frontman and singer Lukasz (Luke) Drapala. Given that the band have now turned their efforts from music to helping coordinate the efforts to support the refugees heading for sanctuary in Poland, the title perhaps has taken on a new significance. This being said, the band announces to waive 25% of the income from the album and single sales and donate to the Polish-Ukrainian Institute of Assistance and Development
"The word Chemia means Chemistry," explains guitarist and founder of the band Wojtek "W" Balczun. "It is all about exploring, nurturing and discovering our musical chemistry as a band and how we interact with each other as musicians and how this also resonates with audiences too. I guess our goal is like that of the best alchemists to try to create something extremely unique special from our music. Often with music it needs creative triggers and some 'Je ne sais quoi' to help inspire the writing process."
Having Andy Taylor in the chair on 'Something To Believe In' is perhaps no surprise, Chemia have a history of working with great people to get the very best out of their sound. On the last album, 'Let Me', they collaborated with drummer and producer Marc LaFrance [Bachman Turner Overdrive] who brought in his good friend Mike Fraser [ACDC, Enter Shikari and Aerosmith] who worked on recording and mixing, but also on the process us turning creative ideas and riffs into a finished album.
Previous success has led to the band being offered slots to acts like Guns 'n Roses, Skindred, Billy Talent, Deep Purple, Bring Me The Horizon, Red Hot Chilli Peppers and Chemia even had the honour of being the only Polish act to play at Sonisphere Festival in Warsaw; headlined by Metallica.
The band has a great audience in Poland but also has very strong links to Ukraine, having performed at Woodstock Ukraine Festival and subsequently recording a new version of 'Hero' in Ukrainian which resulted in over 100 Radio stations playing our song in one day alone in the country.  This led to Chemia being invited as special guests on a Stadium tour alongside one of the biggest Ukrainian rock artists BoomBox later this year; though obviously that seems unlikely to happen.
Chemia have undergone a few line-up changes now features: Luke, W, Maciek 'Papay' Papalski on guitar, virtuoso bass player Błażej Chochorowski and Adam Kram on drums. 'Something To Believe In' sees the band delivering an incredible, potent album full of amazing rock classics that will stay in the mind in these turbulent times; even if the band's focus is currently elsewhere.