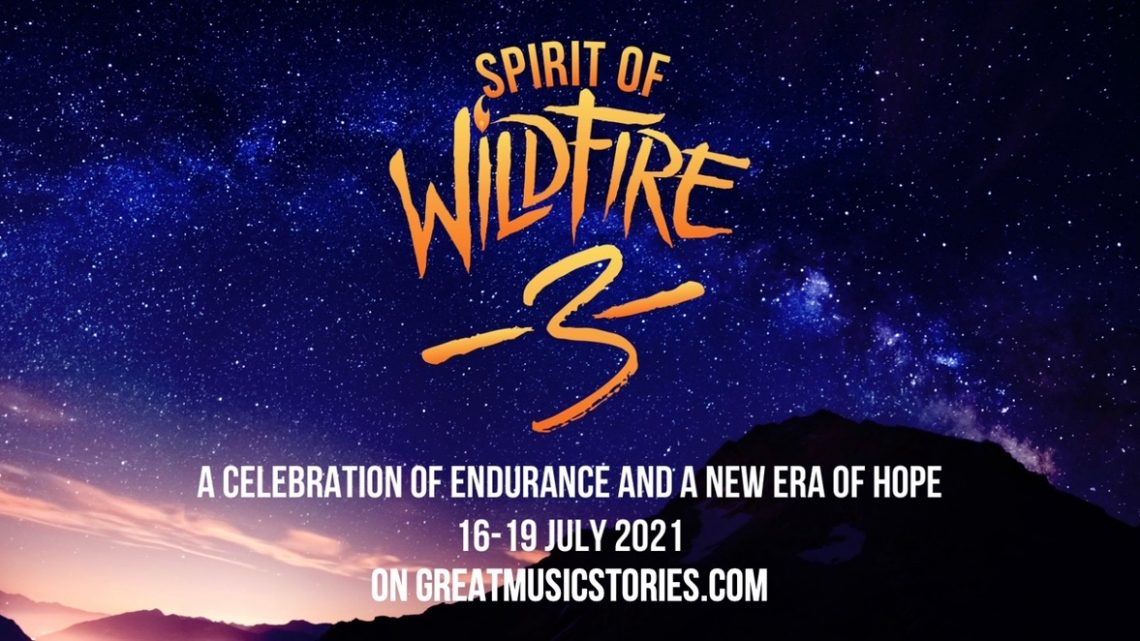 SPIRIT OF WILDFIRE 3 A Celebration of endurance and a new era of hope 16-19 JULY 2021
15th July 2021
0
By
John Deaux
It's the final weekend of Covid restrictions. The end of a dark chapter of – what has been for many – home isolation, anxiety and loss. An era where there were no gigs and, together, we found ways to connect, to support one another and to keep the lights of for grassroots music.
This weekend also marks a new chapter – a new era for hope. Covid is still around, but as restrictions fall away attention can turn to rebuilding lives and wellbeing, plus supporting the festivals and venues that need our support.
It's a weekend that marks the end of an era and hopefully the start of a new one.
So, Great Music Stories is back with another radio festival this weekend, and it's our third supporting the enduring spirit and ethos of Wildfire Festival, an event that does so much to support new and rising bands – and an event we have proudly supported since 2016. For those going up the mountain it's a weekend to get you in the mood – and for those not yet comfortable venturing out, it's a weekend to lift the spirits through fine music and great stories.
Unlike previous radio festivals we've done, this is more than a collection of recorded session sets. We've mixing the music performances with artist interviews and also opening our archive from previous Wildfire years, audio from past events that really evokes the magic of the festival events we have missed so much. Spanning the Wildfire Festivals we have reported from since 2016, the weekend presents a unique portrait of a grassroots event through time and the evolution of bands that have grown through it. We also welcome participation from artists that are allies to Wildfire and our work during lockdown – and, who knows, acts that could be on the bill for a future year.
It's a relaxed weekend all about the healing power of music to unite and inspire us, and after 17 months of lockdown – a weekend to give us hope for happier days ahead.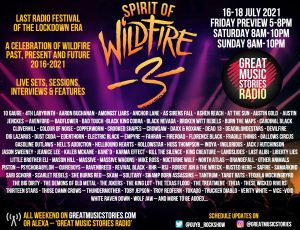 The schedule is below with approximate timings. The Friday rockshow this week will act as a preview to the weekend which starts in full on Saturday morning.
Listen in on GMS radio on greatmusicstories.com or ask Alexa to play 'great music stories radio.'
Schedule and running order updates over the days ahead on Twitter @GuyB_rockshow or insta @greatmusicstories
Friday 16 July
Friday rockshow (weekend Preview)
5-9pm
Cardinal Black, North Atlas, Safire, ThunderMother, Ashen Reach, Bad Touch, Trucker Diablo, Deever, JFK Blue, The Autumn Killers & Devilfire
Saturday 17 July
8am                     Breakfast
Bad Day Blues Band, Clipe Circle, A New Tomorrow, Everyday Heroes, Haxan
9am                     Artist Hour Special
Ravenbreed – new interview and live set
10am                   Artist Hour Special                       
Hoss Thompson – new interview and live set
11am                   Live sets: 2021
Mike Ross, Cloverhill, Liberty Lies & Copperworm
12pm                  Wildfire 2016 Revisited
Gasoline Outlaws, Inglorious, Mason Hill, Rusted Hero, Fireroad, Crowsaw
Massive Wagons, Colour of Noise, Orangefall, Thirteen Stars, RSJ
Kane'd, Hellbound Hearts, The Jokers, Black Nevada
Solitary, The Demons of Old Metal, Hell's Addiction
Vice & Avenford
2pm                     Live Sets 2021
Verity White, Jason Sweeney, Electric Black, The Dust Coda
3pm                     Artist Hour Special
Amongst Liars – new interview and live set
4pm                     Wildfire 2019 revisited
As Sirens Fall, Verity White, The Big Dirty, Hollowstar Swamp Born Assassins,
Tarot Rats, Landslides, Kill The Silence, Nocturne Wulf, King Creature, Vice,
Last Alibi, Devilfire, Revival Black, Jeanice Lee, Burn The Maps, Tantrum, Indya,
Copperworm, Dead XIII, These Wicked Rivers, White Raven Down,
Scarlet Rebels, Gallows Circus, Skam, RHR, She Burns Red,
Crooked Shapes, Dig Lazarus, Daxx & Roxane, 4th Labyrinth,
Tokado, 10 Gauge.
7pm                     Live Sets: Spirit of Wildfire 2
Toby Jepson, ThunderMother, Austin Jenckes, Robert Jon & The Wreck
8.30pm Dave Ritchie Interview Hour
9.30pm Scarlet Rebels from Maidenhead
Live set and feature interview to follow
Sunday 18 July
0800                    Breakfast
Twister, Unknown Refuge, King Voodoo, Victorius, Mad Haven & more
9am                     Wildfire 2017 revisited
Aaron Buchanan, Kaleb McKane, Gasoline Outlaws, Black King Cobra,
Other Animals, The Treatment, Tequila Mockingbyrd, Theia, The Jokers,
Safire, The Texas Flood, Fireroad, Little Brother Eli, Massive, Skam, Vice,
Fahran, Empyre, The King Lot, Psychobabylon, Swamp Born Assassins,
Bad Touch, Thirteen Stars, Fragile Things, Wolf Jaw, Piston, Those Damn Crows,
Anchor Lane
11.45am             Live sets:  Spirit of Wildfire #1
Samarkind, Skam, Safire, Tarot Rats, Gallows Circus, At The Sun
12.45pm             Live sets 2021
Broken Witt Rebels, As Sirens Fall, Revival Black, DeadBlondeStars, Edenthorn
1.40pm GuyB's Wildfire story 2016-21
Fireroad, Broken Witt Rebels, Little Brother Eli, Inglorious, Screaming Eagles, Massive Wagons, Skam, Samarkind, Tarot Rats, ThunderMother, Scarlet Rebels & Toby Jepson
3.10pm Live Sets: Spirit of Wildfire #2
Amongst Liars, Florence Black, Anchor Lane, Sari Schorr, White Raven Down
4.30pm Artist Hour special
Jason Sweeny – new interview and live set
5.30pm Artist Hour special
Jack J Hutchinson – new interview and live set
6.30pm Live sets: 2021
Austin Gold and The Karma Effect
7pm                     Artist Hour Special
Empyre – new interview and live set
8pm                     Wildfire 2018: the Lost tapes
V0id, Mason Hill, Massive Wagons, Gallows Circus, At The Sun,
Hellbound Hearts & ThunderMother
9.10pm Artist Hour Special
Verity White – new interview and set
10pm                  BadFlower – music set and interview
https://greatmusicstories.com/spirit-of-wildfire-3/
How useful was this post?
Click on a thumb to rate it!
Average rating 0 / 5. Vote count: 0
No votes so far! Be the first to rate this post.
Related
About the author
Some say Yank My Doodle, It's A Dandy! is a biographical movie based on John. Some have even said that his favorite artist is Chesney Hawke! All we really know is he sleeps inside out and his hair tastes like candy floss.