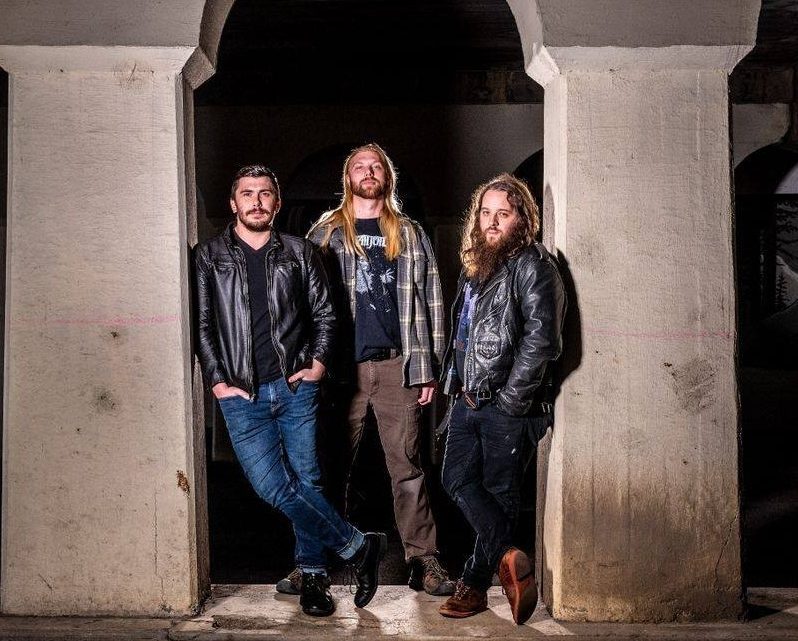 Spokane Doomsters Merlock Interview
9th January 2023
AATR managed to catch up with doom metallers MERLOCK to discus new music & their love of animals.
Who has what pets in the band?
We all have pets and love them dearly. I (Taylor / singer + guitarist) have two black cats, Disco and Drusilla, and they are 3 + 4 respectively. Our drummer Luke also has two cats, a Calico named Ophelia (which is also the name of his drum set) and a fluffy grey cat named Theo, who he's had for as long as I've known him. Andrew, our bass player, is our resident dog guy. He's currently got two young puppies named Watch and Ward, who he's had for about 2-3 years.

 
Good grief that's quite a family you have there.
Which of your animals would you say had the weirdest quirk?

 Uh, Dru likes to eat people's food but breaks out in these weird rashes whenever she does. She's a total mess and needs to get her life together. We've already tried an intervention, so all we can really do is love and accept her.
What about tricks if any?
Disco was pretty good at fetch for a while, but they're both very good at showing everyone their butthole. 
The past couple of years has really been a shit show with lockdowns courtesy of the pandemic. Has having a pet at home helped?
I'm pretty introverted, so being at home has been pretty chill with me. They do a good job of bouncing between comforting and totally annoying all in all. I'm glad they don't speak English.
Have you always been an animal lover?
 Not really. I kind of have a tragic history with pets and have, as such, always stayed pretty emotionally distant from them. I really was never interested in having a pet for most of my adult life, but my partner was used to having them. We got Dru after we got settled into Spokane after moving here and it was one of the best decisions we've made.
Are you one of those people that puts your pets into costumes? Don't be shy to tell us about their battle vest.
 Uh, I like to put my hat on Dru's head a lot and laugh when she can't get it off. I do, however, have an extensive headcanon about both of them.
 Do they like it when you practice at home or has your pet had any influence on your music? Do they seem to prefer any particular genre of music more than another?
Neither one particularly seem to enjoy loud music. They haven't influenced my music a lot, but they appear quite a lot in my poems. Their genre preferences are pretty entwined with my headcanon, but that would make me sound totally fucking nuts.
Not nuts at all. All of us with pets in the office, subject our pets to all sorts of noise. It's part of the job.
I've noticed that if mine find something they particularly like, they will stick their head in the air pocket at the base of the speaker (Wharfdale Zaldek S1000s). But then, they are fucking idiots. They live with me, so they must be (laughs)
Who looks after them whilst you're away?
We try to switch it up. We have a handful of good, trustworthy friends out here.
Speaking of practicing, what's happening next for Merlock
We're releasing our next album on February 24th and have two more singles coming out in support of that record. It's definitely a massive step forward for us as musicians and we're incredibly proud of it. 
Have you anything you'd like to say to your fans/followers?
We love getting to know you all, so make sure you find us on TikTok, Instagram, or join our Facebook Group Mid-tier Riff Posting (Tru Z0inked Warriors Only)
Thanks for chatting, it's been a blast. Good luck with the new album

Check out Merlock on bandcamp, HERE