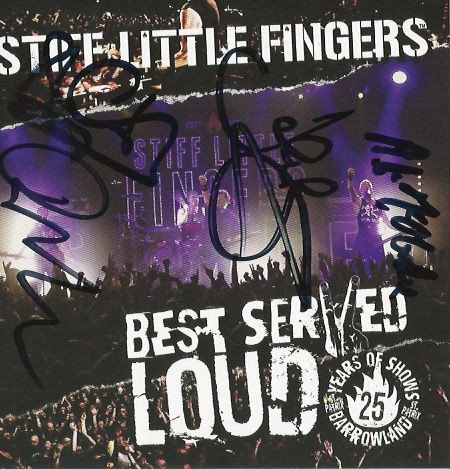 Stiff Little Fingers – Best Served Loud DVD
11th July 2017
Stiff Little Fingers celebrated their 25th anniversary in style by playing a number of sell out concerts. In their infinite wisdom the band decided to record & film the Glasgow show at the Barrowland venue 17th March 2016.
As a paying punter of this particular show I jumped at the chance to have a look at the live footage & re-live my somewhat drink addled brain of the night in question.
My main memory of the night is the following, it was packed, sweaty & hotter than the sun. The band where on fire & gave it all they had. 
The DVD doesn't disappoint. It's beautifully filmed & incredibly well edited. Sadly, the sound is a little empty. Even via the DTS audio option it's missing a bit of the sub punch that was there on the night. Although the 5.1 does put you right back in the middle of the bouncing floor, yet the crowd noise is very quiet & minimal. It wasn't like that on the night. There were times you were hard pushed to hear the band over the crowd singing along.

The set that was picked wasn't just a greatest hits. OK, Nobody's Hero, Wasted Life, Suspect Device & Just Fade Away are among the songs played, but they were along side (newish) track Guitar & Drums.
The bonus features of the DVD are not bad. A lovely 40 minute documentary film about the bands 25 year career & their relationship with the iconic Barrowland venue, alongside 20 minutes of crowd cam footage. The crowd cam footage is a very strange extra. However it is good for making your own version of 'Where's Wally' except you're Wally & your friends/family have the pleasure of trying to find you.
It's an excellent DVD if you were there. If you weren't there it does feel a little clinical & clean cut. However it's great to see a band of this caliber having the time of their lives, still being able to pull a massive crowd & making it believable.
Fair play to the Stiff Little Fingers & thank you for 25 years of superb music.

Score 7/10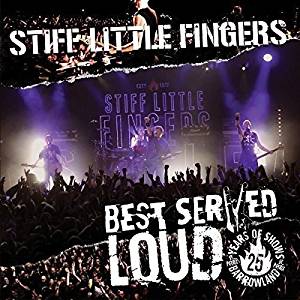 Full Show (91 minutes)

1. Go for It/Wasted Life
2. Just Fade Away
3. Roots, Radics, Rockers and Reggae
4. Guitar & Drum
5. Nobody's Hero
6. Back to Front
7. Barbed Wire Love
8. Listen
9. Doesn't Make It Alright
10. Silver Lining
11. Guilty As Sin
12. At the Edge
13. Strummerville
14. My Dark Places
15. Fly the Flag
16. When We Were Young
17. Tin Soldiers
18. Suspect Device
19. Gotta Getaway
20. Alternative Ulster
Bonus Material (72 minutes)

TwentyFIVE (Documentary Film)
Crowd Cam
Pledge Credits
Release Date
23rd June 2017
Label
earMusic
Check out Stiff Little Fingers HERE & purchase Best Served Loud HERE