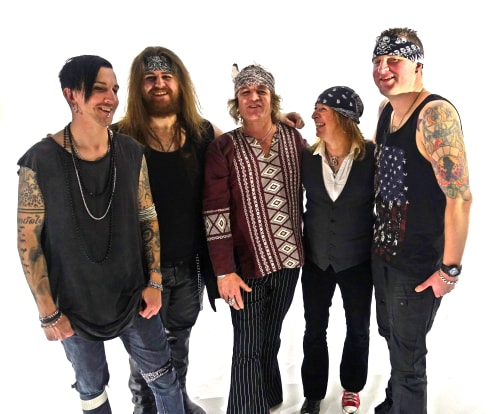 Takeaway Thieves – Issue New Track Ahead Of Brand New EP 'This is RocknRoll'
23rd May 2019
0
By
John Deaux
Takeaway Thieves release their debut 4 track ep "This is RocknRoll" May 24th. Self released on the bands own label Coffee n Mint Records, it was produced by Tim A. Duncan at John Sykes (Whitesnake/Blue Murder) legendary Berlin Studios.
Featuring the single "I Wish You Were Dead" as the opening track, a love song to the Elite. Followed by "Stardust" " Slippin Slidin" and closing the e.p. as they do live with the title track " This is RocknRoll". With fast paced riff laden rock songs and an energetic performance, Takeaway Thieves have garnered a fast growing following and "This is RocknRoll" encapsulates exactly the bands swagger and what they are about, good time Rock n Roll.
" We are proud of this ep and the fact it has captured the energy of the band which sometimes gets diluted in the studio.. We asked TT fans what they wanted to hear on our ep and these tracks came out on top of the poll as favourites, so that's what we recorded.The cover was intentionally designed as a juxtaposition to the music and title of the ep"
Dates
May 24th_ Waterloo, Blackpool w/ The Erotics
May 26th_ Bannermans, Edinburgh w/ The Erotics
May 31st _ Waterloo, Blackpool w/ Towers of London
June 22nd _ Summer Solstice Festival, Morecambe                         
July 14th  _ Steamer, Fleetwood
Aug 17th _ Dunkin Arms, Crewe
Aug 25th_ Rockwich Festival, Nantwich
Aug 29th_ Waterloo, BlackpoolSept
Sept 2nd_ HRH Sleaze Festival, Sheffield
Sept 7th_ Ferret, Preston                                                 
                                             Peter Mcloughlin – Vocals
                                            Neil Hunter – Rhythm guitar
                                             Adam Hall – Bass guitar
                                             Ben Gibson – Lead guitar
                                                 Max Yates – Drums
How useful was this post?
Click on a thumb to rate it!
Average rating 0 / 5. Vote count: 0
No votes so far! Be the first to rate this post.
Related
About the author
Some say Yank My Doodle, It's A Dandy! is a biographical movie based on John. Some have even said that his favorite artist is Chesney Hawke! All we really know is he sleeps inside out and his hair tastes like candy floss.