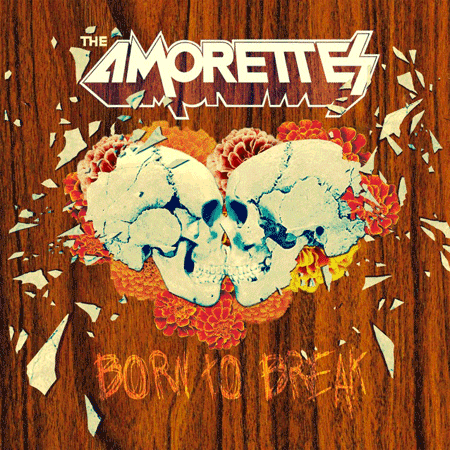 The Amorettes – "Born To Break"
27th March 2018
So there's this old Scots proverb that goes "If ye like the nut crack it"…and essentially what that means is that if you like the idea of the reward, you have to be prepared to put the required level of work in to achieve it, and that saying couldn't be more apropos for this next band. Rock music has always been a man's world historically, with women more often than not purely looked upon as eye candy to promote a band, sex sells after all right? Sadly, still to this day the ladies have to work twice as hard to get half the amount of deserved credit but when they get there, oh boy do they get to say I told you so, and that's where THE AMORETTES come in. The Scottish trio (Consisting of vocalist/guitarist Gill Montgomery, vocalist/drummer Hannah McKay and bassist/vocalist Heather McKay) have built up quite the reputation on the UK circuit, having performed with such established acts as THUNDER and W.A.S.P…and this year they continue to grow with their 4th studio album; "Born To Break". Mixed and recorded by Nick Brine (THE DARKNESS / BRUCE SPRINGSTEEN) it's scheduled for release on April 6th…let's give these little loves a listen shall we?
We open up with "Can You Feel The Fire" and it's pretty run of the mill by all accounts, the riffs and overall structure is for the most part methodical, though it's got a solid rhythm and it utilises some good old-fashioned hard rock; it's pleasant enough as a basic rock song and does have some enjoyable instrumentation here, the guitar solo stands out in particular, and this is something you can expect to see used again throughout this record. "Hello And Goodbye" for example is realistically a sluggish, pretty much lifeless track, there's little of worth here, but Gill's solo injects some much-needed passion into proceedings, properly making the most of the blues elements they are clearly aiming at. "Hell Or High Water" suffers with the same problem until the solo, though to its credit this one does have a little more groove going for it overall. "Bat Shit Crazy" on the other hand is totally click bait…there's very little about this that's actually crazy per se, but it's a decent little track. I mean anyone who throws Patrick Swayze into their lyrics for the sake of rhyming…just no. Forget the bats; your mother was a hamster, and your father smelled of elderberries if that constitutes a good idea…
I won't be too down on them however as when they get it right, they do indeed get it right…lead single "Everything I Learned (I Learned From Rock And Roll)" is by all accounts a catchy piece of no-nonsense rock as the name would suggest, with typically rebellious lyrics it is a tad clichéd but undeniably enjoyable…imagine AIRBOURNE but Joel O'Keefe has a few more X's in his chromosomes and you're there. "Easy Tiger" has a wonderfully infectious hook-laden chorus and I guarantee you'll be tapping your foot to this one, while highlight "Coming Up The Middle" pretty much combines all of the albums winning formulas, grinds it all together and delivers this delicious haggis of a track, and I meant that 100% complimentary, haggis really is fucking delicious, fight me! In all seriousness though, these three lasses are doing a fine job…yes some of the lyrics are clichéd, yes some of it is basic rock 101 and very middle of the road but sometimes that's all you need; honest, simple rock 'n' roll. All-girl rock outfits need more of a voice and alongside the likes of HÄXAN, DREAM NAILS and of course GILRSCHOOL all still flying the flag, The Amorettes are certainly doing British female rock justice.
Score: 6/10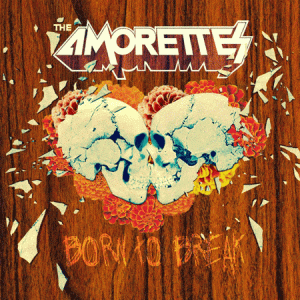 Track List:
 "Can You Feel The Fire"
 "Hello And Goodbye"
 "Everything I Learned (I Learned From Rock And Roll)"
 "Born To Break"
 "Whatever Gets You Through The Night"
 "Hell Or High Water"
 "You Still Got Rock And Roll"
 "Easy Tiger"
 "Bat Shit Crazy"
 "Coming Up The Middle"
 "High On Your Energy"
 "I Want It Bad"
Record Label
SPV / Steamhammer
Release Date
April 6th
For all things Amorettes click HERE and to purchase the album, click HERE