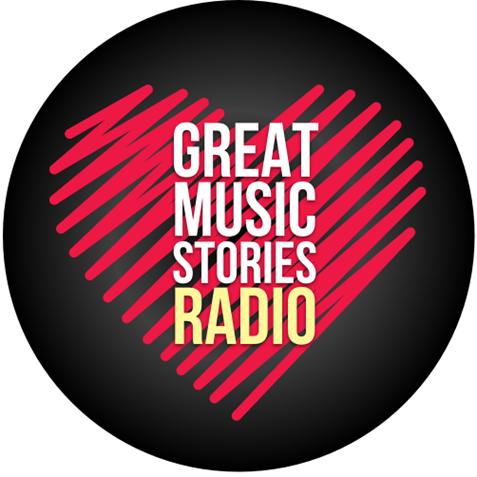 THE EARACHE CHRISTMAS CRACKER GREAT MUSIC STORIES FINISHES 2020 RADIO ON A HIGH
14th December 2020
After a year of heartache, loss and hardship, Great Music Stories is finishing its 2020 run of Friday rock shows on a high note with Earache Records. From 5pm on Friday, the five-hour Christmas Special will celebrate a new generation of rising bands and the record label – Earache Records – that, with great frequency, is crashing rock bands back in the mainstream Official Album Chart.
Great Music Stories and Earache Records have joined forces for this Friday's Christmas Special to give rock fans some Christmas cheer – and reasons to be positive about the genre's outlook for 2021. After a year when Covid destroyed the live music scene and threatened the whole rock n roll ecosystem, the bands presented on Friday's Christmas cracker could well be those leading the rock n roll recovery in 2021.
The evening of radio will comprise of six features from Earache bands, including the Official Chart top 10 band, Massive Wagons, and top 20 band Those Damn Crows. They will be joined by new label signings The Dust Coda for a feature interview on the new album 'Mojo Skyline', with Blackberry Smoke, Goodbye June and The Temperance Movement making up the six. These features will include new Great Music Stories interviews, music rarities from the Earache vaults, previously unreleased live sets and brand new music that will be premiered.
Supporting these label band specials, there will also be a radio showcase on a number of the bands that featured on Earache's 'New Wave Of Rock N Roll' album (NWORNR) – Christmas messages and live tracks from Skam, Elles Bailey, Samarkind, Jack J Hutchinson, Matt Mitchell, Revival Black, Piston and more. This feature celebrates another Earache charting album of 2020 – a vinyl release that gave many grassroots artists a meaningful taste of album chart success. It was also a project that showed the power of one, when people all work together for the common good.
During the evening radio show, presenter GuyB will also broadcast Christmas messages from the Earache team, giving listeners the opportunity to meet many of the behind-the-scenes label staffers that have played such a role in charting the fans' favourite rock bands.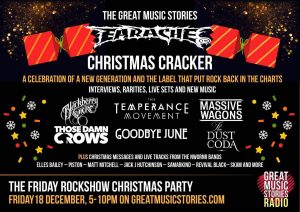 This project concludes a year in 'the rock caravan' for GuyB, the most barmy of settings for a new radio station, yet one that has drawn a big audience and attracted critical acclaim from the radio and music industry. As the first lockdown started in March, GuyB set up an independent and rootsy radio station from a caravan in a field in Sussex, committed to keeping music fans old and new connected to new rock music – and during periods of lockdown when it mattered most. The show has recently been shortlisted for a national radio award following more than 100 days of broadcasting, which has featured more than 250 interview hour specials, two lockdown lunchtime series, 2 weekend radio festivals and more than 200 single premieres.
GuyB of Great Music Stories commented: "I wanted to finish the year on a high and a project with Earache seemed the natural first thought. We have shared a belief in the same rising bands and we share a passion for breaking rock back into the music mainstream. What Earache has done for Massive Wagons and Those Damn Crows is close to our hearts; bands that we supported on radio very early on, but bands that needed that professional expertise and label firepower to take them up a few levels. We have all seen the successes that The Temperance Movement, Rival Sons and Blackberry Smoke have enjoyed on the world stage, and I have a feeling The Dust Coda may be the next breakthrough act that Earache breaks into the Official Album charts next year. So, finishing the year with Earache is both a fitting way to finish 2020 on high note and it's a calling card on what is possible for the rock scene in the New Year."
Digby Pearson of Earache Records added: "I'm an avid listener to Guy's show, he airs the freshest rock n roll bands literally years before anyone else, and hearing the artists give the stories behind the music makes the show stand out for me. It's great to officially team up for a Christmas special, which will hopefully banish the lockdown blues for many of you. Come All Ye Rock n Roll faithful! Join the crew, we'll air brand new tunes from our major bands, new interviews, live material, plus the Earache staffers give their personal fave picks, all in the capable hands of our host Mr Guy Bellamy." 
The Earache Christmas Cracker airs 5-10pm on Friday on greatmusicstories.com. Everyone is invited!
Schedule updates during the week on Twitter @GuyB_rockshow and @EaracheRecords
Band store and online links
Earache's NWORNR Album – https://webstore.earache.com/new-wave-of-rock-n-roll
Dust Coda: Mojo Skyline pre-order – https://webstore.earache.com/A-Z/d/the-dust-coda
Massive Wagons: Patreon – https://www.patreon.com/wagonsworld
Those Damn Crows: Weekly Crowcast – https://youtu.be/Yh-kAx2XplA
The Temperance Movement – https://webstore.earache.com/A-Z/t/the-temperance-movement
Blackberry Smoke – https://webstore.earache.com/blackberry-smoke
Goodbye June – https://webstore.earache.com/goodbye-june
Earache Records
Twitter @EaracheRecords
Great Music Stories
Twitter @GuyB_rockshow