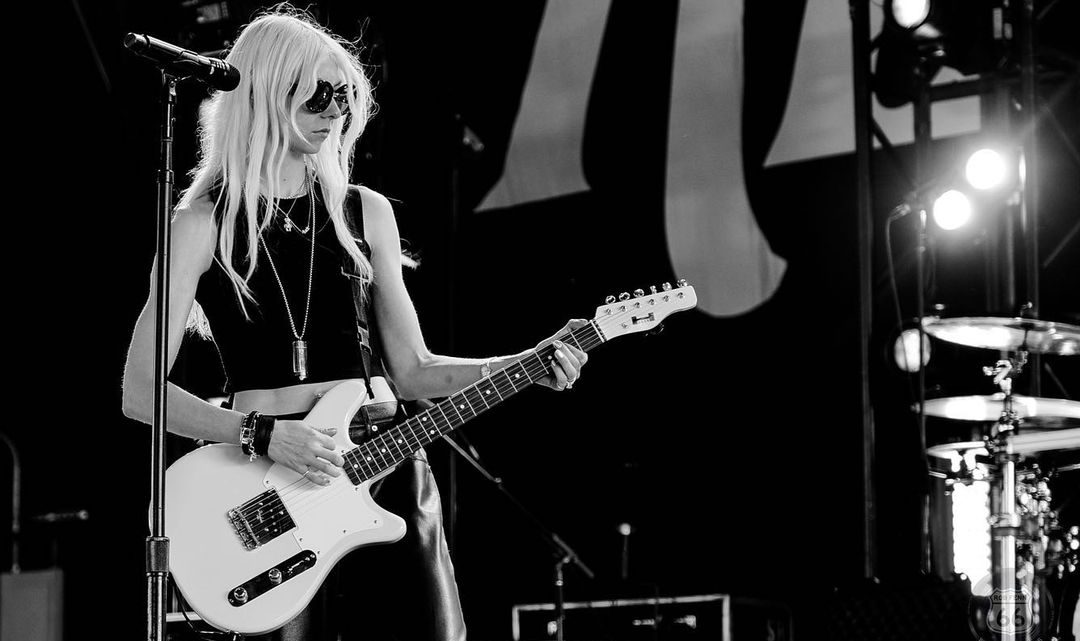 THE PRETTY RECKLESS ANNOUNCE DEATH BY ROCK AND ROLL TOUR UK & IRELAND AUTUMN 2022
28th July 2022
0
By
John Deaux
THE PRETTY RECKLESS, currently on a three-month tour of the USA and Canada, have announced a full UK and Ireland headline tour for the autumn with special guests The Cruel Knives, as follows: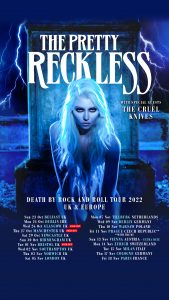 OCTOBER 
Sun         23           BELFAST                                 Ulster Hall
Mon        24           DUBLIN                                  Olympia Theatre
Wed       26           GLASGOW                             Barrowland
Thu         27           MANCHESTER                       Academy
Sat          29           NEWCASTLE                          City Hall
Sun         30           BIRMINGHAM                      Academy
NOVEMBER
Tue         01           BRISTOL                                 Academy
Wed       02           SOUTHAMPTON                   Guildhall
Thu         03           NORWICH                             UEA
Sat          05           LONDON                               Brixton Academy
The band then head to mainland Europe for dates in the Netherlands, Germany, Poland, the Czech Republic, Austria, Switzerland, Italy, and France.
There's no hiding from the fact that rock n roll is a religion for the band. It's a commitment to an ideal, a belief system. The lifestyle and the trappings may appear to be glamourous and romantic, but the road isn't easy; it requires staying power and an enormous amount of faith. The Pretty Reckless – Taylor Momsen (vocals), Ben Phillips (guitar), Jamie Perkins (drums) and Mark Damon (bass) – are truly a rock n roll band.
Embodying unwavering integrity and serving up uncompromising anthems, the band's unbelievable fourteen-year journey has quietly taken them from small sweaty gigs to successive number one hits, gold discs, and some of the biggest stages in the world, a rare achievement for a rock act this century.
Formed in New York City in 2008, the band initially made waves with their 2010 debut, LIGHT ME UP, then lit the fuse with GOING TO HELL in 2014. Not only did the record make the Top 5 of the Billboard Top 200, but it also ignited three #1 hits – the platinum-certified Heaven Knows (the biggest worldwide rock song of 2014), Fucked Up World and Follow Me Down – a feat that had not been accomplished by a female-fronted group since The Pretenders in 1984.
Their third album, WHO YOU SELLING FOR in 2016, saw them return to #1 on the Rock Chart with Take Me Down, which cemented them as "the first band to send its first four singles to #1 on the chart" according to Billboard. Praise followed from the likes of Vogue and Nylon and the band lit up television shows such as Letterman and Conan. With more than half a billion streams. They headlined countless sold out shows and toured with Guns N Roses and many other heavy hitters.
In 2017 a series of events then shook the group to its very core, and ultimately cast them in the kind of fire, tears and blood that don't ever wash off. The band had landed a prestigious tour opening for Soundgarden in packed arenas across the USA. Chris Cornell from Soundgarden then tragically took his own life. The aftershocks reverberated throughout popular culture and left a deep scar on The Pretty Reckless. They retreated, cancelled most of their touring schedule and disappeared from the public eye. Eleven months later, things worsened when their muse, friend and long-time producer Kato Khandwala died in a motorcycle crash.
Taylor and Ben turned to writing to channel the emotional toll and, in late 2018, The Pretty Reckless returned to the studio to record their fourth album with the sessions lasting over a year. The first single from the resulting DXRNR (Death By Rock And Roll) album in 2021 – the haunting, crooning, howling and inspirational title-track – quickly rose to #1 on the Rock Chart. It marked the band's fifth #1, a feat that has not been achieved by any female-fronted rock act in chart history. The DXRNR album also made it to the Top Ten of the UK album charts, their third album to reach this achievement.
And now, The Pretty Reckless sound more alive than ever. "We stuck to our ethics," explains Taylor. "We built this up over a long time. Either you throw it all away or you go for it. It's cliched, but rock and roll saved our lives."

DEATH BY ROCK AND ROLL video:
GOING TO HELL video:
TAKE ME DOWN video:
WEBSITE:               https://deathbyrockandroll.com
INSTAGRAM:        https://www.instagram.com/theprettyreckless/
FACEBOOK:          
How useful was this post?
Click on a thumb to rate it!
Average rating 0 / 5. Vote count: 0
No votes so far! Be the first to rate this post.
Related