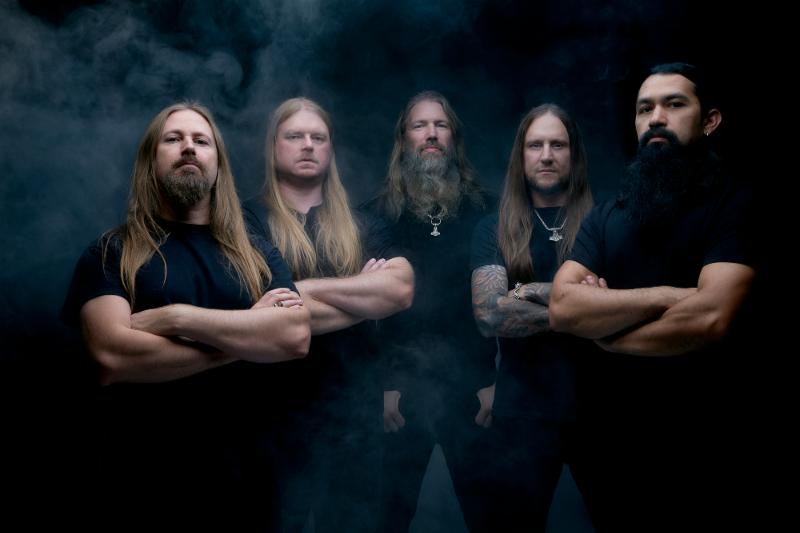 The Vikings Are Coming – AMON AMARTH premiere historically accurate 'Shield Wall' video
26th September 2019
0
By
John Deaux
Heavy metal overlords AMON AMARTH have released a brand new video for their stomping, anthemic call to arms 'Shield Wall'. The rabble-rousing new video chronicles the plight of an enemy ship come to invade a Viking village. But, as frontman Johan Hegg's gutteral growl chants 'Vikings, Raise The Shield Wall, Hold The Front Line, Fight Til Death', the fate of the enemy becomes uncertain. Who will emerge victorious from battle?
Directed by Phil Wallis and produced by Alexander Milas/Twin V Ltd – the same team behind AMON AMARTH's 2018 feature-length documentary The Pursuit of Vikings – the aim of 'Shield Wall' was to produce a historically accurate portrayal of the battlefield tactics that Vikings were known and also notorious for. Working closely with noted Viking scholar and battle reenactor Igor Górewicz of the Triglav and Jomsborg Vikings, the video was shot on location in Wolin, Poland – site of the world-renowned annual Festival of Slavs and Vikings – and featured extras from the worlds' foremost Viking reenactment groups, including Triglav, Maximas von Bracey's Ulflag, and Germany's Blóðvítnir, friends of AMON AMARTH whose longtime member Sana portrays the story's raiding party commander.
As well as felling enemies with their impenetrable wall of shields, AMON AMARTH have descended on North America from the land of ice and snow to headline a history-making charge across the U.S. with fellow Swedish warlords Arch Enemy, At The Gates, and Grand Magus. The Berserker World Tour will be a showcase of the riffing havoc captured on their 11th studio album, 'Berserker', and will treat fans to the kind of pulverising riffage and sublime, fist-in-the-air anthems the band have come to be known for. No words are more synonymous with AMON AMARTH than unrivaled songcraft and unswerving commitment to no-bullshit heavy fucking metal – and now they have a landmark tour to match.
Following their U.S. rampage, AMON AMARTH crash onto European shores this November and December, to raid the continent with their biggest and most ambitious, must-see full production tour to date! The UK dates see the band joined by Swedish allies Arch Enemy and Hypocrisy.
AMON AMARTH bellows,  "We cannot wait to return to Europe and tour the UK with our fellow Swedish Berserkers ARCH ENEMY and HYPOCRISY. We will be bringing our biggest headlining show yet and this truly is going to be an epic heavy metal party that is not to be missed!"
ARCH ENEMY's Michael Amott extols, "I can't think of a better way to wrap up an intense and exciting 2019 ARCH ENEMY touring year than heading back to the UK with our Swedish friends AMON AMARTH and HYPOCRISY! This will be a celebration of everything that is awesome about Heavy Metal, the Scandinavian way! Skål!" 
HYPOCRISY's Peter Tägtgren proclaims, "HYPOCRISY are very much looking forward to this UK run and to share the stage with AMON AMARTH and ARCH ENEMY. This will be epic!"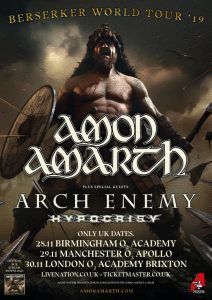 AMON AMARTH "Berserker" European Tour:
Nov 14- Vienna, Austria – Gasometer
Nov 15- Munich, Germany – Zenith
Nov 16- Ludwigsburg, Germany – MHP Arena
Nov 17- Prague, Czech Republic – Tipsport Arena
Nov 19- Zurich, Switzerland – Samsung Hall
Nov 25- Paris, France – Zenith
Nov 26- Brussels, Belgium – Forest National
Nov 28- Birmingham, UK – O2 Academy *
Nov 29- Manchester, UK – O2 Apollo *
Nov 30- London, UK – O2 Brixton Academy *
Dec 2- Esch Zur Alzette, Luxembourg – Rockhal
Dec 3- Frankfurt, Germany – Jahrhunderthalle
Dec 4- Berlin, Germany – Velodrom 
Dec 6- Gothenburg, Sweden – Partille Arena 
Dec 7- Stockholm, Sweden – Annexet
Dec 9- Helsinki, Finland – Black Box
Dec 11- Malmö, Sweden – Arena
Dec 12- Aarhus, Denmark – SCC
Dec 13- Hamburg, Germany – Sporthalle
Dec 14- Oberhausen, Germany – König Pilsener Arena
Dec 15- Amsterdam, Netherlands – Afas Live
*With Very Special Guest ARCH ENEMY and HYPOCRISY
AMON AMARTH have been steadily gaining strength over the years, culminating with stunning new album 'Berserker' smashing into the top echelons of global album sales charts, earning the band some of their highest chart positions to date including in the UK: Germany: #1, Switzerland #1, Austria #2, Finland #4, Sweden #5, Canada #5, United States #9, Belgium #18, Australia #19, Spain #20, UK #25, Norway #33, France #50, Italy #70.
Comprising 12 monstrous heavy metal anthems that burst with melodic hooks, thrilling savagery, and spine-tingling drama, 'Berserker' is the result of a huge surge of creativity and a collective desire to keep moving forward without compromise. From the explosive riffing of opener "Fafner's Gold" and the brutish simplicity of the rampaging "Crack The Sky" to the epic fury of "Raven's Flight" and the gritty storytelling of "Ironside" and "Skoll and Hati", 'Berserker' is an album full of trademark AMON AMARTH bluster and bite but with every aspect of the band's sound refined, sonically enhanced, and more potent – both in terms of metal oomph and emotional power. Capturing the spirit behind these new songs is the album's semi-title track, "The Berserker At Stamford Bridge": a visceral, vivid historical tale, recounting the Vikings last stand against the English army in 1066 and the mind-bending heroics of one axe-wielding warrior.
AMON AMARTH 'Berserker' buy links:
How useful was this post?
Click on a thumb to rate it!
Average rating 0 / 5. Vote count: 0
No votes so far! Be the first to rate this post.
Related