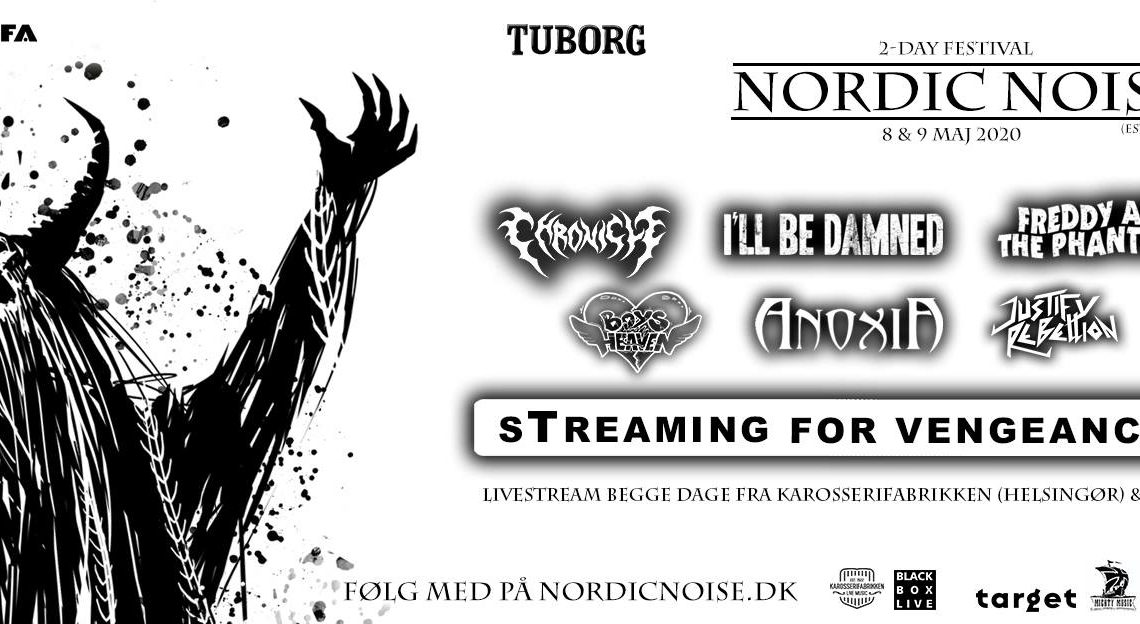 The world's first 2-day heavy rock live-stream festival? Nordic Noise 2020: Streaming for Vengeance
6th May 2020
In a strange post-apocalyptic time when no one knows the day tomorrow, new ideas, new thoughts, new initiatives arise. In just 48 hours, "Nordic Noise 2020: Streaming for Vengeance" is a reality.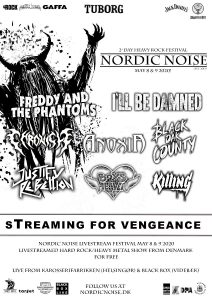 A 2-day Heavy Rock Festival live-streamed from one location in Jutland, Denmark (Black Box in Videbæk) and one in Zealand, Denmark (Karosserifabrikken in Helsingør). Two bands play live in different parts of the country every day. 8 bands in total. Everything is professionally streamed live with multiple camera angles and recorded with the best audio equipment, so viewers are guaranteed a top professional experience that can match the best within the format.
"Nordic Noise 2020: Streaming for Vengeance" takes place on May 8 and 9, the two days the original edition of Nordic Noise was to be held in the venue Amager Bio in Copenhagen, Denmark. Instead, the festival is made into a live stream festival, free to the public, in the name of rock 'n' roll. So all those who have bought tickets to the original edition of Nordic Noise and everyone else around the world for that matter, now have the opportunity to see eight of Denmark's best bands in the genre in front of the screen at home. The eight bands are:
This is a festival that has the opportunity to be seen by an audience of hundreds of thousands of people worldwide. Rock and Heavy Metal is a universal music genre and we expect "Nordic Noise 2020: Streaming for Vengeance" to reach a big international audience. Danish rock and metal has a long, proud history with bands like Mercyful Fate/King Diamond, Pretty Maids, Volbeat and D-A.D. Expect "Nordic Noise 2020: Streaming for Vengeance" will show the new breed and cream of rock and metal out of Denmark!
At the same time, we would like to appeal to the understanding of the importance of the fact that music has a value. We would therefore appreciate the support of both the performing artists, the two venues and the festival. All donations transferred to paypal@targetgroup.dk will be distributed among all parties that are a part of "Nordic Noise: Streaming For Vengeance".
Michael H. Andersen, Nordic Noise spokesman, states: "Instead of laying flat on our backs and waiting for someone to help us, we have taken action on what may be the world's first 2-day heavy rock live stream festival at two locations in each end of the country. From the idea arose Wednesday morning this week until we today at 14:00 send out a press release, we have booked 8 bands, two venues, have a crew and media partners in place, a graphic identity and concept / name fixed, written press release and updated SOME – and in one week the festival takes place.. Often the best ideas arise spontaneously with the right people around you and I believe this is an event that will go into the Danish music history, at least within the Heavy Rock genre"
"The Nordic Noise Festival has for years been one of the highlights of spring for all rock lovers! It is truly unique, in this day of age where getting new rock music radio play is almost impossible, to give both the established acts as well as the upcoming the possibility to get on stage before a crowd. It would be almost unbearable if 2020 were to be the first year in 8 years without The Nordic Noise Festival and for us @ Karosserifabrikken, as an independent live venue, it was an easy decision to support this streaming initiative".says founder Anders Nannerup"
"The idea of Black Box Live was to create a platform and a place for musicians to do live streamed concerts. And by giving their fans the closest they can get to the real stuff". Allan Guldborg, Black Box Live
The 8th edition of Nordic Noise was originally planned as a 2-day festival in Amager Bio on May 8 and 9, but due to the Corona crisis, the festival will be moved to 2021. Specifically, on May 7 and 8, 2021 in Amager Bio, Copenhagen, Denmark. We hope everyone who has purchased a ticket for this year's festival will save it and use it for Nordic Noise 2021 instead. It is also possible to get a refund of your ticket. See billetto.dk for more information.
Nordic Noise was established in 2013 and is today considered one of the most important rock/metal festivals in Denmark. Over 10.000 people have attended the festival and artists like Candlemass (SE), Denner/Shermann (DK/US/SE), The Night Flight Orchestra (SE), Tygers Of Pan Tang (UK), Mike Tramp (DK), Mustasch (SE), Dream Evil (SE), Fate (DK), Freak Kitchen (SE) Artillery (DK), Blitzkrieg (UK), Junkyard Drive (DK), LUCER (DK), Bullet (SE) and Electric Guitars (DK) have performed during the years.
Black Box Live is a collaboration of 6 sound and lighting companies from Herning. That normaly provide sound, light and crew for live concerts and festivals around in Scandinavia. Black Box live consists of United Light & Sound, AB Sound productions, Idlehands, Lystek, MB Lyd & Lys & JK Media.
About Karosserifabrikken:
Karosserifabrikken is named after its long history as being one of the earliest and biggest coach builder companies in Denmark. As a live venue it has been completely remodeled in 2019 with the ambition to become best in class within sound, acoustics and friendliness. We are focused on Rock & Pop music of high quality. The venue is privately owned and all events are run by a group of highly engaged volunteers. The driving force behind our work is a genuine passion for the music!