Tragedy – 'Stayin' Alive 2017′ – the brand new video single, UK tour dates
2nd February 2017
In an upside-down world being torn at the seams, Tragedy brings us all together by uniting two warring factions – Disco and Metal.
The video stars comedian/musician/author Dave Hill in a role reminiscent of Tony Manero in the classic film, Saturday Night Fever, except with a little less success on the dance floor. He admires a handsome and talented disco-dancer (Nobuya Nagahama) at the club, but every time our Tony takes to the dance floor, he gets caught up in metal mayhem. Eventually, Tony finds salvation in a Disco-Metal transformation, inspired by his favourite band, Tragedy.
Saturday Night Fever fans will recognize many nods to the 1977 film, including Tony's famous sidewalk strut, the 2001 Odyssey lighted dancefloor, the iconic disco dance moves, the ever-sobbing Annette and the fall off the Verrazano (in this case, Tragedy's idiot towelboy, Lance, being tossed offstage by the band).
Directed by Cara Maria O'Shea
Director of Photography: Richard Patterson
AD: Anya Garrett; AC: Marcos Herrera
Producer: Avadoria Beautyrock
Sound recording produced by Peter Kohl
"Stayin' Alive" composed by Barry, Maurice and Robin Gibb
Featured dancers: Nobuya Nagahama and Tsubasa Ogawa
Choreography by Angela Harriell of The Love Show
Shot on location in Brooklyn, NYC.
'Stayin' Alive' is taken from 'The Joy of Sex'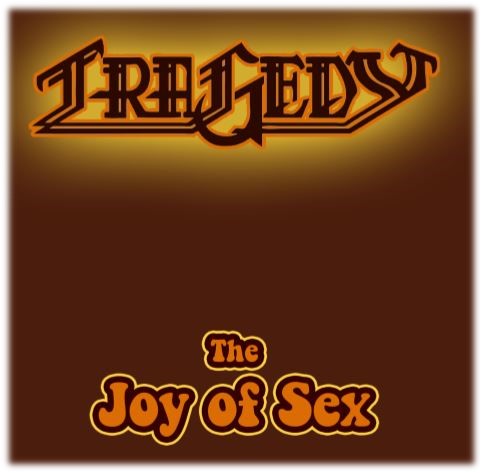 European release date – February 24th!
The rise of Tragedy has been swift and incident filled. Their heavy metal meets the Bee Gees meets disco has been welcomed into the hearts and minds of people across the globe and now the band are back with the soon to be global smash album – 'The Joy of Sex'.
The album is set for a European release on February 24th, just as the band hit the UK for another sell out run around the country.
'The Joy of Sex' features eleven new Tragedy hits – including 'Little Red Corvette' (Prince), 'Borderline' (Madonna), 'Do You Think I'm Sexy' (Rod Stewart), 'Never Gonna Give You Up' (Rick Astley) and their stunning re-make of the disco floor filling classic – 'Stayin' Alive'!
Much like their acclaimed re-working of the 'Grease' classic 'You're the One That I Want', Tragedy have taken the Bee Gees disco classic and given it a 2017 update!!
The band recently finished the video for 'Stayin' Alive' in New York with special guest star Dave Hill (acclaimed U.S. comedian) and will be launching the video clip very soon!
Their video for reworked 'Grease' classic 'You're the One That I Want' took the U.S. by storm with 500,000 in its two weeks on You Tube!
Tragedy hit the UK for another fun filled tour starting on Feb 24th (full list of dates below).
What the press have to say about Tragedy…
Metal Hammer
"Camp as a row of tents, and with more hooks than hell's cloakroom, Tragedy guarantee it."
Tiny Mix Tapes
"Tragedy manage to dwell in the realm of novelty while far exceeding their worth as a concept…the aesthetic is somewhere in between the flamboyance of the disco-era Bee Gees and the flamboyance of mid-eighties hair metal, with some extra flamboyance thrown in for the sake of flamboyance."
VH1
"You're the One That I Want" Heavy Metal Tribute to 'Grease' is as great as it sounds. They created a music video for the cover, and it is exactly what you'd think a heavy metal version of Grease would look like. Between the crazy outfits, wild hair, air guitars, and locker room parties, the only question left to ask is, why hasn't this idea been adapted into a full length movie yet? We want more!"
The Sun, UK
"Hard riffs, tight white flares, and even tighter octave-scraping harmonies…essential listening."
Loudwire
"One of the hottest videos on the internet. These kids aren't the leather jacket-wearing greasers from the '50s, but rather a modernized hard rock band of brothers attending the Our Lady of Perpetual Decimation high school. When the leader, Disco Mountain Man, arrives back in the halls, he's greeted by his buddies who ask him what he's been up to all summer. And much like Grease, it's revealed that he met up with a girl. But this is no poodle-skirt wearing young lady. Instead, it's an anarchy-loving blonde bombshell decked out in black and red. What follows is a re-imagined version of the song, with an ominous opening bass line and killer vocals from Mountain Man reminiscent of some of '80s metal."
Village Voice
"Everyone from Feist to Tom Jones has covered the disco hits of the Bee Gees, but perhaps no one does those gooey soft-rock numbers better than Tragedy…Shiny costumes, dramatic eye makeup and headbanging hilarity…"
Metal Rules
"The greatest heavy-metal-meets-disco party you could possibly wish for."
Kerrang
"Back in the dark days of disco, the Bee Gees were the shit, despite having massive teeth, bigger hair and a falsetto only dogs could hear…with the righteous power of heavy metal, We Rock Sweet Balls and Can Do No Wrong mixes Guns 'N' Roses swagger, the Scorpions' sense of pomp and Judas Priest-esque vocals to create a sound that is exactly like The Darkness!"
Billboard
"Decked in their hair-metal finest, with no can of Aqua-Net spared, Tragedy frolic on the beach, woo their ladies and then unleash their thrash chops in the most anarchistic pep rally this side of "Smells Like Teen Spirit." The result is hilarious and arguably even more heart-warming than the original, not least for the visual pun unleashed on the line 'it's electrifying.'"
Guitar World
"Tragedy: All Metal Tribute to the Bee Gees & Beyond has indeed pulled off a spot-on hair-metal spoof of the song, complete with a locker-room scene that takes place at Our Lady of Perpetual Decimation High School."
USA Today
"A note-perfect hair-metal spoof of You're the One That I Want, complete with a locker scene set at Our Lady of Perpetual Decimation High School. Only instead of pony tails and poodle skirts, the girls have teased hair and tattered Hot Topic outfits. You'll never see Danny and Sandy the same after this metal 'Grease' cover."
Tragedy is;
Disco Mountain Man — lead vocals, lead back-up vocals, lead keyboards, lead cowbell
Mo'Royce Peterson — lead vocals, lead back-up vocals, lead lead guitar
Andy Gibbous Waning — lead bass, lead vocals, lead back-up vocals
Garry Bibb — lead guitar, lead back-up vocals
The Lord Gibbeth — lead drums, lead vocals
Lance — towel boy, complete idiot
HOW DEEP IS YOUR MUM – UK TOUR 2017
Fri 24 Feb – MANCHESTER – Rebellion 
Sat 25 Feb – CARLISLE – Brickyard
Sun 26 Feb – LIVERPOOL – O2 Academy 
Mon 27 Feb – EDINBURGH – Bannermans 
Tues 28 Feb – GLASGOW – Audio 
Wed 1 March – NEWCASTLE – Think Tank 
Thurs 2 March – BILSTON/WOLVERHAMPTON – Robin 2 
Fri 3 March – BRISTOL – The Fleece 
Sat 4 March – LONDON – The Garage 
Sun 5 March – SOUTHAMPTON – 1865 
Tues 7 March – SWANSEA – Sin City 
Wed 8 March – MILTON KEYNES – Craufurd Arms  
Thurs 9 March – GREAT YARMOUTH – Legends of Rock Festival 
Fri 10 March – OXFORD – Bullingdon 
Sat 11 March – BUXTON – Buxton Rocks Festival 
How useful was this post?
Click on a thumb to rate it!
Average rating / 5. Vote count: