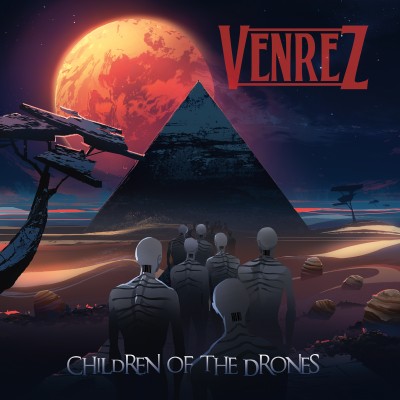 Venrez Devil's Due / Michael Schenker UK Tour
7th January 2016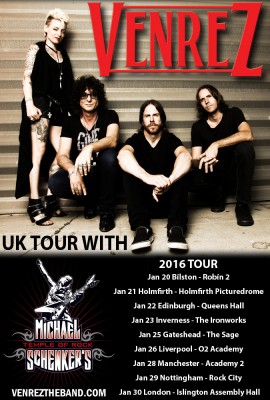 The devil's due this January as U.S rock band Venrez return to the UK on tour with Michael Schenker.
Following the release of their latest album 'Children Of The Drones', American hard rock act VENREZ have released a new lyric video ahead of this month's UK tour as special guests to Michael Schenker's Temple Of Rock.
Frontman Ven says "It's been amazing to see the reaction to the latest album 'Children Of The Drones', especially in the UK. The song 'Devil's Due' is a crowd pleaser live and we wanted to put something together to showcase the track before we land in the UK this month. We can't wait to get back over and tour with Micheal Schenker's Temple Of Rock, the man is a living legend."'Children Of the Drones' is the third album from the L.A. four piece, 2013's release 'American illusion' saw Venrez go on to tour extensively across the U.S, UK and Europe with the likes of Slash, Alice Cooper, Buckcherry and Hardcore Superstar.
Venrez live with Michael Schenker's Temple Of Rock:
January 2016 – UK Tour
20th – BILSTON, The Robin 2
21st – HOLMFIRTH, PictureDrome
22nd – EDINBURGH, The Queens Hall
23rd – INVERNESS, The Ironworks
25th – GATESHEAD, Sage Gateshead
26th – LIVERPOOL, O2 Academy
28th – MANCHESTER, Academy 2
29th – NOTTINGHAM, Rock City
30th – LONDON, Islington Assembly Hall
Tickets: http://venreztheband.com/shows/
Venrez is:
Ven – vocals
Jason Womack – guitars
Cynthia Gillet – bass
Ed Davis – drums
Website : http://venreztheband.com
Facebook : https://www.facebook.com/venrez
Twitter : https://twitter.com/venrez21
You Tube : https://www.youtube.com/VENREZTHEBAND
Praise for 'Children Of The Drones':
"Venrez serve up melodic songs that have a real substance to them, along with some real attitude and maturity. This is a truly great album that deserves plenty of exposure" – Sinister Angels Realm
"Intensely intellectual and haunting, new album 'Children Of The Drones' is a pretty heavy album that has darkly subtle gothic experimentalism" – Powerplay Magazine
"This unique album will leave the listener entrenched in a trance begging for more of the groups laid back, psychedelic style"  – The Front Row Report
"It's a fantastic example of musical creativity, as well as being a clear indication that rock is still very much alive and kicking, and taking a fresh, innovative route to success" – SoundClash Rocks
"You have something so interesting you can't ignore it. Ironically the sound sounds futuristic and retro at the same time, they're like the "Steampunk" of rock" – Rock Hard Place
"Children Of The Drones" is, simply put, one of those albums that just works on many levels" – Metal Temple
" A great album for fans of alternative rock" – Musipedia Of Metal
"I love this album… I was hooked from beginning to end, it was ravishingly rapturous… totally captivating me" – Rock N' Load
"If you like your rock with a bit of a psychedelic tinge then this album is for you and following the success of 'American Illusion' I could see this moving Venrez to the next level" – Get Ready To Rock
"Interesting and well put together lyrics, sounding quite laid back but powerful at the same time…Give it a listen" – RAMzine
ABOUT VENREZ:Los Angeles hard rockers Venrez caused a buzz with their 2013 album release, 'American Illusion' which saw the band tour across the USA and UK/Europe with SLASH, ALICE COOPER, BUCKCHERRY and HARDCORE SUPERSTAR.
And now, they're set to go over the top with their new album 'Children of the Drones'.
Upon first listen to the album, it quickly becomes apparent that the band has created their strongest musical offering to date
"Jason produced the album" explains frontman Ven."He writes the music for Venrez, I write the lyrics. Since we were making a change at bass, we decided to go on as a 4-piece and therefore Jason played all guitar and bass parts on the record. Ed played drums and of course Jason and I sang on the record. We have our own studio set up in my house and recorded this album, as well as our last, 'American Illusion' there. It's always so much fun working in the studio with just Jason and me. The new album is a clear evolution of our sound. I would say it's still heavy like the last record but perhaps a bit deeper soundscape wise and a bit more psychedelic."
And the album's lead single / music video 'Hang the Predator' serves as the perfect taster for the album. And according to the band's singer, the track, as well as a few others, are his favourite selections. "I would say the single 'Hang the Predator' because we had actually lost the lyrics. Jason was about to trash an old cell phone, and before he did, he checked it and found these lyrics I wrote and had texted him. For some reason, that was the only time I forgot to e-mail it to myself to save it. Funny that it ended up being our single. 'Children of the Drones' because of the message to lead and not be sheep, and 'Sacred Blood' which is the first song I ever wrote to a movie based on the story of the movie. So the lyrics are not coming from my message nor experiences in life."
As it turns out, 'Children of the Drones' could not have arrived at a better time, as it can quite possibly serve as the much-needed kick that radio-ready rock n' roll so sorely needs. "I think it's what rock needs right now. It's melodic, heavy, the groove is unique and the songs have lyrics with powerful lessons and messages. Venrez is a cerebral band that makes you think while you enjoy the music. I feel it's a new genre all together, which I call 'Epic Alternative Rock' – or 'EAR' for short."
Lastly, the singer offers a glimpse into what we can expect from Venrez in the future. "We intend to tour at least 12 to 14 months behind this album, before we stop to record another. We have no intention of anything other than continuing to write, record, and tour. We will keep knocking on the door until the God of Rock opens it for us!"
'Children Of The Drones' is out now via Monarch Music Group.