Wacken Open Air 2023- Part One
11th August 2023
0
By
Queen Nikki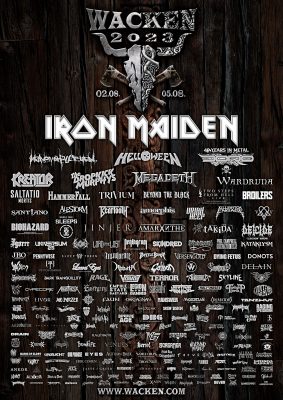 Wacken Open Air Festival, often hailed as the mecca and lifelong aspiration for metal enthusiasts worldwide, has become a celebration of life itself. Nestled in the serene village of Wacken in Northern Germany, its fields are a second home for many, drawing global pilgrims to its Holy lands. The festival's motto, 'Rain or Shine,' faced its toughest test this year as a pivotal decision shaped its history. This year for 2023 the allure was irresistible – a colossal lineup boasting names like Iron Maiden, Megadeth, Kreator, and Pentagram, 40 years of Doro, and many more. Here the vibrant heritage of heavy metal pulses through the veins of each passionate, mud-splattered fan, their eagerness undiminished as they enthusiastically roar "WACKKKEN" in the direction of every passerby.
For W:O:A attendees, each year, their arrival is woven into the story and as a returning enthusiast, my eight years were starting to blur together, until this time. As early as possible on Monday morning and 6 wild Australians and I fell backpack first onto a high-speed train from Hamburg. What should normally be a thirty-minute shuttle bus from Itzehoe station to Wacken, soon became an 8 hour stationary odyssey. Behold- the worst part of the entire week. We were stuck, on a standing-room-only bus which was packed from floor to roof with tents and trolleys, in this traffic jam of madness. There were cars and caravans as far as the eye could see in every direction. We had no access to toilets, food, or water, as we only bought the necessary items for a quick journey. When the driver would actually let us off, we were partying in highway gutters, begging for spare provisions and peeing in paddocks while confused cows watched on.
One of our group became drunk, fell into a ditch trying to find somewhere to pee, became sober again, and then hungover all in the space of this one bus ride. Even though this was a total 'Shit'uation, at least a sense of camaraderie took root.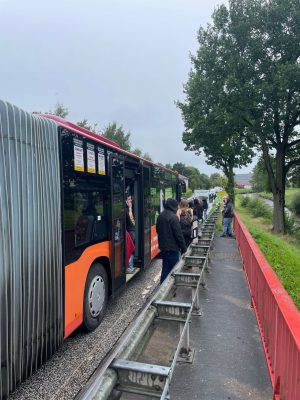 As strangers turned bus besties, we formed an impromptu bond, passing around homemade alcohol and sharing rations of food.
Restlessness eventually festered within us as hours stretched on, trapped on the bus and tempers began to flare. At last, we were moving, but the driver took a U-Turn and headed back to Itzehoe for an alternative route. A guy next to me yelled out, "This is the longest trip from Itzehoe to Itzehoe I've ever been on!" I agreed. The absence of communication only fuelled our frustration and a collective feeling of having reached our limit took hold. When we moved closer, devoid of water or respite, the decision to disembark and walk to the town of Wacken became a beacon of relief among the simmering tension and sweltering heat of the bus. Leaving a lot more intoxicated than when we hopped on the bus, we began an arduous one-hour walk carrying our lives for a week. Walking, despite its physical demand, felt liberating in comparison.
At last, we were met with a daunting sight – The festival grounds, a once grassy landscape transformed into a sea of mud, but the terrain welcomed us, each step a dance between determination and treacherous ground, but at least we had arrived.
Finally, we are reunited with our beloved camp friends, our global assembly of souls brought together by the power this festival holds on us. They have worked tirelessly since 5 am that morning, towed onto the grounds by tractor to set up our space. This year we have couches, many covers from the weather and even a meat smoker. Our Heroes! As darkness fell on the campgrounds along with storms and howling winds, tents eventually rose as a testament to the dedication that brought us home.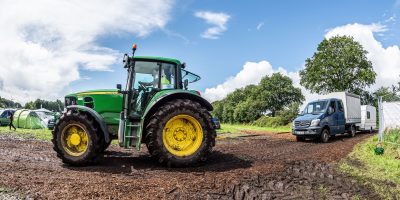 Not letting the flooded tents deter us on Tuesday, we took a walk up to Wacken town, to collect our press passes which is always at least a 4-hour round trip. Along the way, we paused for beers at a gas station turned- party station, forging connections and sharing stories. We were reunited with fellow adventurers from the bus journey, this turned into a hilarious impromptu therapy session.
The day held a special surprise as my friend Lozza and I found ourselves interviewed for a Lemmy documentary, our voices united to express what the legend meant to each of us. It was a tribute that felt personal as if our memories intertwined with Lemmy's enduring spirit. Our route led us to the LGH stage, where the local Hamburg Death- Metallers Messticator infused the air with the energy we craved after the walk.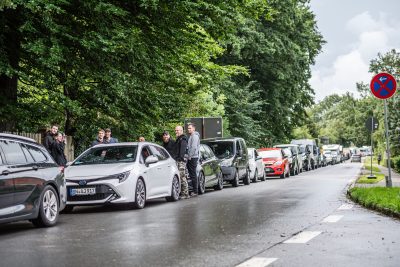 Although torrents of rain threatened to extinguish our fire, we found ourselves fortunate beyond measure. Unbeknownst to us, over 35,000 eager festival-goers had faced a different fate. Their rented cars and caravans laden with a week's worth of anticipation were turned away on the highway, their heavy metal hopes dashed by the festival grounds' capacity limits.
Already accommodating 50,000 people, a heartbreaking request was made from the festival organizers for them to all turn back. Picture meticulously arranging this journey over the span of a year, embarking on a cross-continental drive to eventually reach the festival's town, only to be met with the news that your presence is unwelcome. Our hearts ached for them.
Since most bands planned for Monday night had been canceled due to the weather we eagerly ran to get ourselves some gumboots and slush over to the Wasteland. Megabosch, the epitome of 'Rockstars of the Apocalypse,' play, hidden beneath the Wasteland. Enveloped by a post-apocalyptic realm, the band thrives alongside a captivating backdrop of strippers, warriors, and flames, embodying the edgy aesthetic of their music. Megabosch are a Wacken staple! Celebrating 10 years since the first time they played at Wacken, by performing a whopping 10 times (excluding Monday's canceled performance) over this year's festival for 2023.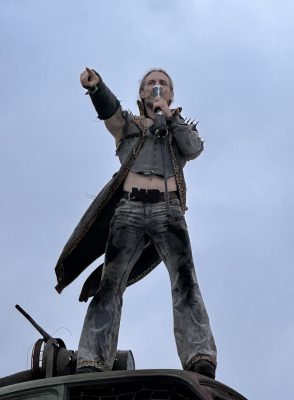 Fearlessly navigating the makeshift stage, frontman General Pause ascends rafters and car skeletons, unleashing obscenely provocative lyrics that enthrall us. Exuding Witcher-esque vibes, he whips his knee-length white ponytail above the crowd, narrowly dodging the flame throwers. This is not his first Wasteland rodeo and it won't be his last.
As the intoxicating smoke swirls around the stage, I can barely see my pals next to me! The crowd becomes an integral part of the performance, fervently chanting for their favorite song Hammerfist, their voices intertwining with the band's electrifying yet seductive delivery. It is in these immersive moments that Megabosch not only capture the audience's attention but also reaffirms their rightful place at Wacken year after year. 
Amidst the 34th chapter of the Wacken saga, by staggering towards bedtime on Tuesday evening, our challenging arrival through muddy paths and rain was a prelude to the magic within. This year, together with the echoing riffs and thundering drums, we became part of the defining metal tapestry, transcending mere attendee status. We stood, beers in hand, as the fortunate few, embraced by our friends who for us- really are the heart and soul of Wacken Open Air.
For All Things Wacken Click HERE
For Magenta Musik's Video Coverage of WOA 22 Click HERE
About the author
"It does not require a majority, but an irate, tireless minority, keen to set bushfires in people's minds." Hail Satan!