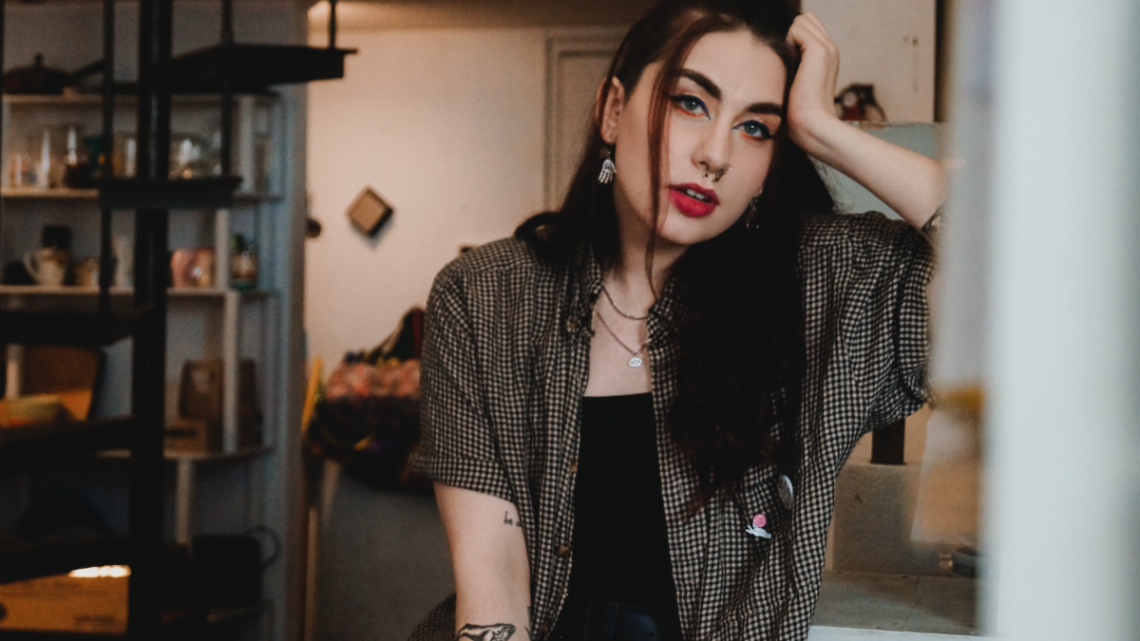 🌈 Indie-rock queer femme artist America Jayne welcomes change with visual & single "Redecorate"
1st June 2021
Indie-rock songstress America Jayne prides herself on being just that, only and proudly herself. Her ability to channel huge, year-long feelings into 3 minutes allows her to communicate even the toughest subjects, like owning her queer sexuality. Her next single and lyric video "Redecorate" encapsulates a frustrating feeling of trying everything in your power to get someone to stay. The chorus creates an enormous cacophony of desperate pleas as vocals roughen, guitar blares, and drums relentlessly pulse on.
"'Redecorate' was born from the cyclical cycle I found myself in with a person that I was seeing who would get right up to the brink of being my boyfriend, but would then harshly pull away and leave me feeling like I had to fight to get him back. I kept trying everything to win him over, to get back the "perfect" relationship I had built up in my head. No matter what I did, however, I couldn't make him care more than he was willing to. 'Redecorate' is a song of frustration and eventual exhaustion." says America Jayne.
America Jayne is a Brooklyn-based queer femme indie musician. She can be seen playing with her full band at venues such as Rockwood Music Hall, Pianos, The Bitter End, The Well, and 11th Street Bar. America Jayne recorded four new singles with producer Ronnie DiSimone to be released in 2021. These songs show her growth as an artist as she narrows in on an indie-rock sound you can expect from her future work.
America Jayne (Erica) was raised in a small town in Connecticut, with more cows per square mile than people. To say there was little to do was an understatement. So, at age ten she started taking guitar lessons. Crawling to get out of the little town she had known her whole life, Erica decided she would take a big leap.
She packed her bags and moved into her first New York City apartment in January of 2018 with her two favorite things, Doc Martens and whiskey. She got hired as a server at the famous music venue, Rockwood Music Hall, in the Lower East Side. This is where everything changed, because it turns out, her new coworkers were a mix of musicians, actors, and creatives who wanted to have their voices heard as much as she did. Through the venue and nightly drinks at an after-hours bar next door, she garnered a group of friends who wanted to help her make music, thus, America Jayne was born.
America Jayne (Artist, Writer) Ronnie DiSimone (Producer, Writer) Tiger Darrow (Writer) Mike Tierney (Master) Nick Cianci (Guitar) Ned Steves (Bass) Aidan Shepard (Drums)
CONNECT WITH AMERICA JAYNE