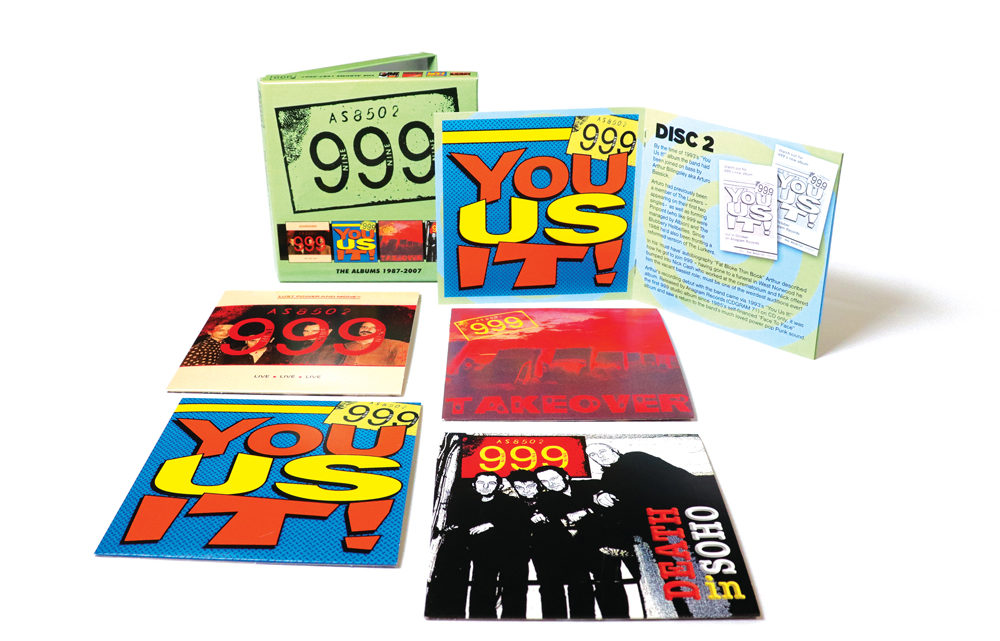 999: The Albums, 1987-2007, 4CD Clamshell Boxset
18th February 2019
After the revitalization of 999 interest, Captain Oi records release a 4CD box set concentration on the albums from 1987-2007. Continuing with the theme of the last 999 box. This one is as lavish as the last.
The 1st disc is basically a greatest hits, just live. Lust, Power and Money was the bands 1st foray into the realm of live albums and was originally released back in 1987. Of course the tracks Nasty Nasty and Homicide are present (like I said, this is basically a greatest hits), Emergency is the stand out track. 999 are exuberant and have fully settled into to heir stride as it's the 9th track on the album.
Disc 2 is the classic You, Us, It which saw the  addition of Arturo Bassick, formerly of The Lurkers on bass. Art added a whole new driving bass sound to 999, which lead to a more grown up sound on this record whilst keeping the original sensibility and power of their early years.
Disc 3 contains the disappointing Takeover album. For me personally this album does nothing for me. It's regarded as a bit of a marmite album among fans too )you either love it or hate it.) It's more indie than punk in all honesty.
The final disc has the 2007 Death In Soho record. Although this is the last recorded album by the band to date, thankfully they're on a bit of a hiatus from recording a studio album as this delves into the (I Wanna Be) Sedated sounding era of The Ramones. Not quite punk yet not quite pop.
Thankfully tho, 999 are still incredibly prolific at playing live and capturing the spirit of punk in the 70's. Just look at the confirmed 2019 tour dates.
March 8 Doncaster, The Leopard
March 9 London, Camden, Dublin Castle
March 10 Minehead, Great Music Alternative Music Festival
March 21 Germany,Hamburg, Monkeys Music Club
March 22 Germany, Dusseldorf, Haus Der Jugend
March 23 Germany, Berlin, SO36
April 4 Exeter, The Cavern
April 5 Plymouth, The Junction
April 6 Nottingham, The Maze
April 19 Stamford, Mama Liz's
April 20 Harpenden, Public Halls
April 21 Stockton On Tees, Georgian Theatre
May 4 Birmingham, The Mill
May 5 Coventry, The Arches
May 10 Sheffield, The Corporation
May 11 Cardiff, Tramshed
June 15 Bedford Esquires
June 16 London New Cross, Amersham Arms
June 27 Worcester Marrs Bar
June 28 Bournemouth Anvil Rock Club
June 29 Corby White Heart
August 3 Blackpool Winter Gardens, Rebellion Festival
Is this a box set worth having? If you have the original records and they're a bit tired looking, then yes. If you're just a casual fan, personally, I wouldn't purchase it. I'd go see them LIVE
Score 6/10
TRACK LIST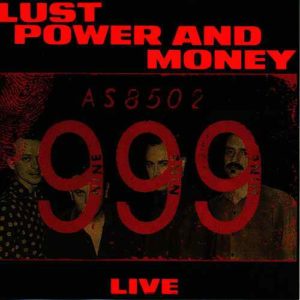 DISC ONE:
LUST POWER AND MONEY
1. INSIDE OUT
2. HIT ME
3. DON'T YOU KNOW I NEED YOU
4. WHITE TRASH
5. FEELIN' ALRIGHT WITH THE CREW
6. OBSESSED
7. ON THE LINE
8. LET'S FACE IT
9. EMERGENCY
10. ENGLISH WIPE OUT
11. NASTY NASTY
12. HOMICIDE
13. LUST POWER AND MONEY
14. MY STREET STINKS
15. TITANIC REACTION
16. I'M ALIVE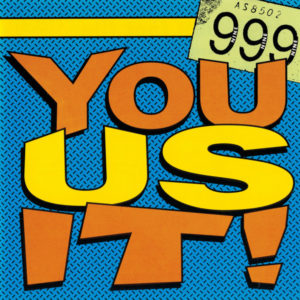 DISC TWO:
YOU US IT!
1. BLACK FLOWERS FOR THE BRIDE
2. THERE IS NO GLORY IN MARY'S STORY
3. SIGNED DANGEROUS OF HOLLYWOOD
4. BYE BYE BONES
5. EVERYBODY NEEDS IT
6. IT'S OVER NOW
7. BYE BYE ENGLAND
8. ALL OF THE DAYS
9. BIG FAST CAR
10. ABSOLUTION
11. DEEP IN THE SHADOW
12. RUN FOR YOUR LIFE
13. DON'T TELL ME
14. CRAZY CRAZY CRAZY
15. WHITE LIGHT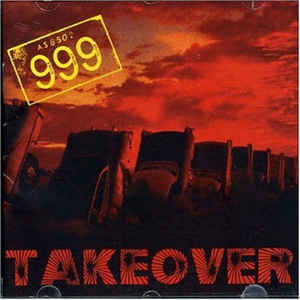 DISC THREE
TAKEOVER
1. TAKEOVER
2. DIDN'T MEAN TO
3. NO PRISONERS
4. HEADCASE
5. SALVAGE MISSION
6. FIT UP
7. OUT OF OUR HEADS
8. I CAN'T WAIT
9. SPLIT PERSONALITY
10. DAMP WITH TEARS
11. EDGE OF THE WORLD
12. FALLING
13. REALLY LIKE YOU
14. JAM ME UP (WITH SOMETHING NICE)
15. PILE UP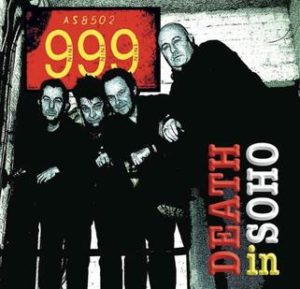 DISC FOUR
DEATH IN SOHO
1. GIMME THE WORLD
2. THE SYSTEM
3. INNOCENT
4. LAST BREATH
5. 99 DAYS
6. ROCK 'N ROLL WORLD
7. GET OFF THE PHONE
8. HORROR STORY
9. STEALING BEAUTY
10. WHAT DO YOU KNOW
11. DEEP PEACE
12. TOO MUCH MONEY
13. LIFE OF CRIME
14. THE AVENUE
15. BOMB YOU
Label
Captain Oi
Release Date
22nd February 2019
For all things 999, point your mouse HERE and to purchase this box set, click HERE