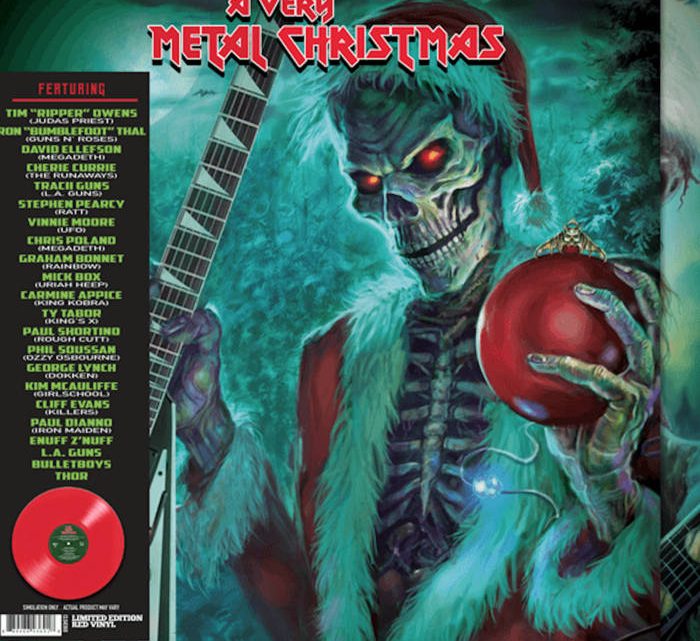 A Dream Collaboration Between Vocalist GLENN HUGHES & Guitarist TRACII GUNS
15th November 2023
Since the release of the first single from a pair of Christmas-themed metal records, a killer version of "All I Want For Christmas Is You" featuring Tim "Ripper" Owens, Ron "Bumblefoot" Thal and David Ellefson, word has begun to spread far and wide, glad tidings of a bountiful harvest of heavy metal interpretations of Holiday favorites coming to CD and vinyl. Now comes the release of another majestic single, from the second of the two compilations, A Very Metal Christmas II, a divinely-inspired collaboration between two legendary metal figures.
Traditional Christmas songs can be fun and catchy, often sentimental and maudlin, but rarely are they epic. Enter "O Holy Night." This 19th-century composition tests the vocal range of even the most seasoned of seasonal singers. That's why when choosing the singer for this particular track, there was one clear choice, the widely revered "Voice Of Rock" himself, Glenn Hughes. Hughes belts out an absolutely breathtaking version of this sacred favorite, and he is ably supported by the king of Los Angeles six-string slingers, Tracii Guns, who match Hughes's vocal pyrotechnics with some virtuoso playing of his own!
Stream/download the single: https://orcd.co/glennhughestraciiguns_oholynight
A Very Metal Christmas and A Very Metal Christmas II feature brand new recordings from an incredible array of supremely talented metal artists including Rainbow's Graham Bonnet, Megadeth's Chris Poland, King's X's Ty Tabor, Ratt's Stephen Pearcy, Bulletboys' Marq Torien, UFO's Vinnie Moore, King Kobra's Paul Shortino, George Lynch, Marty Friedman, Great White's Jack Russell, Vixen's Janet Gardner, Angel's Frank DiMino and many more! Grab your copy today and grab another to give as a gift to the metal fan in your life!
A Very Metal Christmas CD: https://cleorecs.com/store/shop/a-very-metal-christmas-cd/
A Very Metal Christmas Vinyl: https://cleorecs.com/store/shop/a-very-metal-christmas-red-vinyl/
Digital: https://orcd.co/averymetalchristmas
A Very Metal Christmas II CD" https://cleorecs.com/store/shop/a-very-metal-christmas-ii-cd/
A Very Metal Christmas II Vinyl: https://cleorecs.com/store/shop/a-very-metal-christmas-ii-green-vinyl/
Digital: https://orcd.co/averymetalchristmas
A VERY METAL CHRISTMAS TRACK LIST:
All I Want For Christmas Is You – Tim "Ripper" Owens, Ron "Bumblefoot" Thal, David Ellefson        
Rockin' Around The Christmas Tree – Cherie Currie, Tracii Guns
Feliz Navidad – Stephen Pearcy, Vinnie Moore    
Carol Of The Bells – Chris Poland
Last Christmas – Graham Bonnet, Mick Box        
Please Come Home For Christmas – Carmine Appice, Ty Tabor, Paul Shortino, Phil Soussan    
White Christmas – Bulletboys       
Christmas Eve/Sarajevo 12/24 – George Lynch    
Merry Xmas Everybody – Kim McAuliffe & Cliff Evans
Santa Claus Is Comin' To Town – Paul Dianno   
Happy Holiday – Enuff Z'nuff     
Little Saint Nick – L.A. Guns      
Donner & Blitzen (Achim Koehler Mix) – Thor 
A VERY METAL CHRISTMAS II TRACK LIST:
O Holy Night – Glenn Hughes       
Blue Christmas – Jack Russell, Chris Holmes       
Winter Wonderland – Fast Eddie Clarke, Steve Overland 
All I Want For Christmas Is You – Janet Gardner  
Another Rock And Roll Christmas – Paul Dianno, Paul Samson
Have Yourself A Merry Little Christmas – Marty Friedman         
It's A Wonderful Life – George Lynch & Jeff Pilson         
Father Christmas – Pretty Boy Floyd         
Santa Claus Is Comin' to Town – Gilby Clarke     
Rudolph the Red-Nosed Reindeer – Helix           
Run, Rudolph Run – Faster Pussycat       
Silent Night – Frank DiMino, Tracii Guns          
What Child Is This? – Glen Drover