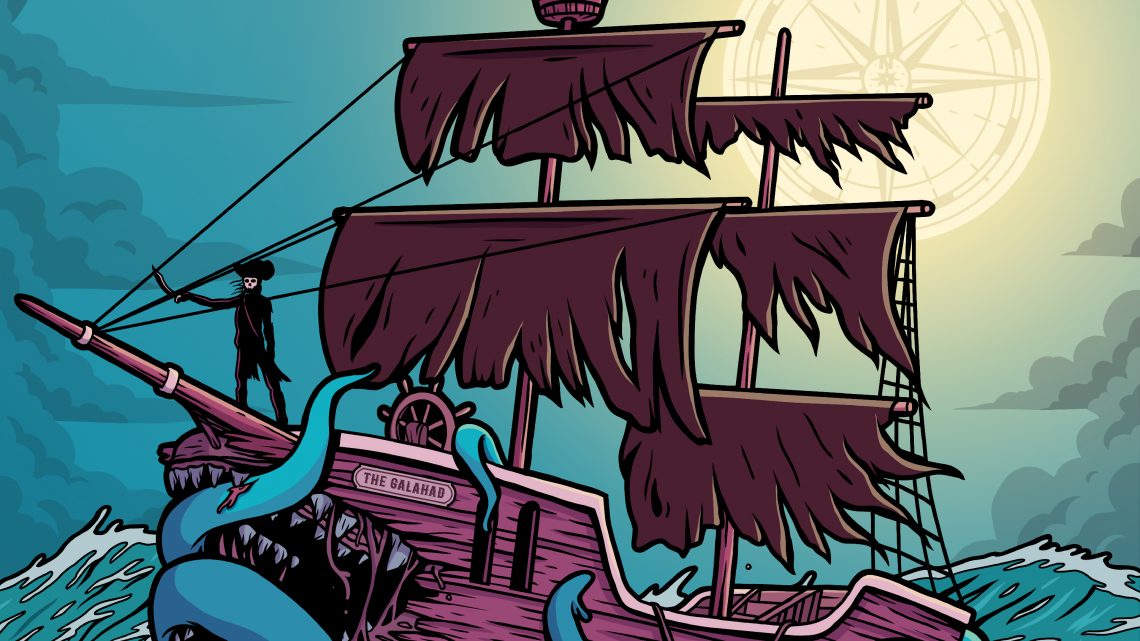 DISCOVER | VENTURES – Manchester, UK.
15th November 2023
Today on DISCOVER I'm with Richard from VENTURES.  talking about myspace, new releases and the most useless invention in existence. VENTURES are a Manchester based metalcore band who formed in 2017. VENTURES currently a 3 piece group with members Richard (Vocalist), Ollie (Vocals) and Jon (Drums). 
So – let's start with one of the more boring questions but one that is always a conversation starter. Your band name is Ventures, Where did your band's name come from?
Richard: We really wanted something that was nice and simple to remember but also meaningful to us and not boring, We'd spent weeks going over a few ideas to the point where we just started using random words we'd found. We were named after a shutter brand for a day. We eventually landed on Ventures as we were venturing out as a new band on a "new adventure".
Sounds like a good choice for what was intended then! How did you guys initially meet and what started the idea to start on your "Venture"?
Richard: Ollie I've known for since we were 16, we used to hang around on Urbis and Jon we met via a website for finding band members when our drummer at the time left. The idea for ventures came from just playing and writing, we originally didn't plan for releasing or gigs but the more we did the more serious it became.
Ah, Urbis – I remember those days back in Manchester as an angst teenage drinking "white ace" – some good memories there. What genre of music would you say your band falls under?
Richard: Sometimes I don't think me and Ollie ever grew out of it haha
I like to say Metalcore for ease but whenever we're chatting as a band we never label anything and nothing off the table. One of our next releases "Portrait" as so far from anything we've done before.
Sounds exciting! How would you say "Portrait" differs from the music you typically create?
Richard: This song doesn't have any "riffs" in it haha has more of a pop punk feel but you can still tell it's Ventures.
Is Pop Punk a genre that you'd ever experiment into?
Richard: Not with Ventures no but me and my best friend had a little crappy pop punk bank when we were younger called Yay4Me, we released a few tracks and opened for Exit Ten but that's about it. Jon used to be in a covers band back in his hometown so he's got all kinds of styles under his belt.
 Interesting choice of name there, screams myspace vibes. It's noted on your Spotify that Ventures was established in 2017. What was the most difficult obstacle your band has ever faced and how did you overcome it during this time?
Richard: Haha yeah it was around that time we first came up with the name. It's something Zak Vengeance from Avenged Sevenfold used to write on his guitar straps. First was definitely covid as that just stopped everything and for some it kind of took the spark out for them then earlier this year our bassist left an recently out second guitar left leaving us a 3 piece till our new bassist is all caught up.
That sounds rough. I think everyone felt the effects of COVID, it's left a big impression for sure. With that being said, Can you tell me a little bit about each member of the band and their role within the group at current?
Richard: Our vocal is Ollie May, he originally joined the band as our bassist when we had no other plans to do anything with it, but after a year or so we parted with the vocalist at the time and Ollie stepped up to the mic literally as our other friend Nathan joined on bass but he's now left.

I'm Richard Taylor the guitarist – when we're not playing or writing I'm normally the one making sure everything gets uploaded to the right places an everyone knows when/where gigs are.

Our drummer is Jon Burrows, Jon is definitely one of the ones who's always pushing to try get that little extra difference out of a song and when not writing or playing Jon is the driver when we need to travel long distances.
Seems like you guys really work together as a team to get stuff done then. Have you got any upcoming tour dates that people would be able to see you in action at?
Richard: Sadly not currently but always looking for everyone that'll be reading. We do have some shows lined up in 2024.
You mentioned before the next release of "Portrait", do you currently have a release date for this and would this be one of the songs you would be playing at upcoming shows?
Richard: "Portrait" will be apart of our upcoming EP that's releasing early February and we're hoping to have it in our set list by our January show.
That's great news! Are there any other projects you're working on as a band or solo artists that we should know about?
Richard: We've already made a start on our late 2024 releases but nothing is set in stone yet but we're hoping to do a lot more shows next year and of course the EP for early 2024.
I'm looking forward to it. Maybe we can catch up again before they get released!
I'd like to thank you for your time today it's been a pleasure chatting, but I do like to end interviews on something a bit light hearted and fun, so I would like to know in your opinion what is the most useless invention of all time? In my opinion the most useless invention would be those pot noodle forks that spin. Pointless.
Richard: Thank you for having me, Ooo you got me here. Kanye shades I'd say them, can't see shit, you end up looking up or down so much just to see through the bars.
Artist: Ventures / Label: Unsigned / Genre: Metalcore
For Fans Of: Blessthefall, Fightstar, Miss May I, The Amity Affliction, The Blackout, The Devil Wears Prada, We Came As Romans.
Next upcoming shows:
28.01.2024 – Satans Hollow, Manchester UK – Unannounced
24.02.2023 –  NiallFest – Irlam, Manchester UK.
Can be found on the following: 
VENTURES – SPOTIFY