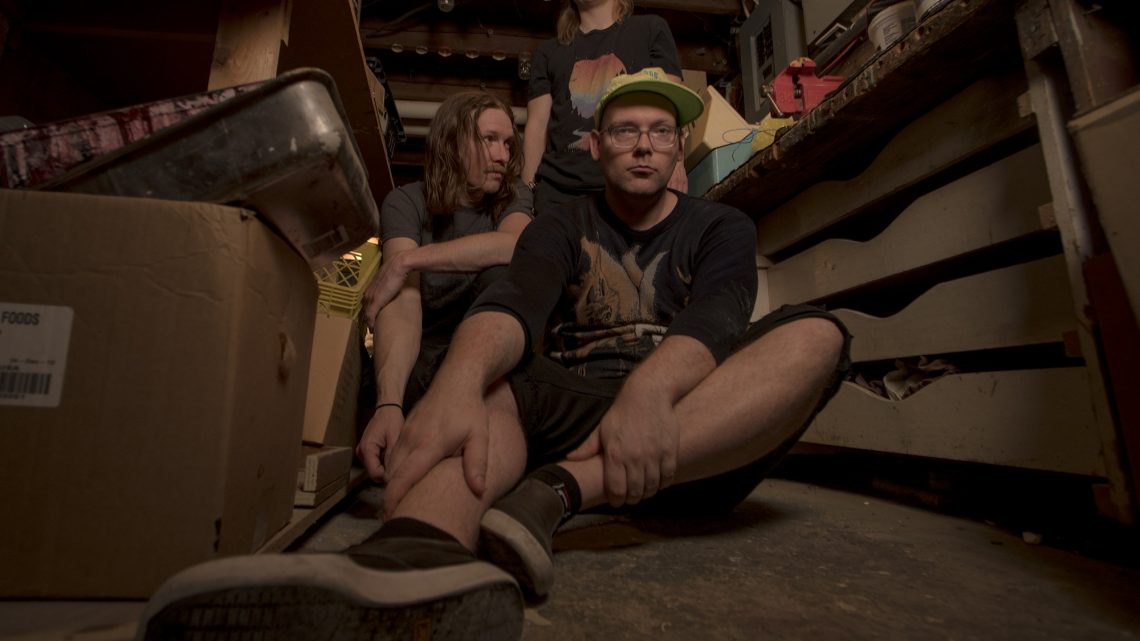 AATR PREMIER HARDBALL "Worried As Shit" Official Video
14th June 2023
Canada's Hardball has emerged from the rainy coast of Vancouver, BC to bring you a raw and erratic punk/grunge self-titled debut album. Vocalist/guitarist Scott Budgie channels distressed and agitated emotions into the writing, while drummer Jeremy Head and bassist Jamie Black amplify those feelings of utter frustration, confusion, and absurdity into an energetic and aggressive grunge sound that is permeated by punk and hardcore influences. Their debut single "Worried As Shit" is the perfect introduction to the trio, they comment:
"It's a perfect initiation to Hardball, it's an abrupt punk song carried by a rock beat, with vocals coming from a place of confusion and self-deprecation (in typical HARDBALL fashion). It also has a cool recurring noodly riff that crushes and a sudden clean bridge was thrown in to keep the extreme dynamic range thing happening."
Vocalist/guitarist Scott Budgie explains the album Track By Track:
1.) Just A Tree
I was reluctant to open the album with this song because of the jangly open chord parts that, to me sound almost Nashville-like. I didn't want to give anyone the wrong impression right off the bat (no pun intended). But I also like the scope of the song: covering major and minor chord progressions, dissonant guitar parts, quiet to heavy dynamics (a grunge staple), the wild layered synthesizer breakdown during the bridge, and finally the lovelorn vocals at the ending.
Lyrically, the song describes unrequited love and uses being a tree as an allegory for remaining loyal, reliable, and unbothered. (it's music for the incels, just kidding, but basically)
2.) Worried As Shit
This track's self-disparaging lyrics are pretty par for the course with HARDBALL. Mainly focusing on my own flaws including socially awkward behavior, and an inability to maintain healthy relationships. Mostly tongue-in-cheek but also not.
3.) NRA
Musically this song is just supposed to sound completely bonkers. Drums going completely ape all over the place, obnoxious riffing and big low-tuned power chords, the heavily distorted bass guitar holds down the main riff. NRA is an anthem about gun control. Not really even with a coherent position on the matter. Calling it NRA despite not directly having anything to do with the NRA just seemed funny to us. I guess what I'm trying to say is that the US has major social problems that have led to regular shootings. I don't like it, and I can't do anything about it.
But, I'm going to shout about it the way a scared, confused child might.
4.) In The Mail
(My favorite track by far)HARDBALL's answer to dynamically epic songs like The Smashing Pumpkin's "Soma". I think we succeeded in creating a really vibey song that builds in tension and then just blasts off at the halfway point and goes hard until the end.
Using postal mail as an analogy, the lyrics describe a relationship beginning with the excitement and anticipation of meeting someone new, and slowly falling into complacency and boredom.
5.) Me And You
Me And You is a short burst of high-energy verses and riffs held together by a recurring harmony. Lyrically Me And You is basically a cynical version of Neil Young's "Old Man", making (sometimes nonsensical) comparisons to things I have in common with my old man.
6.) Chili
Lulls you in sounding like a simple verse-chorus-verse structure before going full prog-stoner metal on you. The lyrics come from agonizing sleepless nights brought on by guilt and self-loathing.
7.) Talk To Me
Originally it seemed we didn't have much for this piece other than the heavy floor tom hits combined with the palm muting which we thought was really cool. It took a couple of years for the overall direction to come together. Looking back, that palm mute/floor tom thing was a pretty boneheaded idea to pursue, but it ended up being worth it for the heavy riffs that came along.
8.) Ian's Song
This song was the closest to being thrown out, but we all think it's funny so it just made the cut. It's definitely the oldest song on the album. It's a true story about an old Scottish man who lived in our former bandmate's basement. He would sometimes terrorize us while we were jamming in the garage. He frequently drank our beer and stole our food from the fridge upstairs. Eventually, he moved to a different city. I often wonder what became of that guy.
9.) I/O
Known internally as 'Inside Out', this is a classic HARDBALL song with sudden changes in dynamics. It begins with solo vocals and guitar before the entire band comes in dialed up to 10 for the hardcore-inspired verses and choruses. It ends with an abrupt change to a mellow arpeggio instrumental outro that serves as a fake-out ending to the album.
The lyrics are a satire of macho hardcore punk, which I love, but I don't fully understand the tough guy culture behind it.
10.) Open Air
HARDBALL's 10-minute epic. Beginning with clean guitar, soft vocals, and a tom beat that carries the intensity up and down, eventually.
Open Air goes completely off the rails and ditches its verse/chorus structure in favor of 4 minutes of bone-crushing riffs to close out the album. Lyrically the song describes trying to hang in there in a relationship that's not working for either side. It also includes an homage to Danzig's 'Until You Call on The Dark' with the line 'until you start to call on the dark/I'll hold on, I'll hold on'.
While this is not nostalgic grunge, Hardball has created something innovative and contemporary while still honoring their heroes from the '90s alternative rock and '80s punk scenes. They're having their cake and eating it too, and are offering you a slice.
In support of the album, Hardball is setting out on tour this August with appearances throughout Western Canada. Full tour dates are to be announced soon, and those in the audience can expect a wild time. Fists will be raised, things will be knocked over, and a good time will be had by all.
Turbulent and chaotic, Hardball delivers an enjoyable new album through drums going completely ape all over the place, obnoxious riffing and big low-tuned power chords, and heavily distorted bass guitar. They are recommended for fans of Nirvana, Wipers, and Hüsker Dü.
Hardball's self-titled debut album is out July 21st, 2023.
Digital pre-save (Spotify, Bandcamp) – Linktr.ee/hardballbc​
Tour Dates:​
July 15 – Kelowna, BC – Runaway's Lounge w/ The Motherfuckers
Aug 4 – Vancouver, BC – 648 Kingsway w/ Paul is Dead
Aug 5 – Victoria, BC – TBA
Aug 6 – Kamloops, BC – TBA
Aug 9 – Nelson, BC – TBA
Aug 10 – Edmonton, AB – The Buckingham w/ Take Sides
Aug 11 – Calgary, AB – TBA
Aug 12 – Oliver, BC – Firehall Brewing