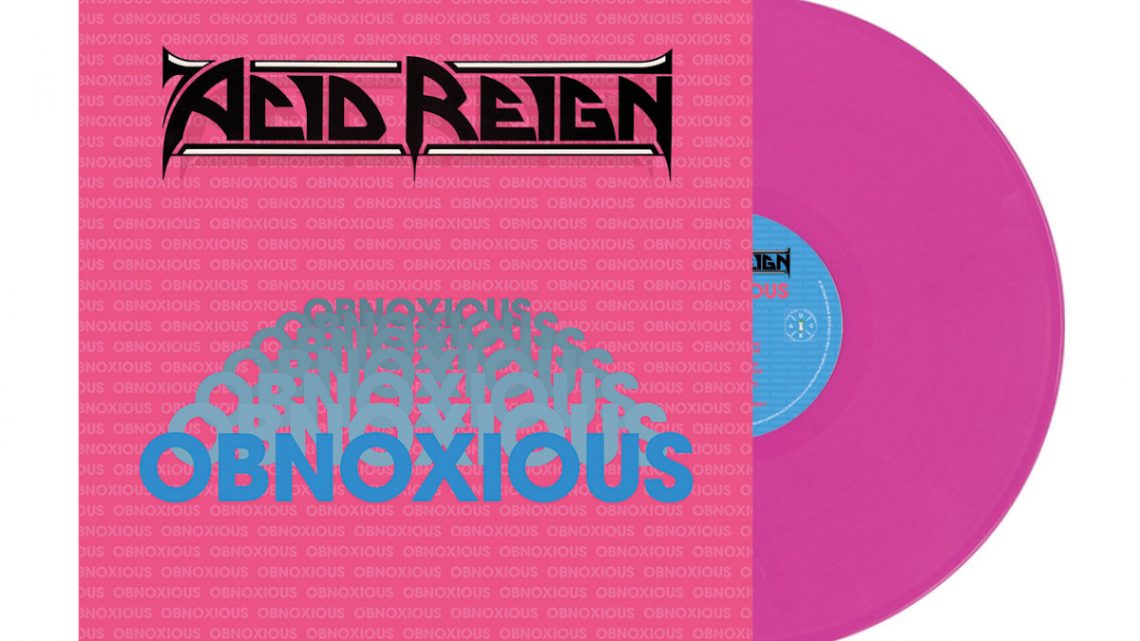 Acid Reign Frontman H Discusses Obnoxious 30 Years On
6th April 2020
Obnoxious was released via Under One Flag on the 6th April 1990. With the critically acclaimed success of their new album The Age of Entitlement. What a better way to celebrate a 30-year-old classic UK thrash album but to reminisce.
I managed to grab H during the Covid 19 lockdown to get his thoughts and recollections of that period of time. 
What do you remember most about that time?
Being hungover, we started recording on January 2nd which wasn't the best idea we ever had for obvious reasons…..
How different was the writing of Obnoxious compared to writing The Age Of Entitlement?
The reference point is really The Fear really as writing albums with 29 year gaps that include the entire line up changing and the invention of the internet aren't really comparable in any way. So to answer your question, totally different not one single comparison.
However it was different from The Fear as we had Adam and Mac working/writing with us for the first time. Ramsey & Adam put in a HUGE amount of hours on that album working late into the night every night, it was in a tiny little loft room and we were crammed in.
Thoughtful Sleep is the only song we ever wrote where the lyrics came first.
How easy was the recording process for Obnoxious?
We always smashed through stuff in the studio, in fact I think I may well have taken the longest out of everyone! I was determined to put in a performance I'd be proud of and thankfully I did.
Obviously, no Acid Reign album would be complete without a track based on a movie. Phantasm seems like an odd choice of movie to pick. What made you decide to pick that particular Sci-Fi horror?
It was Ramsey's idea, as was Motherly Love. He was a huge horror film geek and loved the movies he wanted me to write about so that was cool.
The previous album (The Fear) was a more straight-ahead thrash album. Was it a conscious decision at the time to make more of a progressive rock influenced thrash album or did it just turn out that way?
Ah I've jumped the gun! As mentioned earlier different people write different music also we were a little older and all AR albums are different from each other as we changed as people.
The artwork to the album has always been a talking point. It's been in the top 10 lists of "Worst Heavy Metal Artwork" lists since the album was released.  I know from speaking to Craig (Fearless leader) that he thinks it's the perfect cover for an album entitled "Obnoxious". Do you think Acid Reign was ahead of its time releasing an album called Obnoxious with artwork that was definitely Obnoxious? 
I think it was this simple – It's pink therefore it's shit. The end. That is all the thought that went into it from journalists at the time. I don't understand what all the fuss was/is about to be honest and 30 years on I care even less!
Creative Restraint is a song whose lyrics still ring true today. Was there anything in particular that had happened to you which made you write that song?
Yeah Jello Biafra (Dead Kennedys vocalist) being dragged into court for giving a free HR Giger poster away in the Frankenchrist album. I bought shirts and raised funds for his defence and it was my first real run in with censorship, then Dee Snider (Twisted Sister vocalist) went up in front of the senate to defend us all from Tipper Gore (Al Gore's then wife).
So by album number three I was more than ready to take aim at those targets.
Obnoxious was released when you were still at a young age. Here we are 30 years later and the love for the album (as well as The Fear and Moshkinstein) and Acid Reign as a whole is just as strong now as it was back then. How does it feel knowing you made such an impact on the Metal Community at such a young age?
Absolutely surreal. Never in my wildest dreams would I have thought I would be doing interviews about this album 30 years on! The whole appetite for the band (and nostalgia let's be honest) is as great now as ever but we HAVE to keep moving forwards that's why all the reissues have been done now. There is nothing old to release it's new stuff from here on out.
I was lucky enough to see a couple of shows on the Obnoxious tour and for the previous releases (all in London) and you always looked like you were having the time of your lives on stage.
Always did, I cannot remember a night where  I didn't have an absolute blast. I mean how could I not have a hoot with Kev half naked in a pair of dungarees stood next to me every night ha ha!
Obnoxious was released a year before Acid Reign split up. What was going on behind the scenes at that point for it all lead to that final show at the Marquee? (which was a belter of a gig)
On the Marquee date of the Obnoxious tour we had a meeting with management where they told us the album wouldn't be coming out in the states. That was effectively the end of us right there and I knew it, despite what I said above it was a real mission to get up for that show. The Marquee may have been sold out, but I knew this was the beginning of the end. Thrash then careered downhill fast, we split, Sabbat the week after and Onslaught two weeks after that, it wasn't just us.
What are you most proud of from that time period of Acid Reign?
It's taken coming back to learn the answer to that question. I have had so many people come up to me and thank me for bringing the band back, what it means to them but also the amazing stories people have of those live shows.
It seems that our shows live in the memory a little longer and clearer than some of our contemporaries as they were always so mad, so insane, so much diving and so funny.
I think people realised that we were just like them, fans. We never pretended any different and then as now you can climb on stage, say hello, dive off and we're fine with that, because if we weren't in the band we'd be doing that!
Looking back at that time, is there anything you would do differently or what advice would you give to your younger self?
No and no. I don't believe in hindsight, it's not 20/20 as all you are looking back on is the decision you made at the time but what you can't recreate is all the factors that made you make that decision in the first place.
What would you like Acid Reigns legacy to be?
We came, we saw, we had A LOT of fun, I'm cool with that.
Thanks for taking the time during this scary time to answer a few questions and celebrate the release of Obnoxious. 
Stay safe and well. 
The Acid Reign albums, including Obnoxious and the new album The Age Of Entitlement, are available HERE
For all things Acid Reign, click HERE