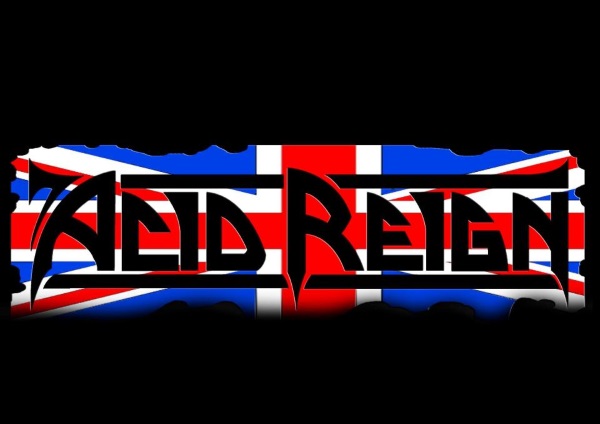 Acid Reign to reform? Reboot?
30th November 2014
It looks like one of the "UK Big 4" thrash bands Acid Reign may be on the verge of re-forming to play some gigs and maybe even release some new material! The self proclaimed "Square danciest band in the world" recently did a poll asking their fans for their views on an Acid Reign 2.0 reunion. Here are the results: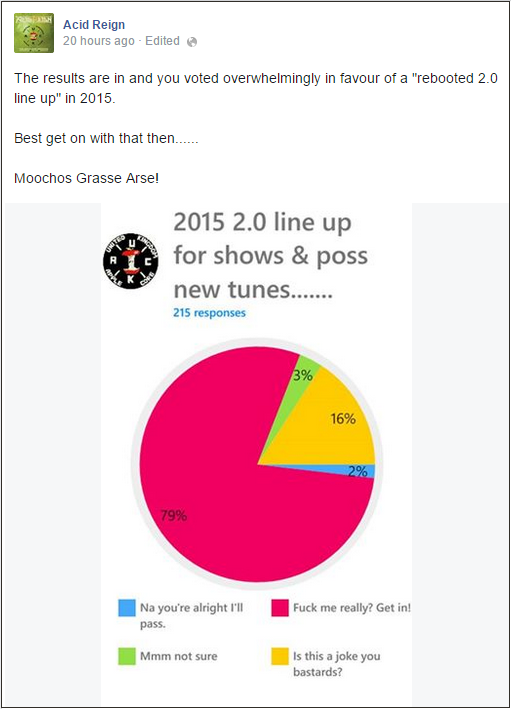 Acid Reign frontman Howard 'H' Smith says "I tried to put the old line up back together but Adam and Ramsey were unable to do it for differing reasons. That news came this time last year and it looked like that was that as Kev isn't able to commit to anything as he's constantly on the road, although he has an open invitation to join us when he's not, that's a given. Then, in the summer, I started toying with the idea of a new line up and it came together quite quickly. We're taking it slowly, learning the old stuff and playing with new ideas too. It's not a reformation it's a reboot. Even if it was the old line up it would be different, it's been 24 years! The main thing is that the goodwill toward Acid Reign has never been stronger, everywhere I go people are saying we should come back and eventually I actually fucking listened! We'll make an "official" announcement when we're ready and have plans but for now it is just have a merry Xmas and an Obnoxious New Year." 
This is great news all round – Acid Reign fans have been eager for a reunion for many years and it looks as though the reunion will be in time for the Obnoxious album 25th Anniversary.
Until we find out, enjoy the below song Creative Restraint taken from the Obnoxious album, samples of which are used in H's monthly podcast Talking Bollocks that he does for All About The Rock.