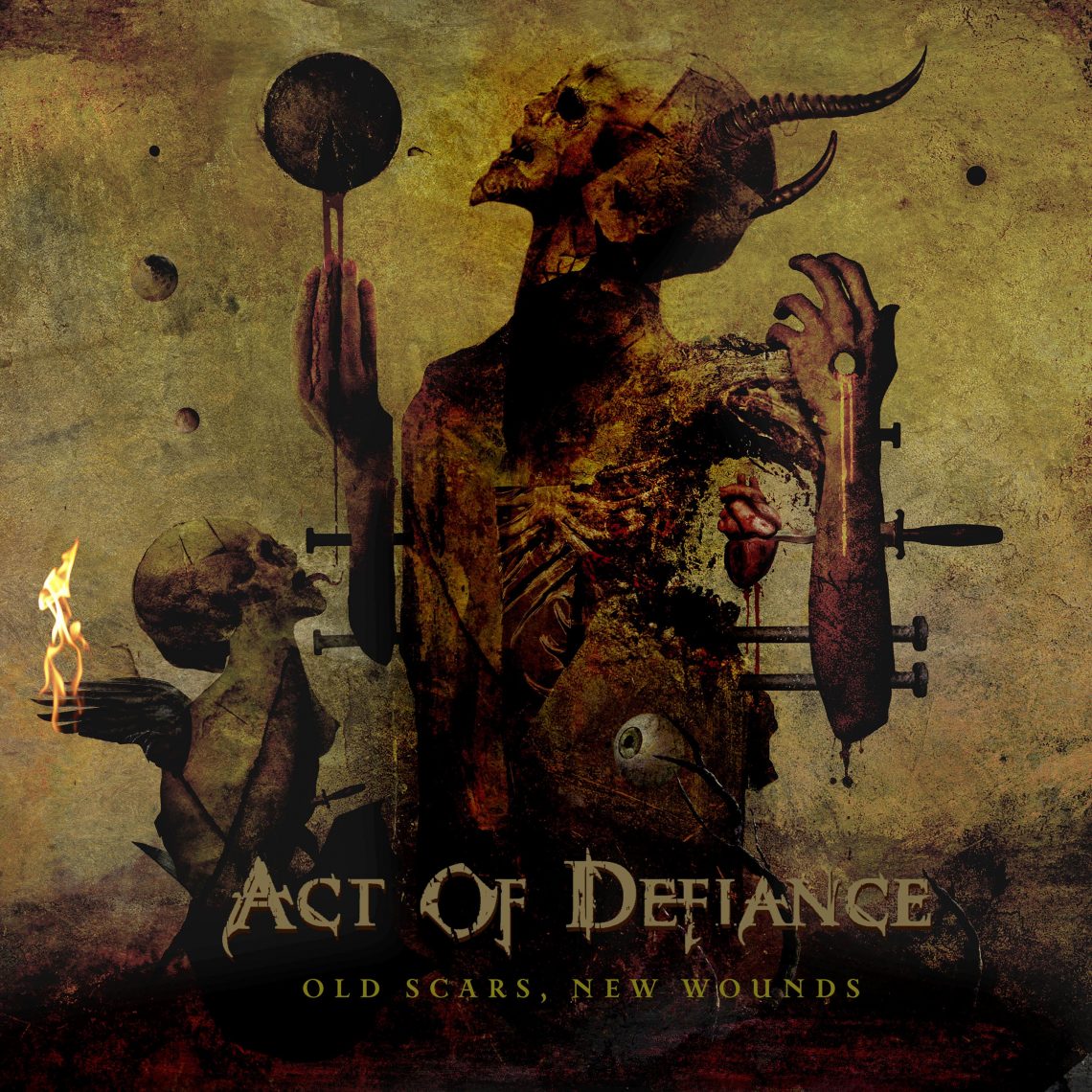 Act of Defiance – Old Scars, New Wounds
22nd September 2017
0
By
Tim Jones
If it was 1991 and someone said to me "this band has ex-Megadeth members in it" I would have jumped for joy. Anything to do with Megadeth at that time was fantastic to my 16-year-old self and an  Act of Defiance album would have been high on my list of things to purchase from my local record shop.
But it's not 1991 and Megadeth aren't riding the wave of popularity of Rust in Peace any longer. Chris Broderick and Shawn Drover were in Megadeth when the band was, let's face it, way past its sell by date. They quit Megadeth on the same day and it's difficult to see anything other than one Mr D. Mustaine being their reason for this.
The pair didn't let the grass grow beneath their feet and formed Act of Defiance, a band which for some reason has been given the moniker of an "extreme metal supergroup". What absolute tosh.
Old Scars, New Wounds is Act of Defiance's second long player and it's as good as any modern-era Megadeth record, and no, that isn't a compliment.
The style mixes thrash and melodic death metal in a way that someone who doesn't know how to mix things together properly might have done it. The switches between melodic vocals and guttural screaming are an annoyance – pick one and stick to it.
In fact, a lot of the time it's as if Broderick and Drover had a Machine Head album on in the background really quietly one day, heard it once and then said "I'm going to recreate that sound. Badly."
it's as good as any modern-era
Megadeth
record, and no, that isn't a compliment
Tim Jones
Old Scars, New Wounds demonstrates what can happen when a lead guitarist does something themselves. Broderick might have laid down some sick solos for Megadeth, but he never wrote the songs. This offering exposes his weakness as a songwriter and most of what could have been excellent riffs and leads have been overegged by a guitarist who seemingly wants to shout "LOOK AT ME!" rather than simply produce something of quality.
Also the guitars seem a little high in the mix. Very Mustainian, Mr Broderick.
The album isn't unlistenable, but when Act of Defiance is sold to you as a "supergroup" it's hard not to be disappointed by the outcome.
For an example of something worthy of listening to, go and check out Chris Poland's Return to Metalopolis album instead.
Score: 4 out of 10
Track listing:
M.I.A.
Molten Core
Overexposure
The Talisman
Lullaby of Vengeance
Circle of Ashes
Reborn
Conspiracy of the Gods
Another Killing Spree
Broken Dialect
Rise of Rebellion
Release date: 29th September 2017
Label: Metal Blade
Check out Act of Defiance here.
How useful was this post?
Click on a thumb to rate it!
Average rating 0 / 5. Vote count: 0
No votes so far! Be the first to rate this post.
Related
About the author
I'm an East Yorkshire-based fan of thrash, hardcore and punk who likes to write about it as much as he likes to talk about it.