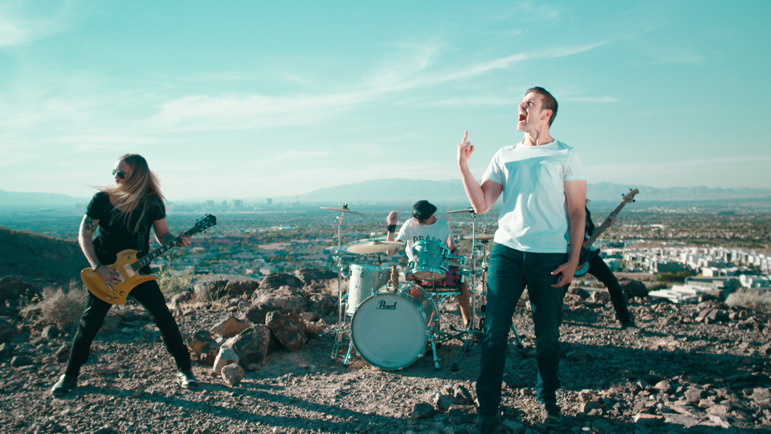 Adelitas Way – Drop Video for New Single 'Shine On'
30th June 2020
Adelitas Way forthcoming, sixth, studio album "Shine On" set for release on 14thAugust 2020.
 
Adelitas Way has over 300 million streams to date and toured with the likes of Guns N Roses, Shinedown, Alter Bridge and Breaking Benjamin in the USA. The new album sees the band turns its attention to Europe.
US phenomenon Adelitas Way are set to release the first single from their forthcoming sixth studio album.
"Shine on" perfectly showcases Adelitas Way – driving rock riffs overlaid by an insanely memorable vocal melody. The band over 1,000,000 monthly listeners and over 135 million streams at Spotify. The band has toured with Guns N Roses, Shinedown, Creed, Three Days Grace, Halestorm, Theory of a Deadman, Breaking Benjamin, Staind, Alter Bridge, 10 years, Buckcherry, Hinder, Flyleaf, The Pretty Reckless and has over ten successful headline runs across the USA, selling out shows regularly. They have played the main stage at the biggest Rock festivals in the USA including Rock On The Range, Carolina Rebellion and Louder Than Life.
 
Formed in the late 2000's by lead vocalist and songwriter Rick DeJesus, it was 2009 when the band broke into the mainstream in the USA with their anthemic "Invincible" single, taken from their eponymous debut album released through Virgin Records. The Top 5 single garnered numerous television spots, including the "CSI Miami" finale, served as the theme song for the weekly WWE Superstars show, was also featured in the THQ video game "Raw vs Smackdown" and on Fox Sports Network as the college football theme song.
 
Once dropped from their label and management, necessity became the mother of invention and the band chose to survive. Alive and well, the band started making their best music yet and became masters of their own destiny. The band's sophomore effort, "Home School Valedictorian", arrived in Summer 2011 spawning four Top 5 singles (Sick, collapse, criticize, Alive) including two #1 hits (Sick, Criticize) at Rock radio. The record was the band's highest selling album to date, selling over 160,000 copies, over 1 million singles.
 
From this base the band went on to release albums "Stuck" (2014), "Getaway" (2016) and "Notorious" (2017). The band played numerous sold out headline and support slots across the UK. The lead single "Notorious", from the 2017 album of the same name, became one of the bands most successful history, garnering over 25 million streams.
 
"Shine On" finally sees the band turn their attention towards the UK and Europe. With only one European tour to date the band are set to tour again as soon as current Covid restrictions are lifted. Remarkably, considering the one tour, Adeltias Way are currently getting over 50k streams on spotify monthly from the UK alone!!!!
 
"Shine On" is set to be the next chapter in the extraordinary story of this band…
 
https://www.facebook.com/adelitasway/