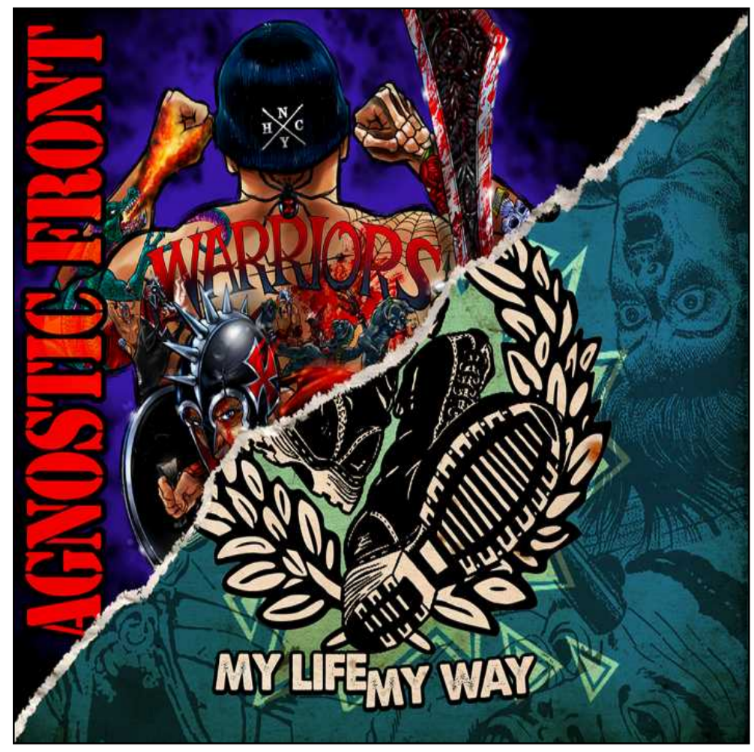 Agnostic Front: Warriors + My Life, My Way – CD review
19th December 2016
There is usually too long between releases by New York Hardcore veterans, Agnostic Front. I would say this if they brought out an album every month though in fairness.
This isn't a new release though, but it's a good excuse if one were needed to revisit a couple of extracts from a career spanning over thirty years. They haven't been remastered or anything – that would be quite a laugh from a band whose first album sounded like it was recorded on an old cassette recorder in a garage – and are here in their original form.
Here we have two of Agnostic Front's Nuclear Blast releases repackaged and re-released as one.
First of the two is 2007's Warriors. Agnostic Front are often credited with inventing the genre of crossover, but whether or not this is true is open to a debate that could rumble on forever. My point is there are hints of it here and metal-sounding riffs here and there are a thing the band have dabbled with for years. Such is the appeal of Agnostic Front though – they're loved by metallers and punks as well as fans of hardcore.
That's not to say this isn't full of typical hardcore elements too. Songs all under three minutes? Check. Insane breakdowns? Check. Heavy as fuck, palm-muted riffs? Check. Shouty gang vocals? Check, check.
But as a choice for a reissue it's a peculiar one. This is a good album, but it absolutely isn't their best. If you've ever seen Agnostic Front live there's a good chance you'll have heard For My Family before, but most of the other tracks are rarely dusted off and with good reason: most of Agnostic Front's back catalogue is better than this.
Second album My Life, My Way, might sound like a nod to Frank Sinatra, but it absolutely isn't. This is a much better album than Warriors and represents a real return to their truer form. The difference is it is a lot better produced. It is an album of much more pure hardcore, inspiring at-home circle pits in many a living room no doubt.
It's full of highlights. Opener, City Street, the title track and Until the Die I Die are all amazing and anthemic. This is the place to go if you want something that could be described as typically hardcore.
Typically Agnostic Front is a bit tougher to define, but if you've never heard them before put this on hold and go and check out Live at CBGB to get a real sense of what they're all about.
Score: Warriors: 7 out of 10
           My Life, My Way: 9 out of 10
Release date: 27th January 2017
Label: Nuclear Blast
Track listing:
Addiction

Dead To Me

Outraged

Warriors

Black And Blue

Change Your Ways

For My Family

No Regrets

Revenge

We Want The Truth

By My Side

Come Alive

All These Years

Forgive Me Mother

City Streets

More Than A Memory

Us Against The World

My Life My Way

That's Life

Self Pride

Until The Day I Die

Now And Forever

The Sacrifice

A Mi Manera

Your Worst Enemy

Empty Dreams

Time Has Come