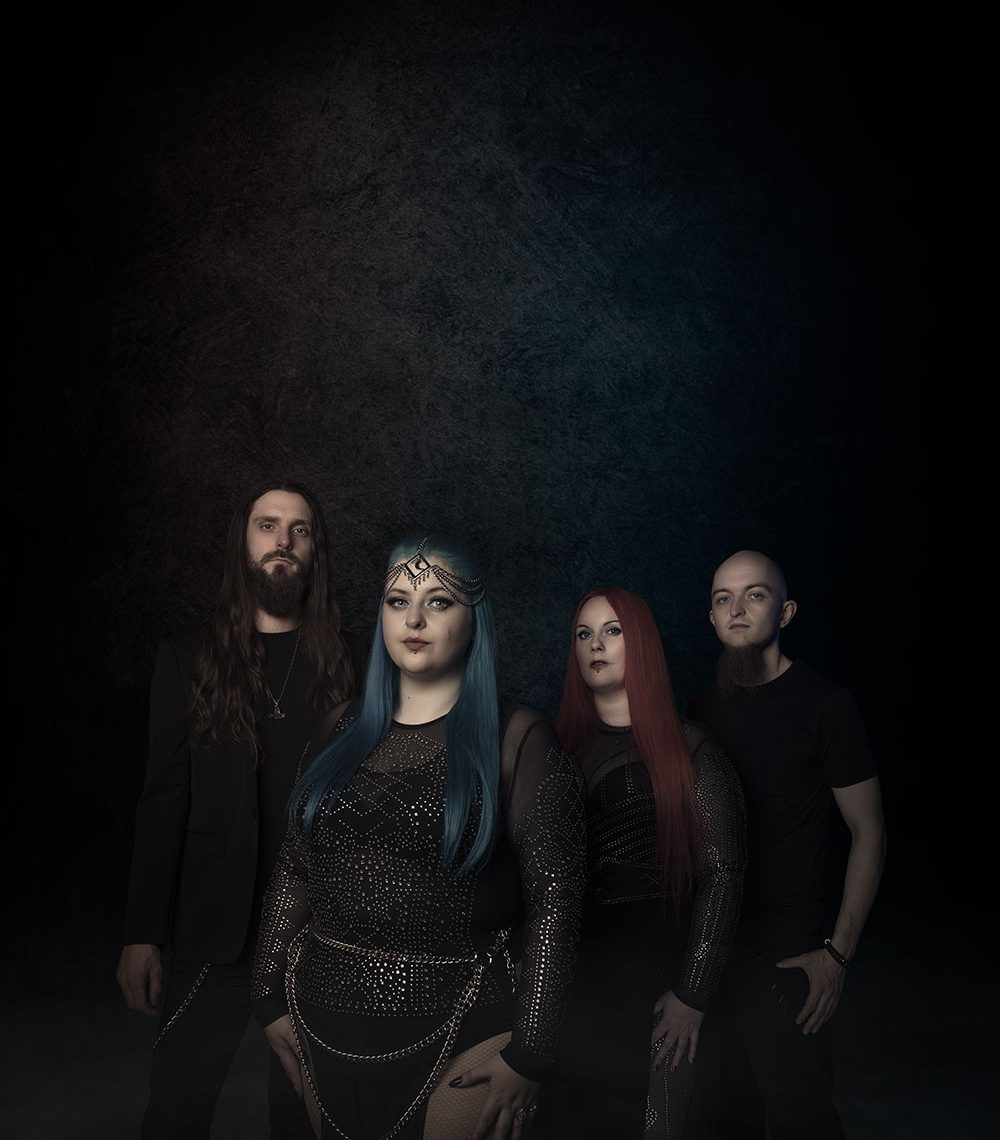 Amie Chatterly and Gemma Lawler of Dakesis Interview
20th January 2021
0
By
John Deaux
Dakesis are one of the UKs premier Power Prog metal acts. We caught up with Bass player Amie and vocalist Gemma during Lockdown 3.0 to see how their pets are helping.
Amie: Currently I have a 6 year old Border Collie called Pickle and a 5 month old Kitten called Pumpkin.
Gem & Adam: We have three cats – Helena (14 – MCR emo goddess), Stark (8 – the king in the north) and Luna (9 months – she was born on the day of the 2020 SpaceX launch). Helena and Stark are both rescues, and Luna came to us from the lovely Mel from Aonia. Mel got adopted by a stray pregnant cat at the beginning of the UK lockdown, and I got in touch as soon as I found out there would be kittens!
What is the weirdest thing your pets have done or what's the weirdest thing you have done
Amie: Pickles weirdest and most favourite thing to do is steal washing. He has no preference for clean or dirty, he'll rifle through the laundry basket, pull bits of washing out and roll on them. He also steals clean washing off the clothes airer and does the same to that. He's a special boy. Another thing he does, is pick up rubbish on walks. Bottles, crisp packets, gloves, anything goes. He's from a working background, so is always looking for something
to do.
As for Pumpkin, I'm not sure it's the weirdest thing she does, but it's certainly the most annoying – she likes to try and steal food directly out of your mouth whilst you try and eat.
Gem: Our house is covered in soy-milk carton ring-pulls and bottle tops because Luna is obsessed with them. She also steals paper money if you leave it out! Stark and Helena are both pretty chilled in comparison.
What is the best trick your pets can do?
Amie: Pre pandemic, Pickle was an agility dog. His best trick was definitely completing difficult agility courses.
Gem: Helena and Luna are both excellent high-five givers! Stark's only trick is being a handsome chonk.
This past year has been pretty naff, so you've no-doubt, like the rest of us, spent a lot of time at home courtesy of the various lockdowns. How have your pets helped being at home for you? 
Amie: I mostly work from home or the studio anyway (which Pickle has been a visitor to on many occasions), so it hasn't really been much of a change for us. He's certainly been a comfort and has ensured I still maintain some structure. With his working background, he needs a lot of exercise and he makes the best running partner a girl could ask for. He needs to be walked daily which has really helped to get me out for some fresh air!
Gem: I don't know how anyone got through this without pets! They've all been a massive comfort, especially getting Luna last summer. We bonded really quickly and she's very playful – she brought a lot of joy in a really difficult time, and is very popular with my students and colleagues as she's not zoom-shy at all!
Have you always been animal lovers? Have you ever owned any exotic or different pets?
Amie: I've loved animals for as long as I can remember. We're also all vegan in Dakesis which kind of cements that mindset. I've owned a variety of animals all my life from cats, dogs and rabbits, to gerbils, rats and hamsters. I think the closest thing to exotic I've ever owned was a few stick insects.
Gem: I've had cats my whole life, and would definitely consider myself a "cat-person", but I just adore all animals. I dream about retiring to an animal sanctuary and just taking in as many animals as I can.
Are you one of those people that puts your pets into costumes? 
Amie: I have been known to don some reindeer horns and Santa hats to Pickle, Pumpkin has remained unscathed so far and hasn't been forced into any costumes … yet.
Gem: No battle vests yet (plans are in the works though..) but they have plenty of costumes and little jumpers. Thankfully they seem to enjoy it – Helena especially loves a tiny jumper I crocheted for her in a moment of lockdown boredom.
Do they like it when you practise at home or has your pet had any influence on your music? 
Amie: Pickle doesn't care, Pumpkin spends a lot of time attacking my bass when I'm teaching private lessons or trying to practice at home. Most of the time she gets banned from the office because she can't be trusted.
Gem: They don't really care much, unless I'm practicing for WomenOwaR. Stark hates the high notes to the point that I don't really practice that style at home at all now if I can help it – bless him. Little poseur.
Who looks after your pet whilst you're away on tour/holiday?
Amie: I usually rope in friends and family to look after the pets during touring season. They kindly house sit for me so I don't have to use kennels.
Gem: Yeah, friends or family.
Speaking of practising, any new music in the pipeline? IF so when is it due and what can your audience expect?
Amie: It's nearly been a year already since we released our latest album Fractures. We don't have any concrete plans for our next release just yet, but we have been throwing some ideas around in some of our downtime.
Gem: We do also have a couple of exciting projects we've been working on over the past year,which is taking a little longer than expected given the current global events, but we're hoping to release more details of this over the next few months.
Have you anything you'd like to say to your fans/followers?
We miss you, and we hope you're keeping well and we can't wait to see you again!
Thank you ladies and gent.. It's been a pleasure as always. Stay safe and make sure you give your animals loads of cuddles. 

How useful was this post?
Click on a thumb to rate it!
Average rating 4.7 / 5. Vote count: 583
No votes so far! Be the first to rate this post.
Related
About the author
Some say Yank My Doodle, It's A Dandy! is a biographical movie based on John. Some have even said that his favorite artist is Chesney Hawke! All we really know is he sleeps inside out and his hair tastes like candy floss.