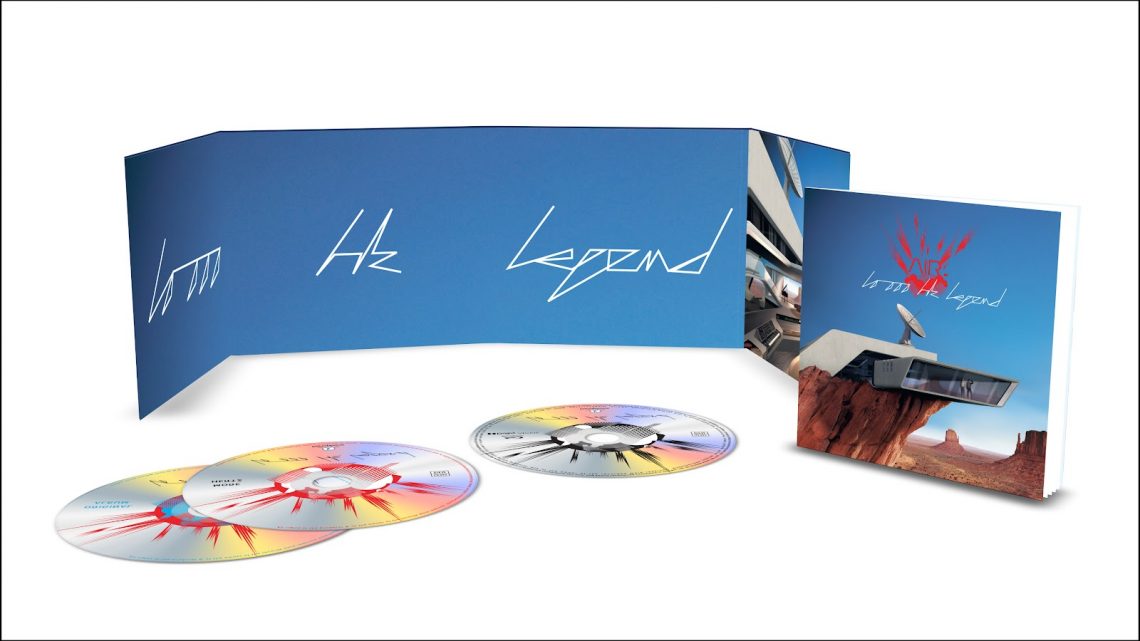 AIR 10 000 HERTZ LEGEND – 20th Anniversary Edition
19th October 2021
To celebrate the 20th anniversary of 10 000 Hz Legend, AIR's landmark record from 2001 which impact on the sound of the time still resonates today, a special edition with an enhanced Dolby Atmos spatialized mix along with rarities will be released Nov. 5 2021
Available in a deluxe 2CD / Blu Ray boxset + digital version, this special edition is a second-to-none sonic experience, a culmination of the sound that Nicolas Godin & JB Dunckel originally imagined.
A masterful job was done with the record's original sound engineer, Bruce Keen, who went back to the original multi-track masters and created this new '3D' mix. 
In addition to the 5.1 & PCM stereo mixes, the reissue comes with added rarities such as' The Way You Look Tonight '(from the original Japanese edition of the album and the 'Everybody Hertz' EP), live versions recorded in 2001 for KCRW's cult show 'Morning Becomes Eclectic', 'People in the City' Live from the 2001 Mayan Theater show in Los Angeles and four previously unreleased demo versions. 
The band's sound ignited in the mid-90s has influenced and continues to influence several generations of musicians like Jean-Michel Jarre, Daft Punk or Phoenix, AIR are emblems of the French sound international takeover. 
Since first meeting in high school in Versailles in the 1980s before becoming AIR in the mid-1990s, Nicolas Godin and Jean-Benoît Dunckel have produced a body of work in which each album constitutes its own unique planet. AIR recorded 'Moon Safari' (successor to their debut EP 'Premiers Symptômes' and their first international success in 1998), the soundtrack to Sofia Coppola's film 'Virgin Suicides' in 2000 in which the band confirmed their status of timeless psyche-pop artists with a cinematographic dimension, 'Talkie Walkie',  a pop masterpiece released in 2004, followed by 'Pocket Symphony' (2007), 'Love 2′ (2009) and the soundtrack to the restored version of Georges Mélies' 'Voyage to the Moon' (2012).
Experiments as rich and ambitious as their various collaborations with Beck, Charlotte Gainsbourg, Nigel Godrich (Radiohead), Jarvis Cocker, etc. 
Nicolas Godin and Jean-Benoît Dunckel also both pursue solo careers. Nicolas Godin has released two albums to date (Contrepoint, 2015 and Concrete and Glass, 2020), he also contributed the music to Angelin Preljocaj's ballet' La Fresque' (2017) and the original soundtrack for Netflix' tv show 'Au Service de la France' series (2019).
Jean-Benoît Dunckel has released two albums under his own name, H+ (2018) and Mirages (2019), as well as several film soundtracks, including' Eté 85 'by french director François Ozon (2020).
AIR
https://twitter.com/airofficial
https://www.facebook.com/intairnet/
https://www.instagram.com/aircheology/
https://www.youtube.com/c/AIRfrenchbandofficial/
Nicolas Godin
https://NicolasGodin.lnk.to/Instagramyo
https://NicolasGodin.lnk.to/Facebookyo
https://NicolasGodin.lnk.to/Twitteryo
https://NicolasGodin.lnk.to/Youtubeyo
Jean-Benoît Dunckel
https://www.instagram.com/jbdunckel/
https://www.facebook.com/JBDunckelMusic
https://www.youtube.com/channel/UCt5bueqDr8q_t4UzPKFLEJA