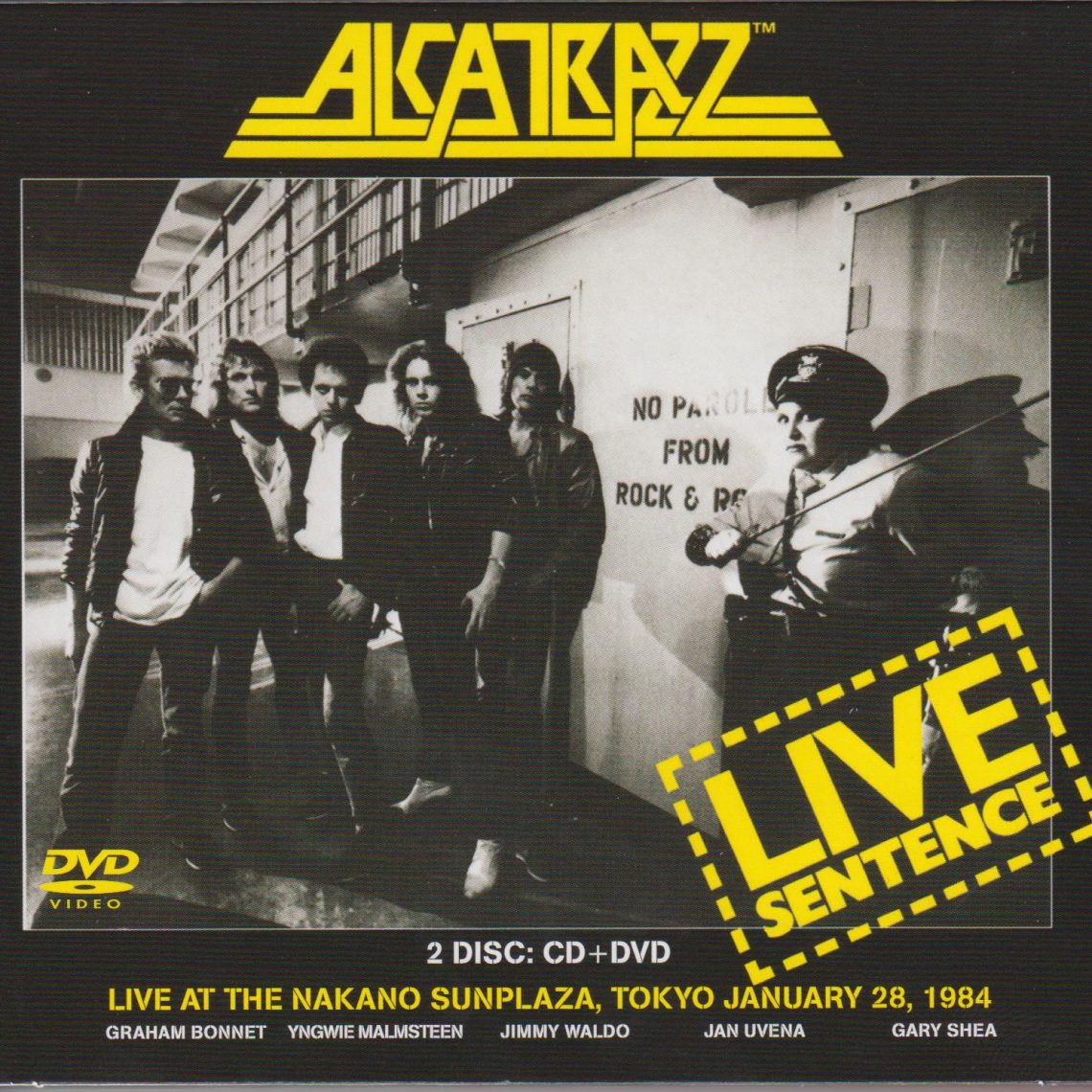 Alcatrazz – Live Sentence – Deluxe Edition CD Review
12th January 2016
Due for release on the 29th January via HNE records, is the ONLY official live release from the Graham Bonnet (
Rainbow, Michael Schenker Group
&
Impellitteri
) & Yngwie Malmsteen (Steeler & Solo) era
Alcatrazz
.
Alcatrazz,
at this point, were just hitting the pinnacle of their career as their debut album
'No Parole from Rock 'n' Roll' 
had been released the year before. They were enjoying success from that which, of course, afforded them to go tour & take in Japan where this set was recorded.
This double disc set not only includes the full concert on CD in the correct running order but also includes the full concert on DVD which now gives fans the complete concert experience in one very handy package.
This CD audio sounds the mutts nuts. I still have the single 1984 LP version of this album & to finally hear it upgraded to CD is sublime. Especially as it's now the full concert rstoring the 7 tracks that were cut from the vinyl due to the time constraints of vinyl at the time & of course to ultimately keep costs low.
The highlight for me is the track 'Kree Nakorie.' It was originally edited down to just under 7 minutes on previous releases where in reality it ran for a little over 11 minutes & it's finally here in all it's glory.
You also get All Night Long' & 'Since You've Been Gone' (from his time in Rainbow), 'Desert Song' (from MSG) & his solo single 'Desert Song' which are not only classic songs in their own right, but to be heard in a totally new way is always joyous.
The DVD portion is where this package truly shines. To watch the chemistry between Bonnet & Malmsteen is quite interesting. Bearing in mind this was 5 months before Yngwies firing/leaving (depending on which camp you listened to at the time)
'Evil Eye' into 'Guitar Crash' is fun to watch. Not only because you get to see the way Malmsteens fingers fly around the fret board but you can clearly see how much of an influence Ritchie Blackmore (Deep Purple, Rainbow) had. At times it's almost like watching his double.

Bonnets vocals sound phenomenal & he certainly knows how to work the crowd.
The backing band of Gary Shea – bass, Jimmy Waldo – keyboards, backing vocals & Jan Uvena – drums, backing vocals a fantastic musicians in their own right.
Considering the video is 30+ years old it looks great & sounds great even through a home cinema system. However it is only a Dolby Digital stereo mix.
Having said that it's great to have a digital copy to replace the very worn, 30 year old VHS.
The special features are non-existent, however there are 3 bonus tracks ('Too Young to Die,  Too Drunk to Live, Hiroshima Mon Amour & Island In The Sun')
from the Rock Palace in the USA which a fantastic in their own right, look & sound tremendous as well as being another slice of Alcatrazz history.
To say I've had fun watching & listening to this re-issue is an understatement.
A worthy purchase.
For fans of Rainbow, Deep Purple, Yngwie Malmsteen, Steve Vai, Michael Schenker & those who are just discovering the classic rock & metal genre.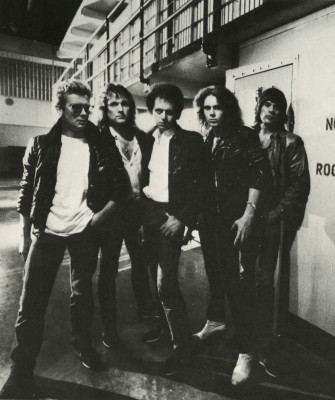 DISC ONE: AUDIO CD
1. TOO YOUNG TO DIE, TOO DRUNK TO LIVE
2. HIROSHIMA MON AMOUR 
3. NIGHT GAMES 
4. BIG FOOT  
5. ISLAND IN THE SUN 
6. KREE NAKOORIE
7. COMING BACH
8. SINCE YOU BEEN GONE 
9. SUFFER ME 
10. DESERT SONG 
11. EVIL EYE
12. GUITAR CRASH
13. ALL NIGHT LONG 
14. LOST IN HOLLYWOOD 
15. KOJO NO TSUKI
16. SOMETHING ELSE
1. TOO YOUNG TO DIE, TOO DRUNK TO LIVE  
2. HIROSHIMA MON AMOUR  
3. NIGHT GAMES  
4. BIG FOOT  
5. ISLAND IN THE SUN  
6. KREE NAKOORIE
7. COMING BACH 
8. SINCE YOU BEEN GONE  
9. SUFFER ME  
10. DESERT SONG  
11. EVIL EYE 
12. GUITAR CRASH 
13. ALL NIGHT LONG  
14. LOST IN HOLLYWOOD  
15. KOJO NO TSUKI 
16. SOMETHING ELSE BONUS DVD FEATURES: ROCK PALACE USA
17. TOO YOUNG TO DIE , TOO DRUNK TO LIVE
18. HIROSHIMA MON AMOUR
19. ISLAND IN THE SUN
Line up
Graham Bonnet – vocals
Yngwie Malmsteen – guitar
Gary Shea – bass
Jan Uvena – drums, backing vocals
Jimmy Waldo – keyboards, backing vocals
Score 8/10