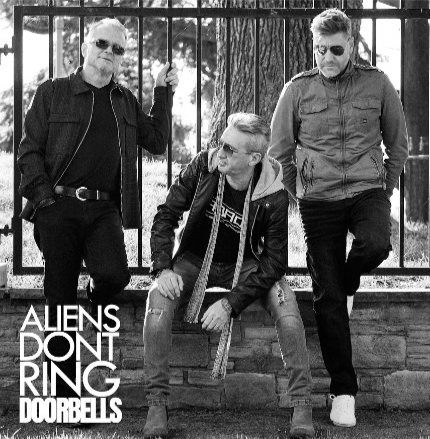 Aliens Don't Ring Doorbells, blast off with 'Hello 2 You', just in time for their summer tour.
12th July 2022
The mighty Aliens Don't Ring Doorbells (ADRD) have landed and they are here to stay. They welcome you along with open arms, to travel with them upon their latest upcoming journey. To be released on the 29th of July comes the band's latest single 'Hello 2 You'. A perfect follow-up from the planetary entrance of the last two years.
'Hello 2 You', the latest single from the interstellar trio is sure to launch the band to new heights. The Bahamas-UK-Spain-based pop-rock band ADRD fuses songs together in an amalgamation of jazz, prog and swing, 'Hello 2 You' carries on that galactic sound with an almost Madchester energy about it. Blazing with upbeat and joyful undertones, the single is filled with high-energy riffs and funky hooks. 
'Hello 2 You' is powered by stellar guitar lines, entwined with the sweeping gospel-sounding keys. The locked-in groove of the percussion and bass is second-to-none, all expertly flowing under the powerful vocal melodies. The single will be paired with 'Don't Touch' a second release that will form as the B-side to 'Hello 2 You'. The two releases will arrive in preparation for a brand new album, scheduled to release at the start of next year with the aim to follow up their debut in perfect fashion.
During the phenomenal release of their debut album 'Arrival' back in 2020, the album was welcomed with open arms and loved by many, solidifying ADRD's name amongst the stars. The bound found recent major success within the United States as two of their songs ('Daylight' and 'It's Your Night') rocketed through to break into the Top 30 in the Billboard Adult Contemporary charts.
As last year saw ADRD play a sell-out tour across the UK supporting the iconic Scouting For Girls, this year has already seen the band support Roachford around Europe during March and April. The band will be back in the UK in July, playing shows all across the country, this will be the time for the band to shine as they go on to headline their own shows.
Hello 2 You is out on the 29th of July 2022.
Dates for Aliens Don't Ring Doorbells upcoming gigs below:
Tue 19th July 2022 | BANNERMANS | EDINBURGH, UK
Fri 22nd July 2022  |  PERCY'S CAFÉ BAR  |  WHITCHURCH, UK
Sat 23rd July 2022  |  GATEWAY'S FESTIVAL  |  SKIPTON, UK
Mon 25th July 2022  |  WEST STREET LIVE  |  SHEFFIELD, UK
Wed 27th July 2022  |  HOXTON UNDERBELLY  |  LONDON, UK
Fri 29th July 2022  |  THE DUBLIN CASTLE  |  LONDON, UK
Fri 19th Aug 2022  |  OLD SCHOOL BBQ BUS  |  MANCHESTER, UK
Sat 27th Aug 2022  |  TVW STOCK  |  LLANDUDNO, UK
Sat 24th Sep 2022  | SOUTHDOWNS FOLK FESTIVAL  |  WEST SUSSEX, UK
Follow Aliens Don't Ring Doorbells
Facebook | Instagram | Spotify | YouTube | Twitter