(All About The) Camden Rocks
7th June 2019
0
By
Gavin Griffiths
Summer; a rare, almost mythical phenomenon in the British Isles, at least from the weather's perspective anyway, but we all know it comes every year thanks to what we have dubbed festival season. Yes for months now everyone has been following the likes of Download and Bloodstock; awaiting news on line-up announcements, judging who has the better headliners and deciding on which to splash the cash on…but while we're anticipating those big hitters in particular, festival season is actually already underway. Radio 1 has recently delivered its Big Weekend at 2019 host city Middlesbrough, and a lot of you have already gotten 'Punk In Drublic' at Slam Dunk…but on June 1st I swapped tents for taverns as I made my way to London…
The brainchild of promoter Chris McCormack, Camden Rocks started life a decade ago, as a means to highlight the talented plethora of emerging UK artists filtering through the many club venues in and round the UK, dedicating a weekend to the celebration of both live music and grass roots venues. Over the years however it's grown, naturally, and these days it draws in not only more established artists, but also thousands of fans who swarm Camden Town…there as much for their favourites as they are for fresh discoveries. This year, All About The Rock was asked to do their first piece of coverage for Camden…and they sent me to check it out. One Welsh reviewer; 2 days, 20 venues and 400 bands…here's what I managed to catch before my inevitable mental breakdown.
To begin with, I have to point out that my day started with a 6:15am coach trip from Cardiff to London…so I was facing a long day before I even STARTED covering bands, but things were all running on time, and I had a game plan. My aim was to not get lost on the tube (Surprisingly successful there), get to my hotel in Euston, shower, change, back on the tube to Camden and be ready and waiting for the 12pm kick off, having gotten my press-pass from The Worlds End. This however, didn't quite happen as I was unable to obtain an early hotel check in…so I must hereby apologise to THE DYNAMITE CLUB, AS SIRENS FALL and MILK TEETH for missing your sets. Having to wait for my check-in however meant I had time to kill in Euston, which meant only one thing; pub. About six pints and borderline sunburn later I managed to finally get access to my room, continued with the original plan, albeit delayed, and finally made my way to Camden to get the show on the road.
My first review of the weekend came courtesy of METALLICA at The Blackheart…and I bet you're thinking what the fuck? Since when were Metallica playing Camden!? Well actually it was a pint of their pilsner "Enter Night" at the bar while waiting for the first band. A light, fruity almost floral fresh pint that's surprisingly sweet compared to the claggy contradictions presented by the upstairs venue itself. PHOXJAW [7] are the first band I manage to catch today and if you're going to catch a band like Phoxjaw, it's The Blackheart you want to catch them in. The room is pretty damn claustrophobic and it only enhances the sheer force and volume of their sludgy, almost stoner-rock inspired blend of alternative metal. One of the most promising bands on the rock scene right now following their 2018 "Goodbye Dinosaur…" EP and the droning yet hypnotic new single "Melt, Your Face Away", they pummel the early afternoon punters in the darkness of this tiny yet intense venue, and they make up for the disappointment of my pint. Metallica should have called it "St. Anger" instead…tastes as bad as Lars' snare…
We're on the move next to what will become my main base of operations tonight; The Monarch, courtesy of some specific PR requests and suggestions, and the first of which are RISKEE AND THE RIDICULE [8]. The Kent-based collective are on fine form and turn an already stupidly warm venue into a sweat-drenched puddle of punk-fuelled pleasure. Incorporating up-tempo punk-rock stylistics musically with an almost THE STREETS level of cockney-swagger vocally, they are impossible to not enjoy as they rip through tracks like the explosive new single "Kaboom!", and the touching punk ballad "Molotov Cocktails" which highlights the bands penchant for socio-political lyricism. The atmosphere in The Monarch to their credit is incredible and you could swear they were a headline artist as the venue is rammed…and each and every song is enjoyed just as much as every cold pint crossing the bar. Speaking of, I'm staying here for the next band, so, best get another one while I wait hadn't I? Amstel please…be rude not to.
RASCALTON [6] are up next and to be perfectly honest most bands would have struggled following the lads from Riskee, and this isn't to say that Rascalton are poor, far from it, it's just an unfortunate booking from their viewpoint. The Glasgow-based group mix elements of straight up rock 'n' roll with indie-rock sensibilities and do manage to deliver another up-beat, up-tempo set, keeping the crowd more than just interested but you can already tell that the heat is getting to people now. With new singles "Eddy" and "Employee Of The Month", as well as tracks such as "Police" off their recent EP, they do entertain, but energy levels are down and it'll take something loud to wake people up again…good job I'm staying put! Another Amstel please bar wench…
Up next we have another of our PR requests and it comes in the form of Watford three-piece SINKA [8] and hats off to Division PR for suggesting these guys…what an absolute pleasure. They've only been around for a short period of time but they're making all of the right noises…from the current single "Fussy" which bridges gaps between the likes of ROYAL BLOOD and QUEENS OF THE STONE AGE with its gritty, ballsy, blues-based hard rock aesthetic, to tracks like "You Run" with its far smoother flowing instrumentation and vocal harmonies, this lot tick all of the boxes and it will be WELL worth checking out their upcoming debut EP "F.W.Y.K", due out this Summer. Sinka or swim? 100% swim…ones to watch this lot. My final band on The Monarch's line-up then is AUTOPILOT [6] and while a more than pleasant band, it's again more of a come-down. Their happy-go-lucky indie-pop style would easily please fans of YOU ME AT SIX for example; especially the easy-listening innocence of "Invincible", and the up-beat, charming "Can You Feel The Love"…but all the charm in the world won't help the fact that The Monarch has become an overheated cesspool of sweat and lager…speaking of which…one more for the road.
My final band of Saturday night can be found just down the road inside Camden Market itself at the Gabeto, and that band needs no introduction; THE QUIREBOYS [7]. Spike and the lads headline the venue with an unplugged set and really it's like this where we find the UK rock veterans at their best. With their laid back approach, cheeky charm and beer-fuelled sing-alongs, led by Spike's almost ROD STEWART level husky vocals, it's hard not to simply kick back and enjoy the master class of simplistic acoustic blues rock with a cold beer or two. Promoting their newest album "Amazing Disgrace" with single "Original Black Eyed Son" as well as rolling out some timeless classics, they round tonight's bands off nicely, putting this reviewer in a happy, relaxed mood…that is until I discovered Liverpool had won the Champions League Final…this requires A LOT more alcohol…
Fast forward and its Sunday right now…and I have to say that I think I might be dying at this point. Between the general heat, dehydration and the minor fact that I didn't leave Camden until 4am following the after party in Underworld, I'm surprised I can see let alone function, yet, here I am to check out a couple more bands until I have to head back to Cardiff. Cheeky plug, arriving back into Camden I bumped into Gary Paterson who runs Amplified Festival…had a quick chat with him as he was doing some promotion, if you've not checked out Amplified yet, go do so, he's done an awesome job! Anyway, back to Camden and my first port of call would be Dingwalls for THE SOAP GIRLS [8] who kick things off Sunday with a nice, early 12pm slot time. Despite this however they pull in a great crowd and put on a solid display of glam-inspired, punk-fuelled rock. Their lyricism and between-track banter having as much of strong message as their stage costumes (Or lack of I should say), and they encourage each and every one of us in attendance to be themselves, be bold, be creative, be unashamed of yourself and your interests and the positive vibes simply ooze from these South Africans. If new single "One Way Street" is anything to go by…then you better wash your mouth out if you spout any doubts regarding this daring duo. And yes…boobs…big deal.
Sadly then due to certain transport circumstances I only have time for another band on the Sunday before my journey home, so I aim to end on a high-note at the Electric Ballroom with the lads from GLAMOUR OF THE KILL [4] and oh how disappointed I was, but it really wasn't their fault all credit to them. It's 1pm on a Sunday afternoon and the Electric Ballroom is pretty much the largest venue in Camden, so to say that the crowd was a bit sparse looking would be an understatement…however the Yorkshire rockers raged on with their blend of melodic metalcore like the professionals they are. Sadly, you could feel them giving up on stage as very few of those in attendance sounded like actual fans, crowd participation was next to non-existent and truth be told it became uncomfortable to watch…especially when they had to cut a song midway because of technical difficulties. Granted new track "Resurrection" sounded heavy as all-hell with some solid guitar work, channelling their inner BULLET FOR MY VALENTINE, while "Earthquake" TRIES to get the crowd moving…but it's a death slot for any band this. To be fair the lads tried, they really did…but you could sense their defeat.
There were plenty of bands I wanted to catch up with…including RAVENFACE, SKARLETT RIOT and HANDS OFF GRETEL…but sadly travel availability cut my time in London short on this occasion. To be fair…for one person to attempt this, you simply have to hope for the best and fingers crossed you won't be disappointed as a neutral. Luckily the bands I DID manage to catch were quality and I enjoyed my brief experience of Camden Rocks 2019. I'm better prepared for 2020…so Camden…you may have won this battle (And given me potential alcohol poisoning in the process) but you've not won the war…AATR will be back…unless I have a restraining order as I really can't remember much from the after-party…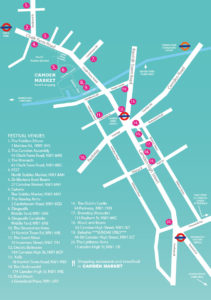 How useful was this post?
Click on a thumb to rate it!
Average rating 0 / 5. Vote count: 0
No votes so far! Be the first to rate this post.
Related
About the author
Gavin Griffiths AKA GavTheGothicChav 31 Based In South Wales Favourite Bands: HIM, The 69 Eyes, Paradise Lost, CKY, Rise Against, Alkaline Trio, Type-O-Negative, Turbonegro, Depeche Mode... Enjoys: Pizza, Jack Daniel's, Comedy Roasts, WWE, Horror Movies, Sloths, Panda's, Eurovision Dislikes: The Concept Of Being "Offended", Hype, Instrumental Tracks, Interludes, Overly Long Tracks