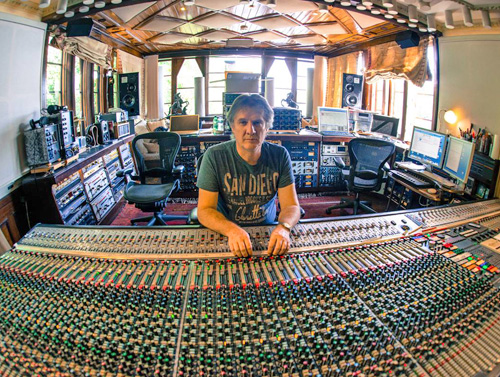 Andy Jackson – 73 Days At Sea – CD Review
26th December 2015
Grammy Award Nominated Andy Jackson releases his new album via Esoteric Antenna to a highly anticipating audience on 29th January
His follow-up album to Signal To Noise is truly a masterpiece.
An absolute belter of an album from start to finish.
The album flows seamlessly & paints such vivid imagery in the mind's eye of the listener that other works in this genre would be envious of.
The record is dominated by the 17 minute epic that is 'Drownings' which features stunning saxophone by David Jackson of Van Der Graaf Generator & guest vocal by Ann-Marie Helder of Panic Room fame but doesn't over shadow the rest of the album as it really does appear as one long track.
Andy explains; "I spent some time travelling back and forth to the sea, the edge of the world, whilst working on projects for others. I noticed in myself a sense of nostalgia each time I went there, as if revisiting a childhood home. This was totally erroneous, I have never lived near the sea and have scarcely been to this particular place before. Still the 'false nostalgia' persisted. I resolved that I would write a suite of songs concerning the sea. The sea seems to occupy a pivotal place in our subconscious, as evidenced by its endless references in myth & legend. Eventually it became clear that the entire album was to be the 'sea suite', albeit that direct mention was sometimes fleeting".
The album does drift along & takes you on a transcendental meditation ride in the same way that Mike Oldfields original Tubular Bells does.
Andy's hypnotic vocal performance & soft, dulcet tone adds a mystical & dreamy atmosphere to the already relaxing nature of this album.
As you would imagine from the producer & engineer of Pink Floyd this really is in the same vein as their monumental 'Echoes' from the 1971 album Meddle which is of course no bad thing.
The added bonus of a 5:1 DTS & PCM surround sound mix as well as a Hi Res stereo mix on the accompanying DVD is just an added bonus.
If you love your progressive music & are a fan of Pink Floyd, King Crimson, Van Der Graaf Generator & alike then I suggest you pick up a copy of this record as soon as it hits the shelf.
A worthy purchase that wont dissapoint

Track Listing:
DISC ONE
1. LIKE YOU
2. SHIPS OF DREAMS
3. TYPE 2 ERROR
4. BALLOONING
5. TYPE 1 ERROR
6. LIGHTHOUSE
7. LEGENDS OF MYSTERIOUS APES
8. THE GYRE
9. DROWNINGS
10. BLACK SAILED UNFAMILIAR
DISC TWO
5.1 Surround Sound Mix
and 96 kHz / 24-bit stereo mix
1. LIKE YOU
2. SHIPS OF DREAMS
3. TYPE 2 ERROR
4. BALLOONING
5. TYPE 1 ERROR
6. LIGHTHOUSE
7. LEGENDS OF MYSTERIOUS APES
8. THE GYRE
9. DROWNINGS
10. BLACK SAILED UNFAMILIAR
Score 9/10