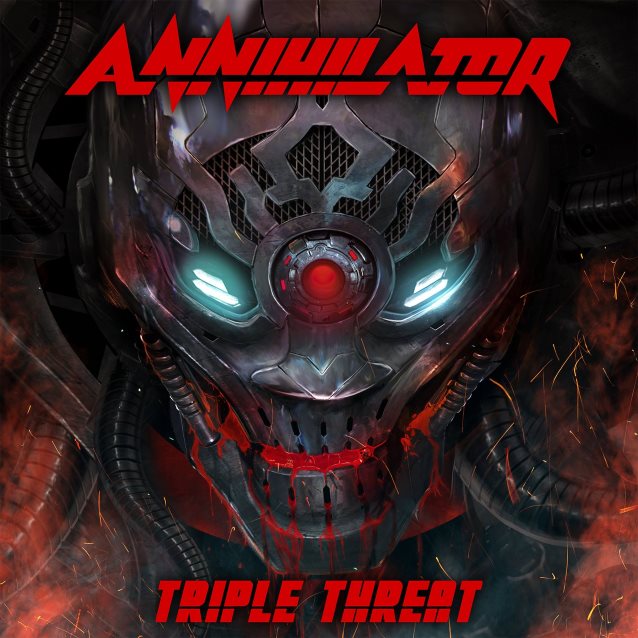 ANNIHILATOR – TRIPLE THREAT – CD REVIEW
25th January 2017
At the tail end of what's officially the most depressing month of the year, Canadian Thrash icons; 'Annihilator' release 'Triple Threat', a jam pack musical, depression crushing treat. 'Triple Threat' Consists of an acoustic set, a live CD and a Live DVD & documentary. Sadly I've only been given access to the audio parts of this set, so my review will only cover those elements. 
The live CD takes place at 2016's 'Bang Your Head Festival', in Germany. It's the perfect setting as Europe, especially Germany has always embraced Annihilator's particular brand of sweeping, melodic Trash, wholeheartedly and the crowd at 'Bang Your Head' are no exception. There's a palpable buzz as the sample of 'Alice In Hell's; Crystal Ann' runs to mark the start of the set before slamming in with the catchy, choppy chugs of 'King Of The Kill'. Over the years 'Annihilator' have been through more singers than a sewing machine factory clearance, so it's no surprise that main man, 'Jeff Walters' is now fronting that band as well as shredding guitar duties. Sure, he doesn't have the vocal range of early front men, 'Randy Rampage' or 'Coburn Pharr' but he does that job well and it somehow feels like this is where he should have been all along. The thing that stands out most on this live CD is how incredibly tight 'Annihilator' are. The production is crisp and clear, meaning that even the slightest mistake would stick out like a sore thumb, however 'Annihilator' present a masterclass in showcasing technical ability while still performing a raucous Metal set. Track after track, shreds through every era of the band's long career, with highlights coming from early tracks,  'Alice In Hell', 'Never Neverland' and 'Phantasmagoria'. The only thing that lets this set down is the complete lack of crowd participation in the mix. In those impassioned moments where the crowd are urged to carry a line, there's nothing, just a gap until 'Jeff Walters' starts singing again. It's frustrating and sadly loses a bit of the live energy. Musically however, I challenge any band to deliver a better set. 
In contrast to the blistering live CD, Annihilator have put together an acoustic set of 10 reworked classic tracks that were recorded at the 'Watersound Studios', where each song was recorded in single takes, which really captures the intended laid back, live feel. I expected the musicianship to be flawless but I never expected tracks to transfer so beautifully to an acoustic environment. Each track takes on it's own new feel, like it was never anything but an acoustic track. 'Stonewall' stands out as favorite for me, it's re-imagining and transformation from pacy, thrashy Metal classic to soaring acoustic melody is brilliant. I adore what 'Annihilator' have done with this acoustic session, it's a brave move to step away from a sound and formula you've held for years and produce something out for your comfort zone with this level of success. On occasion some of the vocals swerve into almost comedic territory, especially on 'Snake In The Grass', which put me in mind of 'Flight Of The Conchords' when they perform acoustically. On the whole, this set is a triumph that firmly reinforces my opinion that Annihilator are truly one of the most underrated and underappreciated bands in Metal today. 9/10
Album info.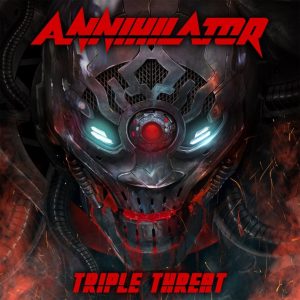 Track list 
Live At The Bang Your Head!!! Festival CD
01. King Of The Kill
02. No Way Out
03. Creepin' Again
04. Set The World On Fire
05. W.T.Y.D. (Welcome To Your Death)
06. Never, Neverland
07. Bliss
08. Second To None
09. Refresh The Demon
10. Alison Hell
11. Phantasmagoria
12. Crystal Ann
13. Phoenix Rising
Unplugged: The Watersound Studios Sessions
01. Sounds Good To Me
02. Bad Child
03. Innnocent Eyes
04. Snake In The Grass
05. Fantastic Things
06. Holding On
07. Stonewall
08. In The Blood
09. Crystal Ann
10. Phoenix Rising
Record Label 
Nuclear Blast
Release date. 
27th January 2017
How useful was this post?
Click on a thumb to rate it!
Average rating / 5. Vote count: