Barclay James Harvest – Remastered & Expanded – CD Reviews
15th April 2016
Some of British progressive rock band Barclay James Harvest albums are getting a bit of a makeover & AATR have managed to procure 2 of them.

1990s Welcome To The Show & 1993s Caught in the Light. 
CD1 of both sets contains the original album totally remastered & sounding fabulous.
CD2, however, is where the magic happens. Celebrating their 25th anniversary, BJH recorded a live show the London Town & Country club back in 1992 . Both sets contain tracks that are previously unreleased from that show.
This show sounds totally remarkable & captures the band celebrating their 25th anniversary & enjoying themselves immensely whilst doing so.
The packaging is superb & both contains a poster/lyric sheet, full colour booklet with new liner notes with rare pictures & of course the 2 CDS. All of this is housed in a 4 panel fold out sleeve.
Both of these sets are a worthy purchase purely for CD2 if you already own the original release or if you've just discovered this amazing act.
& both are available now via Esoteric Records
Track Listing:
DISC ONE: WELCOME TO THE SHOW
THE ORIGINAL ALBUM RE-MASTERED:
1. THE LIFE YOU LEAD
2. LADY MACBETH
3. CHEAP THE BULLET
4. WELCOME TO THE SHOW
5. JOHN LENNON'S GUITAR
6. HALFWAY TO FREEDOM
7. AFRICAN NIGHTS
8. PSYCHEDELIC CHILD
9. WHERE DO WE GO
10. ORIGIN EARTH
11. IF LOVE IS KING
12. SHADOWS ON THE SKY
BONUS TRACK
13. STAND UP (ISSUED AS A SINGLE IN 1992)
DISC TWO
RECORDED AT THE TOWN & COUNTRY CLUB, LONDON IN FEBRUARY 1992
1. MOCKINGBIRD (LIVE) *
2. HOLD ON (LIVE) *
3. ALONE IN THE NIGHT (LIVE) *
4. ON THE WINGS OF LOVE (LIVE) *
5. CHEAP THE BULLET (LIVE) *
6. MEDICINE MAN (LIVE) *
7. PLAY TO THE WORLD (LIVE)
8. CHILD OF THE UNIVERSE (LIVE) *
* = PREVIOUSLY UNRELEASED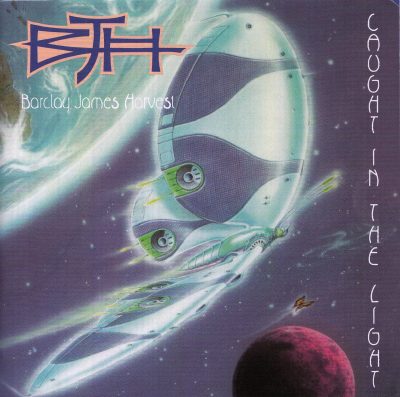 Track Listing:
DISC ONE: CAUGHT IN THE LIGHT
THE ORIGINAL ALBUM RE-MASTERED
1. WHO DO WE THINK WE ARE?
2. KNOYDART
3. COPII ROMANIA
4. BACK TO EARTH
5. COLD WAR
6. FOREVER YESTERDAY (LONG VERSION)
7. THE GREAT UNKNOWN
8. SPUD-U-LIKE
9. SILVER WINGS
10. ONCE MORE
11. A MATTER OF TIME
12. BALLAD OF DENSHAW MILL
BONUS TRACK
13. WHO DO WE THINK WE ARE? (GERMAN PROMOTIONAL SINGLE EDIT)
DISC TWO
RECORDED AT THE TOWN & COUNTRY CLUB, LONDON IN FEBRUARY 1992
1. LIFE IS FOR LIVING *
2. JOHN LENNON'S GUITAR
3. CRAZY CITY *
4. SUICIDE? *
5. ROCK N' ROLL LADY *
6. BERLIN *
7. POOR MAN'S MOODY BLUES
8. STAND UP *
9. SHADOWS ON THE SKY *
10. HYMN *
* = PREVIOUSLY UNRELEASED
Score: 9.5/10