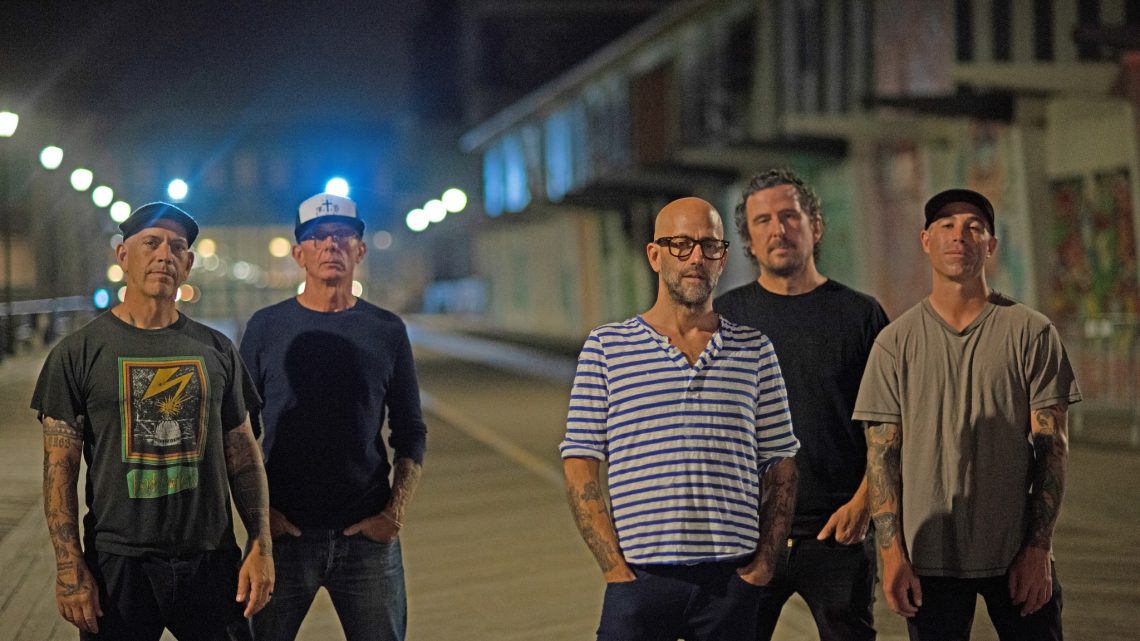 Beach Rats -announce debut album 'Rat Beat' (feat members of Minor Threat/Bad Religion/Lifetime/Bouncing Souls) out July 29th on Epitaph Records
7th July 2022
Asbury Park is the reason. The languid beach community of Asbury Park, New Jersey, has long been a port-of-call for many a disaffected musician from Springsteen at The Stone Pony to countless punk and hardcore festivals at Asbury Lanes and Convention Hall. Against this backdrop of rock and punk history comes BEACH RATS.
"I had moved to Asbury Park," recounts guitarist Brian Baker. "And it turned out that Pete [Steinkopf] and Bryan [Kienlen] from the Bouncing Souls were sniffing around and had the idea to do a fun side-band with Ari Katz from Lifetime. They had recently played together at a memorial for Dave Franklin [Vision frontman, R.I.P.] and had a blast. That was the foundation of it.  Like most of my career, I walked into a pre-existing situation, ready to go. They were talking about it and I was immediately like, 'I want to be in a band! Bands are great, let's go!"
With a membership that includes four impossible-to-avoid New Jersey punk stalwarts (rounded out by Danny Windas, AKA "Dubs" on drums) and Baker, an architect of American hardcore, the common denominator for BEACH RATS was simple. "We all live at the beach and everybody goes to the beach when they're not working," says Brian. "There's a vibe. Being a year-round beach person, seeing the town empty out at the end of summer, there's definitely a bond. We all see each other all the time. We're friends and we enjoy getting together and creating stuff on the fly."
"It's a mix of the Jersey Shore thing and a bunch of guys that can endlessly create 80's hardcore riffs because we were there," states Bryan Kienlen. "You're gonna get authentic punk and hardcore from BEACH RATS because we are all from the 80's. It's literally taking it back to some of our biggest influences like Negative Approach and Poison Idea, And of course, Minor Threat."
For Baker, largely known for his two-decade-plus stint in Los Angeles punk institution, Bad Religion, as well as a career that reaches back to his teenage years in Minor Threat, the goal was simple. "We were going to write songs like we did before we knew how to write songs," he explains. "You get into a practice room with no agenda and you start fucking around and a chord progression becomes the verse. Then comes the chorus, the breakdown. Then, maybe a weird part. That's it. For me and the [Bouncing] Souls guys, the idea is to write and play like we did when we were kids."
"The coolest part about Beach Rats is that we're guys in our late 40's and early 50's writing songs with the same spirit we had as teenagers," adds Pete Steinkopf. "No one's ideas are more important than anyone else's. Whoever has the coolest idea first starts the song. Then, whoever has the second coolest idea gets the next part and then the song is done."
It was with that sense of wanderlust and complete spontaneity, Beach Rats recorded their 2018 EP, Wasted Time for Boston's Bridge-9 label at Asbury's Lakehouse Studios. They plugged in and were done in a matter of hours. "We set up and played together with Ari in the booth singing what ended up being keeper tracks," Baker recounts of Beach Rats' inaugural recording session and raison d' etre. "There's no point in laboring over this shit – just get going." It was that same energy that marked the handful of 15-minute-tops, 5 song live sets that BEACH RATS were able to charge through between Souls and Bad Religion commitments and the world clampdown of 2020 and Covid-19.
Flash forward to 2021 and the recording of BEACH RATS' first full-length album and Epitaph debut, Rat Beat. Tracked by Eric Bennett at Lakehouse in one day, it's 12 blasts of unkempt energy and roughshod melody from some of punk's most accomplished players. "We had the luxury of time – and I'm lucky that I have a pretty big basement," Baker recounts. "The only thing we could actually do was rehearse. We'd go down in the basement, put on masks, open the windows and we could play – within CDC guidelines! We couldn't go to dinner at each other's houses but we could practice."
From the kick-off of "Bikes Out" and "Dress for Sick Sesh" to the roughshod melodicism of "Clorox Boys" or "Heavy Conversation" Rat Beat is an in-the moment snapshot of the five members' distinct styles with no self-editing or second guessing. "The song 'Summer's End' sums up a lot of what was going on for us when we were recording," admits Katz. "It was the end of the season which coincided with a lot of things that were ending in my life. It was fun to weave in that kind of imagery. Closing the beach, the town, switching over from the summer people to the faces you see in the winter and how that mirrors what was going on personally. In that sort of in-the-moment-ness of BEACH RATS, there's an undeniable honesty."
Don't call it an "All-Star" band or have any illusion that BEACH RATS is anything more than five punk rock lifers in an Asbury Park basement making a riot of their own. "It's loose, it's imperfect, don't overthink it," says Baker. "It's the experience of doing it. The time travel, that's what it's about."