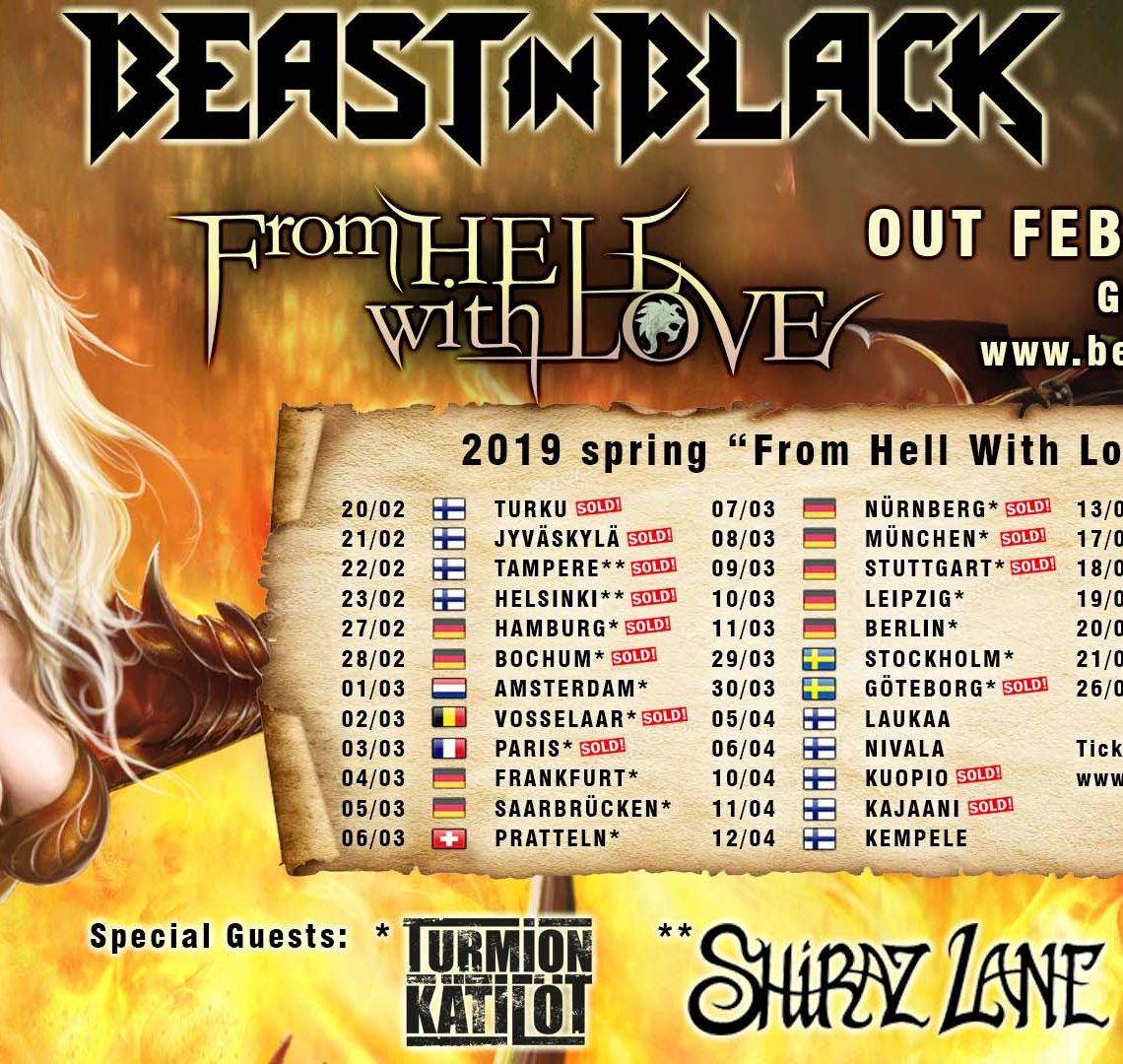 Beast In Black – From Hell With Love
13th March 2019
0
By
Mark Booth
BEAST IN BLACK are back with their 2nd album 'From Hell With Love' and you might remember I reviewed their debut album 'Berserker' and got heavily trolled for my honest review by BEAST IN BLACK keyboard warriors (to be fair the band themselves shared the review on their Facebook page and didn't seem phased by the critique, like artists shouldn't be).
So what do BEAST IN BLACK offer us on this follow up? Well it's similar to the debut album 'Berserker' in that the guitarists, Kasperi Heikkinen and Anton Kabanen, are still both vying to let their solos and riffs rule and soar high above the skies. The drumming by new drummer Atte Palokangas is reminiscent of former drummer Sami Hanninen, and is still powerful and adds the tempo to the songs. All the while vocalist Yannis Papadopoulos still provides a great vocal range that can change instantly and really improve and add another layer to BEAST IN BLACK overall sound. However the main problem is still the keyboards that dominate the majority of the songs and take charge for large segments of each songs and only let the other instruments showcase their skill set for a glimpsing moment before being suffocated by the electronic keys!
The album only has one ballad in the form of 'Oceandeep', which has an embarrassing and awful flute intro. Although the rest of the song is beautifully crafted and is a classic 80s inspired rock ballad, but the flute does keep making fleeting appearances to remind you of its presence. The album then gets back on track with its disco pop metal (which is what I am going to label BEAST IN BLACK music). If you are a diehard metaller then you'll probably be embarrassed by this release and will avoid it. However it does have some catchy disco pop metal/rock songs that will get you up dancing and moving (not including headbanging as a dance!) My two year old daughter really likes it and loves dancing to the album.
Are BEAST IN BLACK metal legends/gods? Hell no and some really will argue that this isn't a metal release. Although deep at its core is a metal vein, it's just shrouded in (cheesy) keyboards and dance beats. Although they do showcase their metal credentials on the track "This Is War" and if they did an album mainly in this vein then they could become metal legends. BEAST IN BLACK then let all that hard work become undone with songs like "Sweet True Lies" which is what I imagine the BACKSTREET BOYS would sound like if they upped their bpm (beats per minute) and added a few guitar riffs.
This release doesn't have as many power metal songs as its predecessor 'Berserker' such as "Beast In Black" and "Zodd The Immortal" and I think the embracement of a more 80s synth disco/pop sound will alienate some fans but also garnish them a lot more. BEAST IN BLACK produce the best disco pop metal at the moment (maybe the only band) and this release will be adorned by some and loathed manically by others. However one thing I can say is that if you listen to extreme metal and want some more mellow music, then BEAST IN BLACK will allow you to dance and let go, but keep your metal credentials as you raise your fist, bang your head and shake your booty!
Although what I can say about 'From Hell With Love' is that it is highly addictive. I just don't know what it is that makes me keep pressing play? Am like a crackhead awaiting their next fix, maybe am a gluten for self abuse?
Up next for me is the BATTLE BEAST new release 'No More Hollywood Ending' and let's see if they can release a counter attack to trump 'From Hell With Love'?
SCORE
3.5 – diehard metaller
7 – open to change metaller
5.25 OVERALL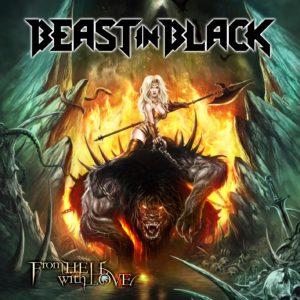 Track Listing
01. Cry Out For A Hero
02. From Hell With Love
03. Sweet True Lies
04. Repentless
05. Die By The Blade
06. Oceandeep
07. Unlimited Sin
08. True Believer
09. This Is War
10. Heart Of Steel
11. No Surrender
Release Date:
8th February 2019
Label:
Nuclear Blast
For all things Beast In Black click HERE and to purchase the album, click HERE
How useful was this post?
Click on a thumb to rate it!
Average rating 2 / 5. Vote count: 1
No votes so far! Be the first to rate this post.
Related
About the author
Devotees and followers of the Cult of Cletus, I am your true God and my word is law! I come forth to spew daemon loving music at your ears and to corrupt your little mind. My words maybe harsh but I want only the best for my minions! So when I discover a new deadly spawn of music take heed and purchase...