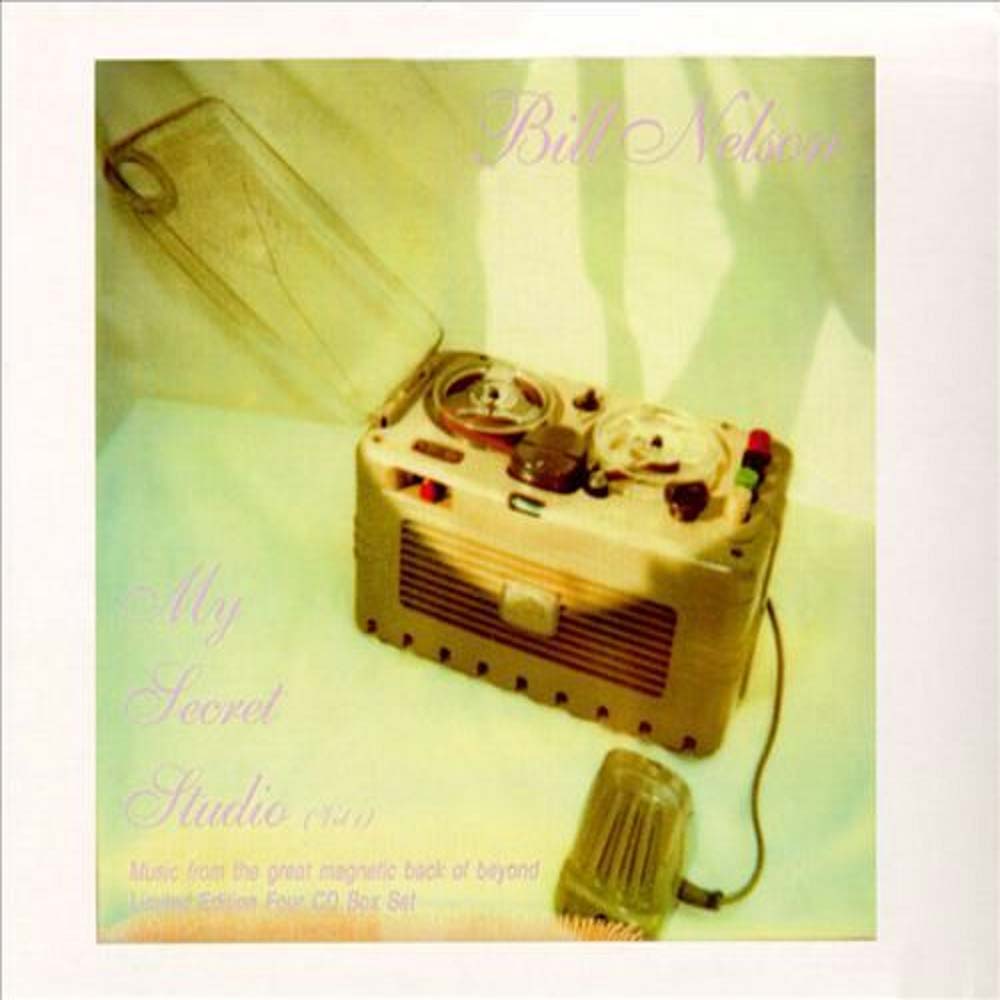 Bill Nelson – My Secret Studio – Vol. 1
15th February 2017
Originally released back in 1995 this limited edition 4 disc box set contains music that Bill Nelson recorded during 1988 & 1992. This is, in my humble opinion, some of Bills best work EVER.
There are in total 4 very different albums in this set. For instance, Disc 1 – Buddha Head includes a real mix of goth-infused, David Bowiesque brilliance. [su_youtubeurl="https://www.youtube.com/watch?v=15pPJy8Su8Y&index=1&list=PLLqSiyDwUx1qKVugNT5c5nEHc2yB_JrSl"][/su_youtube]
The 2nd disc, Electricity Made Us Angels is a little more guitar orientated mixed with some great electronica.  This album shows what a competent guitarist, he is. Featuring indie tuneage that is incredibly reminiscent of Gary Numan material. It's no wonder that Gary wanted to work with Bill but sadly the project never came to fruition. 
Deep Dream Decoder is the penultimate album. With it's new romantic, Human League tones & David Byrne of Talking Heads, style vocal. This is my favourite album in the box. I'll be honest I don't know why I like it, it's just one of those records that gets under your skin & you find yourself listening to it for days on end.
The final album, Juke Box For Jet Boy is the most eclectic album, from rock moments (Opener She's So Extreme) through to Asian (Sail Away) & dub dance (Turn Me Over). Bill has used this album like a painter uses his canvas. Playing with 3-dimensional space ala  Paul Cézanne before going all, Jackson Pollock. 
All 4 albums were recorded when Bills life was going through (what he describes) were "severe changes…both emotional and financial." & it shows. These are rough & ready recordings & made during a really prolific writing & recording process. There is no need to put these through multiple overdubs, mixing & basic production polishing. The music in this box is perfect the way that it is & 4 hours of magic. 

To classify Bill Nelson as "ahead of his time" or even "a musical genius" is contrived & totally cliche. Yes, he's both of those but there's so much more. Bill is just one hell of a musician who sees the world in a slightly skewed way & creates marvellous musical soundscapes.
Check out Bill HERE
Score 7/10



DISC ONE:


BUDDHA HEAD

1. MY PHILOSOPHY
2. KILLING MY DESIRES
3. BUDDHA HEAD
4. THE WAY
5. BIG RIVER
6. KARMA KISSES
7. WE WILL RISE
8. SIGNS AND SIGNALS
9. LOTUS IN THE STREAM
10. ENLIGHTENMENT
11. ETERNALLY
12. DUALITY
13. PERFECT WORLD
14. THE HEART HAS ITS REASONS
15. SUN WILL RISE
16. THE BIG ILLUMINATION
17. LIFE AS WE KNOW IT



DISC TWO:


ELECTRICITY MADE US ANGELS

1. BEGIN TO BURN
2. HEAVENS HAPPY HEMISPHERE
3. GOD IN HER EYES
4. FLOAT AWAY
5. BIG BLUE DAY
6. SWEET IS THE MYSTERY
7. IF WISHES WERE HORSES
8. FAIR WINDS AND FLYING BOATS
9. OCEAN OVER BLUE
10. RIVER OF LOVE
11. THIS IS DESTINY
12. WONDERS NEVER CEASE
13. NOTHING YET
14. GOD THUNDERED BY
15. SHE SENDS ME

DISC THREE:
DEEP DREAM DECODER

1. THINGS TO COME
2. GOD BLESS ME
3. RISE…(ABOVE THESE THINGS)
4. SNOWING OUTSIDE
5. IT'S ALL TRUE
6. A HEAD FULL OF LIGHTS AND A HAT FULL OF HALOES
7. THE GIRLS I'VE LOVED
8. AMAZING THINGS
9. DEEP DREAM DECODER
10. DISSOLVE
11. YEAR 44 (THE BIRTHDAY SONG)
12. WING AND A PRAYER
13. DREAMNOISE AND ANGEL
14. TIRED EYES
15. GOLDEN GIRL
16. THE SPARK

DISC FOUR:
JUKE BOX FOR JET BOY

1. SHE'S SO EXTREME
2. ON A TRAIN I NEVER BOARDED
3. SAIL AWAY
4. ONLY DREAMING
5. SWING WITH THE RHYTHM BOYS
6. THE KING AND QUEEN OF NOW OR NEVER
7. HOLD ON TO YOUR HEART
8. TURN ME OVER
9. RUN AWAY
10. IT'S ALWAYS MAYBE
11. DREAM UP, BILLY
12. ALL YOU NEED TO KNOW
13. WARM AND WONDERFUL
14. A THING ABOUT THAT
15. NO FOOL FOR YOU
16. LIVING FOR TODAY
17. BIRDS IN BLUE SKY AGAIN
Release Date
24th February 2017 & available to purchase HERE
Label
Cocteau Discs
How useful was this post?
Click on a thumb to rate it!
Average rating / 5. Vote count: