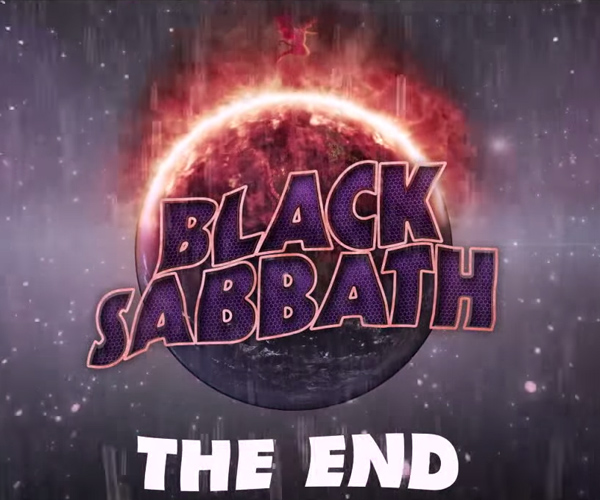 Black Sabbath 31/01/2017 O2 Arena London Gig Review
8th February 2017
So this is it. The End. The last London show, and third to last show ever, from the creators of an entire genre. Without them, literally thousands of bands wouldn't exist, this website wouldn't exist and the world as a whole would be a different place. It's safe to say they're influential. From the opening bells and rain of 'Black Sabbath', through Ozzy's firing, the acquisition of Dio, the triumphant reunion tour, and final album- '13', they've probably changed the landscape more than anyone else.

Rival sons kicked off the show, a band I've watched grow. I've seen them 5 times now, from the opening band at a tiny festival in 2011, gradually building in venue size until I saw them today, supporting Black Sabbath at the o2. It's a truly impressive journey. They have huge presence on the stage, singer Jay Buchanan as flamboyant and arrogant as ever, and he has a right to be, having one of the finest voices in the industry. Between and during songs he screams out his words, extending himself to even singing 'Thank you London' in his husky, Robert Plant-esque voice. Their oldest songs such as 'Pressure and Time' and 'Torture' (the only two of this set that had even been released when I first saw them) immediately get the crowd's attention, as did new tracks such as 'Fade out', a phenomenal song from their new album, dedicated to the death of a friend of the lead singer. Bearing in mind they're playing their own headline tour in the off-days of the Sabbath tour, they bring huge energy and get the crowd pumped up, finishing with the song that everyone knew- 'Keep on Swinging'.
A huge sheet covers the stage as the bells of 'Black Sabbath' sound and the lights dim. The venue almost shakes as the stinging opening notes from Tony Iommi's overdriven, tritone based guitar riff ring and everyone chants along with Ozzy as his distinctive voice pours out haunting lyrics of what was pretty much the first song to be called 'heavy metal'. Immediately the contrast in performance to Rival Sons is apparent, these really are men as old as my granddad. The one on the left (Geezer Butler), is silent and withdrawn; the one on the right (Tony Iommi), only recently stopped having cancer treatment; and the one in the middle (Ozzy Osbourne), a man who, by all human standards, should have died about 30 years ago. He stands hunched and almost shyly over the mic most of the time, his frail voice shaking and struggling to sing exactly what he struggled to sing 50 years ago.
And it's perfect.
Ozzy is able to control an audience of 20,000 people with just his hands. He claps, they clap. He raises his arms, they raise theirs. He speaks between songs and no one has a clue what he's saying, but they all cheer just as loud every time. Geezer still has a mastery over his instrument that he had all those years ago, shown in his solo just before 'NIB', as does Tony who has absolute control over every riff and every chord.
About 5 years ago, I saw Judas Priest at the Hammersmith Apollo, and just before they came on, the entire crowd sung the whole of Sabbaths 'War Pigs' a cappela. That was a crowd of 3500, with no band even on the stage. Seeing 20,000 people sing every word to the song, with Ozzy Osbourne himself singing every other line was on a new level. You could see how overwhelming it was to the band, even after 50 years, to see so many people know and worship every word to something they wrote and it's something really quite special to see. Similar things happened with 'Iron Man' and 'Fairies wear boots', with everyone in the room knowing every line.
Of course, every gig has to have its lull. A few lesser known songs, combined with a band who genuinely are tired, and reaching the end of what they can do, leads to a drop in the atmosphere. The screams get quieter, the crowd moves less and the singing stops- drunken calls to 'play the old ones' come from behind me as people get restless. But tactically placed big hitters help to keep the crowd happy. When we reach 'Rat Salad', an instrumental, Ozzy leaves the stage, soon followed by the rest of the band. This is probably a good idea, so they can pick the energy back up, and I suppose it wouldn't be very metal to have an interval, so this is their way of getting around it. They leave touring drummer Tommy Clufetos to perform a stunning (albeit incredibly long and with more endings than Lord of the Rings) drum solo. While Bill Ward (Sabbath's original drummer) could never manage a solo of this calibre, it's sad that they could never come to an agreement to get him involved in their last ever shows.
They end the show with 'Children of the Grave', as huge purple and black balloons are dropped from the ceiling, covering the crowd, and eventually, the stage. It doesn't seem like it was thought through, leading to Ozzy's first recognisable statement of the night as he laughs 'maybe not balloons', before he gives the crowd a helping hand by starting the chant for 'one more song'. They'd barely even left the stage for the first time when the inevitable opening riff of 'Paranoid' begins, with confetti and fireworks exploding from the start. If you close your eyes and ignore their hunched and exhausted figures, the sound is still incredible. You can tell they still love it, and they're genuinely grateful for the audience and it shows in the sound. It's a great way to play their last London show, rather than rinsing money from it until they're dead (*cough* Rolling Stones ). And then it's over as if it never began, and no one in London will ever see Black Sabbath perform live again.  
The main thing I took from the gig, was that behind me, was a woman who must have been at least 70, wearing a shirt that said 'The only wall we need is a wall of death', sitting next to a boy no older than 10, screaming along to 'Snowblind'. Then outside, I saw a poster advertising 7 nights of sold out Drake concerts starting the next day. Why a band who have been innovating music for 50 years and bringing together 70 and 10 year old fans can't even play a third of the amount of dates as Drake will never cease to amaze me. But who cares. We got to see a part of musical history, and what do they get?
Setlist
Black Sabbath
Fairies Wear Boots
Under the sun/Every day comes and goes
After Forever
Into the Void
Snowblind
War Pigs
Behind the Wall of Sleep
NIB (With bass solo)
Hand of Doom
Rat Salad (With drum solo)
Iron Man
Dirty Woman
Children of the Grave
Paranoid (Encore)