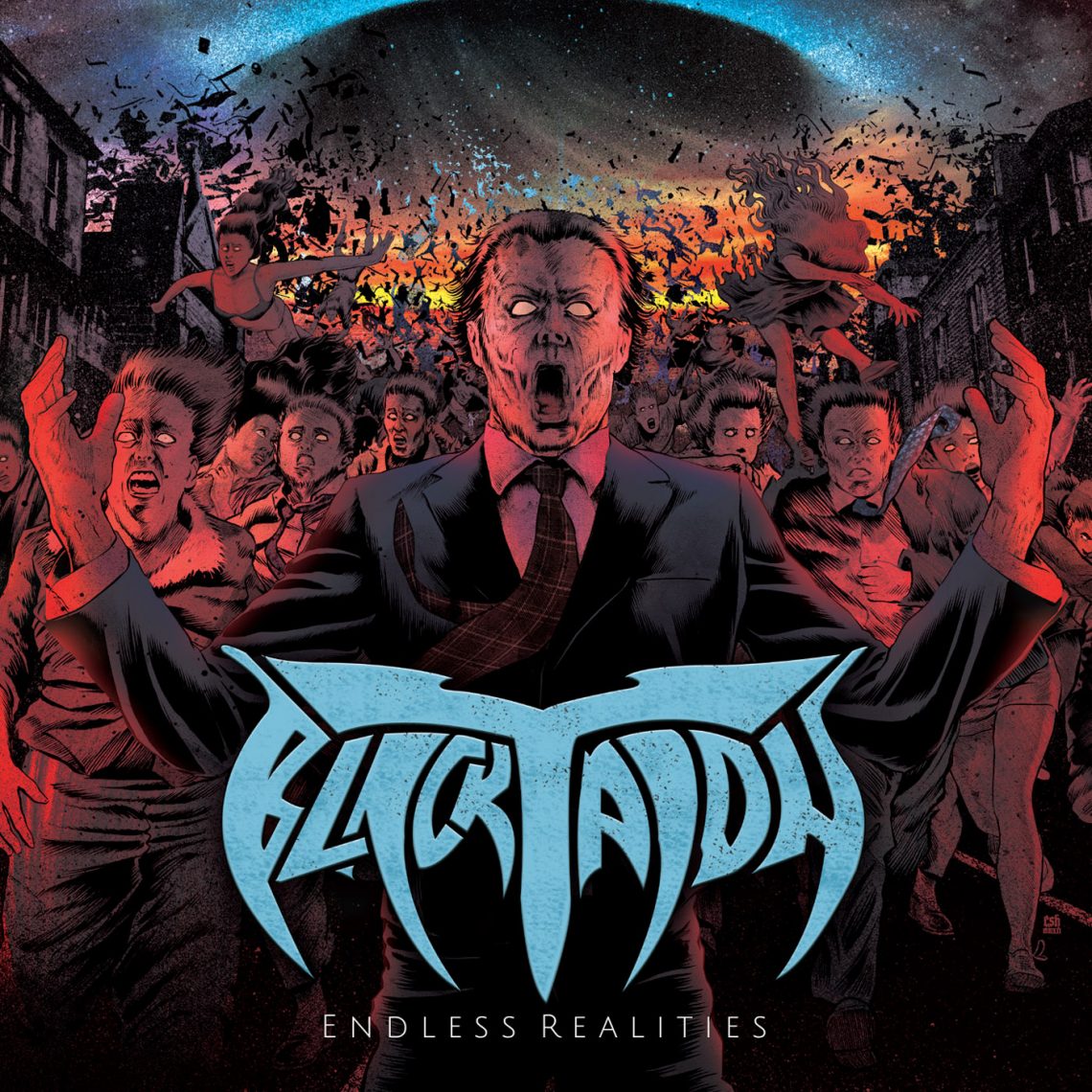 Black Talon – Endless Realities
18th April 2015
I first saw Edinburgh based thrash metallers Black Talon a couple of years ago when they supported Xentrix in Glasgow.  Right from the start I was blown away by their amazing set of classic sounding thrash metal and the fact that the band gave it their all.  Since then I've seen Black Talon play live several more times and each time have been really impressed with what I've seen.
So I've been eagerly waiting for Endless Realities, their debut album, to be released.  My expectations were high, and the big question is, does it live up to those expectations?
Hell yes!!
Opening instrumental track, 'Dead Hand' is a hundred mile an hour thrash fest that is gobsmacking in its intensity and let's you know that these guys have well and truly arrived and aren't taking any prisoners!
'Era Of Suffering' is pulverising and heavy, and bludgeons the listener with its all out attack… before the hooky riffs of the chorus kick in and vocalist Johnny Steele shows just how talented a front man he is.  It's an incredible track and days after first hearing it I just cannot get it out of my head.
'Built To Fail' carries on in the same vein, with a clear nod to the old school thrash sound, but with their own unique modern take on things that means they don't fall into the trap of becoming just another clone.  Have a listen yourself and see what I mean –
The rest of the album is as impressive – with catchy hooks, thrashing riffs, and enough attitude to subdue an elephant.  These guys are all talented musicians, and each member of the band is given a chance to shine, with the result that the album is first class from start to finish – with no filler at all.  Not only that but every track sounds different enough that each time you listen to the album you hear something new.  I've played this album a dozen or so times and discovered a new favourite every time.
This is an incredible album of thrash metal that quite simply destroys from start to finish.  If you're a fan of bands like Forbidden, Exodus and Testament then you need to check this out – absolutely fantastic !!
Score: 10 out of 10
ALBUM INFO
Tracklist
01. Dead Hand
02. Era Of Suffering
03. Built To Fail
04. Worlds Apart
05. Shadow Science
06. Lunatic Fringe
07. (Nothing Is) All You'll Ever Be
08. Soul Denied
09. Justify Yourself
10. Obey
Released
11 May 2015
Record Label
Wasted State Records
Additional Info
Johnny Steele – Vocals
Rory Strachan – Guitar
Mike Robertson – Guitar
Alex Sharp – Bass
Dave Taylor – Drums
All songs/lyrics written by Black Talon
Produced by Graeme Young at Chamber Studio
Mastered by Alan Douches at West West Side Music
Artwork by Christian Sloan Hall
Links
https://www.facebook.com/blacktalonthrash
http://www.wastedstate.com