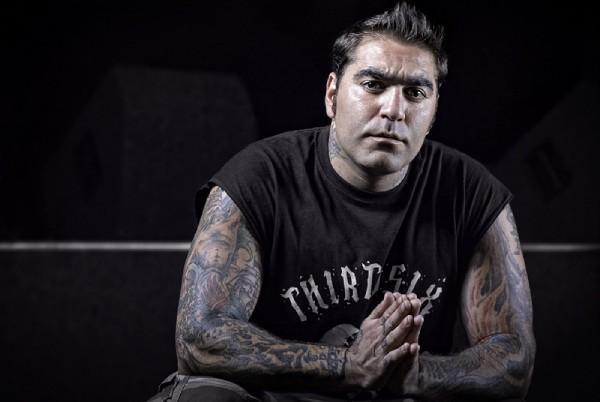 Interview with Agnostic Front's Mike Gallo
17th April 2015
Recently I had the pleasure to listen to and review the new Agnostic Front album "The American Dream Died". It was an AATR first for me as it was and is the only album to receive full marks. I was already a big Agnostic Front fan (got the Agnostic Front Skull & Crossbones tattooed at the top of my neck) but this release is a throw back to the glory days of "Victim In Pain", "United Blood" and "Cause For Alarm"with an underlying street punk sound reminiscent of the Epitaph releases.
This is a classic and 16 tracks of NYHC at its best and I had the pleasure of interviewing bassist Mike Gallo who is the longest serving member, apart from original stalwarts Roger and Stigma (been in Agnostic Front since 2001 album Dead Yuppies). Check out my interview below..
1. Hi Mike, Thank you for taking the time out of your busy schedule to answer a few questions for the All About The Rock website. Just for a bit of background please can you tell our readers a little about yourself and how you came about being the bassist for Agnostic Front and the 3rd longest running member?
I was a Working-class kid from the neighborhood always into music and art. Sports too but the more I got into music, my interest in sports faded. Started my first band in 96. We were called Rise Above but we changed our name to On The Rise. I worked many jobs doing construction, landscaping, delivering pizza and anything I could do to make money. I been employees since I'm 15 years old and I always had a strong work ethic. I guess that's why I'm still in the band. I met these guys at a studio called Bug Blue Meanie in Jersey City. My old band OTR, recorded there along with AF. So we got to net them and always hung out with them at shows. Rob Kabulla the old bass player had asked me to take his place. The rest is history from there.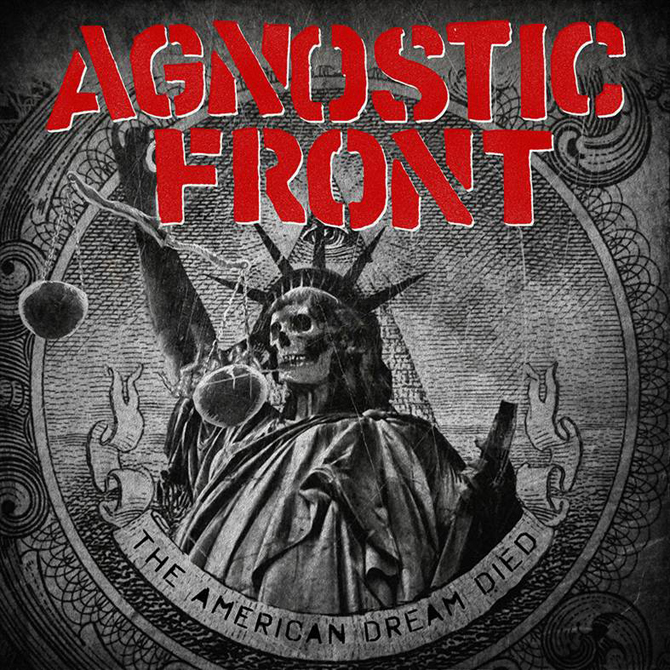 2. I have just reviewed the new Agnostic Front album "The American Dream Died" and I must say what an album…it is also the only album I've ever given top marks to! Which Agnostic Front album that you played on are you must proud over, or have the best memories from?
Hard to say which one I am proudest of. But I do believe that with this new record, it is definitely the best release since i been in the band. I put my all into everything that I've done and had some of the best times of my life recording in supporting the past albums. So many good memories like getting the opportunity to go to Russia and see the red square. Playing Italy and having the opportunity to see the great city of Rome and being able to go inside the coliseum was a great time for me. That's my favorite part about touring is getting to see the beautiful places all around the world that most people do not get the opportunity to see.
3. The first album you recorded with Agnostic Front was 'Dead Yuppies', what was it like first time recording with such a seminal band as Agnostic Front and working with NYHC legends Roger Miret and Stigma?
It was a total learning experience and opportunity of a life time. I grew up listening to the band and have always been a fan. Vinny and Roger took me and like I was family and that still remains today. I learned so much being in the studio with these guys. Roger plays bass as well and taught me a lot. Being in this band has made me the man I am today. I have experienced so much in these past 14 years and would not change it for the world.
4. It's become popular recently for bands to play an album in its entirety on tour, I know Agnostic Front did a "Cause For Alarm" set list with the album line up for BNB Bowl 2014. If Agnostic Front decided on the next tour to play an album in its entirety which would you personally choose to play live and why?
One of my favorite records is "somethings got to give". I would love to play that record from top to bottom. I believe they put this out around 1996. It's classic and one of there releases I still listen to on the regular. There's not one song on this album that I don't like.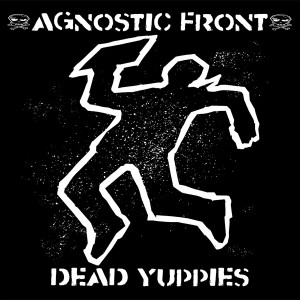 5. I've seen Agnostic Front live quite a few times, however each time they seem to neglect songs from "Dead Yuppies". Is there any songs on that album that you would love to play live or any other songs that you would like to play live that you currently do?
There's a few songs I would not mind playing off that record. I like Club Girl, I Wanna Know and Liberty. A few other songs that we don't normally play that I would not mind playing are, Shoots his load off " Cause For Alarm". Society Sucker off of "Victim In Pain"
6. You have toured quite intensively over the years, have you any funny or embarrassing stories you could share? Whenever I've met any of you guys before/after a show you all seem like great, funny guys so am guessing there must have been some funny chaotic moments of madness on tour?
Well there's definitely been a lot of good times. Some crazier than others. I remember about 10 to 12 years back on tour a friend of his brought him a bull horn. He also received a bottle of mead that is very powerful in alcohol. Then he kept saying this is what Vikings drink, over and over again. So he decided to pour the mead into the bull horn and began drinking out of it all night after the show. He was having the time of his life marching around the club drinking out of his bullhorn. Making friends with everyone like you always does. Then it kind of got a little quiet and I didn't hear him until I found him around the corner puking his brains out. What Vinny didn't seem to realize was the bullhorn was not cured. He was drinking the mead and all of the reminisce from inside the horn. He was puking and pulling all of the crap out of his mouth cause he was almost choking on it. I never felt so bad but could not help but find this the funniest thing I ever seen in my life. He thought he was so cool drinking out of this horn meanwhile he didn't realize what a stupid thing it was to do.
7. Which country/city would you like to play with Agnostic Front?
Would be cool if we get to play Cuba! That's where Roger is from and we always thought it would be cool to see what kind of response we would get if we played there. I heard they are opening up the doors where this might be possible sometime soon.
8. Where has been your favourite place to play and why?
One of my favorite cities to play is definitely Prague. I can't explain how beautiful of a place it is there. Not to mention how great of a music scene this city has. We have so many good friends there and is always a great time. Another city that intrigues me is Copenhagen. Another beautiful place, and then do they know how to party over there. It's been a while since we've been here and I'm looking forward to playing there again.
9. In no particular order, what are your 5 favourite Agnostic Front songs?
Power, United & Strong, The Blame, United Blood
10. Is there any artists/bands that are a guilty pleasure which people wouldn't believe you listen to?
Stevie Wonder. One of the greatest songwriters of our time. Unfortunately he was born blind but God gave him other talents that not many of us have. This proves you don't have to see anything but feeling is more than anything in the world!
11. Your currently also working as a barber, is that something you might do if/when Agnostic Front call it a day?
This is why I chose to go to barber school. I figured when we are not able to tour anymore this should be the perfect job for me to do till I'm an old man. It's a job that computers cannot take away. I love cutting hair and this was the best move I made to become a barber. So right now with playing music and cutting hair I had the best of both worlds, I could not be happier.
12. If you could only listen to 3 albums for the rest of your life which would you choose and why?
Black Sabbath- Sabbath Bloody Sabbath
The Dead Boys – We Have Come For Your Children
Stevie Wonder- Songs In The Key Of Life
13. Finish off this statement "If I didn't play bass for Agnostic Front I would be…."?
Probably be making Pizza!
Thank you for taking the time out and hope you all the best for the new album, hopefully see you on tour in the UK very shortly in support of "The American Dream Died"…