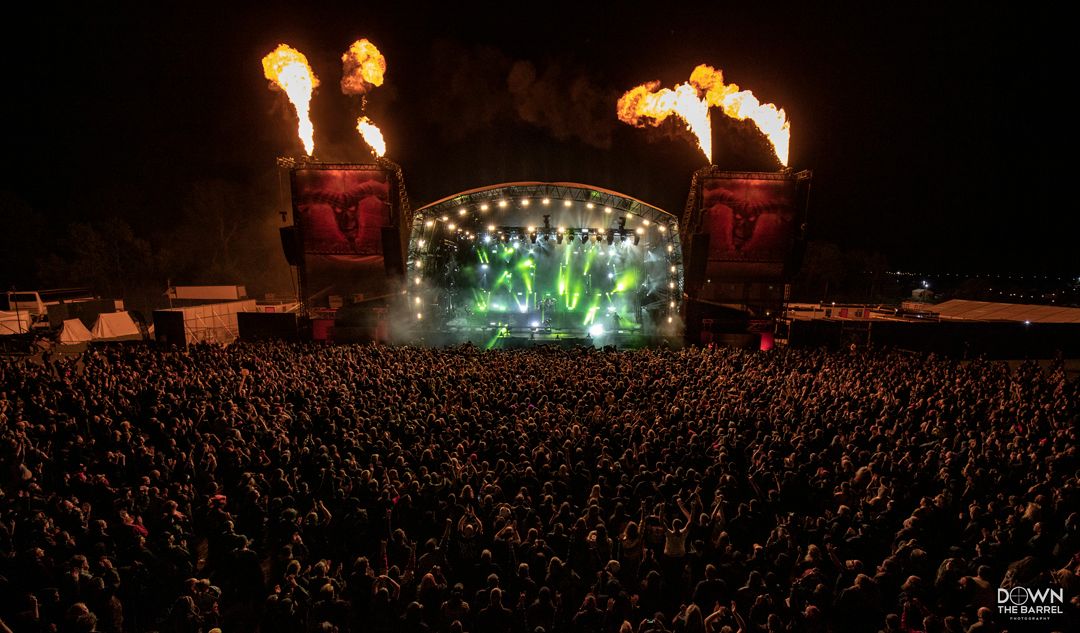 BLOODSTOCK BUILD IS GO! THE FINAL COUNTDOWN IS ON!
3rd August 2021
It's critical mass over at festival HQ this week, as the site build begins and at last, we can say one week til BLOODSTOCK! Weekend tickets are now SOLD OUT, but if you missed out and hope to still snag one, or indeed, wish to re-sell yours as you can no longer come, you can do that
here
. There are still some
day tickets
left; perhaps the perfect taster if you've never been to BLOODSTOCK before but are missing live music! Whatever your ticket, do make sure you are up to date with our latest Covid-19 info
here
, to avoid any delay getting your wristband on arrival or if you have any concerns while on site.
A number of bands confirmed for 2022 will be announced on the big screens at the festival, so keep an eye out when you're there to hear the latest news first! 2022 weekend tickets will be on sale from the box office on site at a 2021 base level price, without a booking fee. A range of 2022 ticket options (including VIP, but minus day tix which become available nearer the time) go on sale at the
ticket store
on the Monday immediately post-event. There's only 5% VAT on the ticket prices up until September, so grab yours early to save some pounds.  
Regrettably, due to travel issues, VIO-LENCE are no longer able to make it, but super hot duo
WARGASM
and Sheffield metal squad
MALEVOLENCE
both land last minute slots on the main stage bill. 
There's all types of delicious food available at BLOODSTOCK, so whether you're a carnivore, vegetarian, vegan, or gluten-free, you're sure to find something to tuck into, and there's plenty of hand sanitiser stations to go around. How does this sound… burgers, pizza, tacos, burritos & quesadillas (even for breakfast), Belgian waffles, smoked meats, chicken, ostrich (all hail the Jack Daniels' onions & stilton mayo), pie & mash with mushy peas, giant Yorkshire puds, gourmet ravioli, chips (including curly and sweet potato fries, or wedges), mac n' cheese (in a wrap, if you must), cakes, nachos (even with vegan cheese), hot dogs, paella (Paellaria tell us everything is gluten-free too), not to mention the return of Bunnyman's Bunnychow (try the steak or vegan chilli in a hollowed-out loaf, with a garlic bread dipper), and a halloumi & falafel stand. Many of BLOODSTOCK's food vendors pride themselves on being locally sourced and sustainable, and as part of BLOODSTOCK's continuing Be Greener drive you'll see all food packaging is compostable; please recycle in the appropriate bins! Wash it all down with a milkshake from Shaken Udder, all kinds of coffee/tea, a hot choc with all the trimmings (see the waffle folks), a cocktail, a chilled pint from Lemmy's Bar (perhaps try one of over 100 ales & ciders on offer over the weekend between arena bars & VIP), or shots of our favourite Jagermeister! There's also free drinking water at designated water points in the campsites and main arena, so remember to bring a refillable non-glass bottle with you. Missing something? You can pick up other essentials at the campsite supermarket. Check out more details at:
https://www.bloodstock.uk.com/events/boa-2021/traders
When you're not watching bands, why not wander the BLOODSTOCK MARKETPLACE, where traders will be offering everything from parasols to ponchos, including band merch, alternative clothing (with Offend My Eyes offering up to size 8XL), drinking horns, leatherwear, shisha, flags, patches (don't miss Patch Amnesty, where you can donate or buy second hand patches, with all funds raised going to our charity partner MIND), badges, army surplus gear, hats, shoes, CDs, vinyl, posters, jewellery, gothic & alt furniture/homeware (check out the pop-up-shop from Devil's Dwelling – yes, they can ship things to your house), collectables, fairtrade items, fancy dress, dreadlocks, and everyone's favourite, face painting! Plus, don't forget BLOODSTOCK's own merch stall!  
Up for yet more fun? Why not challenge your mates to a bit of AXE-THROWING, set-up near the Ronnie James Dio stage, and don't forget there's also FAIRGROUND fun to be had & the brand new GAME ZONE to visit, as well as all the extraordinary exhibits in the RAM GALLERY, plus after hours DJs, silent disco, or perhaps a movie! 
BLOODSTOCK's 2021 main stage headliners are DEVIN TOWNSEND (Friday), KREATOR (Saturday), and JUDAS PRIEST (Sunday). The festival will also feature sets from SKINDRED, PARADISE LOST, DIAMOND HEAD, THERAPY?, VENOM PRISON, SAXON, THE WILDHEARTS, WHILE SHE SLEEPS, LOATHE, GLORYHAMMER, BLEED FROM WITHIN, NAPALM DEATH, PHIL CAMPBELL & THE BASTARD SONS, MEMORIAM, RAMAGE INC., GREEN LUNG, CONJURER, ORANGE GOBLIN, RAGING SPEEDHORN, LAWNMOWER DETH, CONAN, SYLOSIS, WINTERFYLLETH, HACKTIVIST, THE CRAWLING, EVIL SCARECROW, ACID REIGN, SVALBARD, BORSTAL, ONSLAUGHT, NETHERHALL, SEIDRBLOT, MOTHER VULTURE, WARGASM, MALEVOLENCE, BLOODSHOT DAWN, and EVILE, with plenty more besides and a wealth of new and breaking bands on our New Blood & Jagermeister stages. 
The remaining one day tickets are available in the
ticket store
while they last, along with child tickets and parking tickets. VIP and campervan tickets for 2021, along with weekend tickets are now sold out. 
BLOODSTOCK 2021 takes place at Catton Park, Derbyshire from 11th-15th August 2021. For more info, click to
www.bloodstock.uk.com
. 
We look forward to seeing you next week.
Photos (top to bottom) by Steve Dempsey, Katja Ogrin, Mark Lloyd, & Katja Ogrin