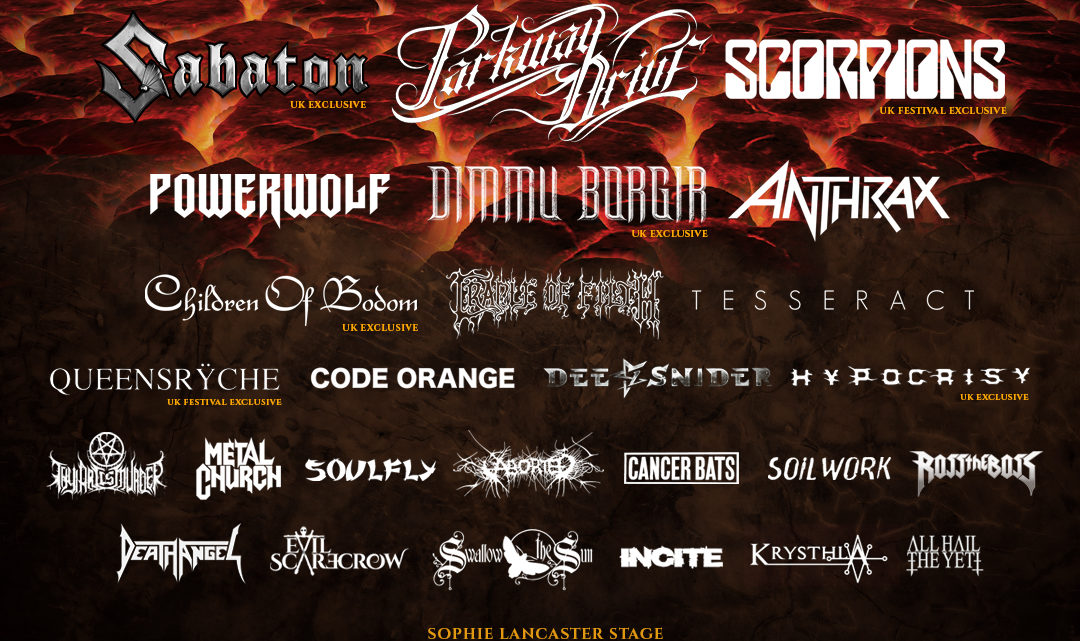 BLOODSTOCK reveal RAM GALLERY exhibitors & after hours entertainment
25th July 2019
0
By
John Deaux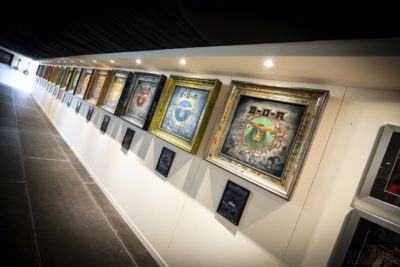 BLOODSTOCK is excited to unveil details of 2019's onsite RAM Gallery, one of the more unique elements that sets BLOODSTOCK apart from other festivals.  Festival founder and globally renowned artist, Paul Raymond Gregory created the onsite RAM Gallery in 2014 and each year the purpose-built structure showcases not only some of Paul's work, but several other BLOODSTOCK-related rock and metal-friendly artists and creatives in a professionally hung and sensitively lit environment.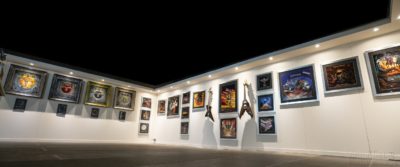 This year, the RAM Gallery is delighted to present for the first time a selection of pieces by legendary rock photographer Ross Halfin – https://www.rosshalfin.com/.  For four decades Ross has been among the world's most renowned rock photographers, capturing iconic images of legends such as Iron Maiden, Metallica, Def Leppard, Guns N' Roses, Kiss, and many more.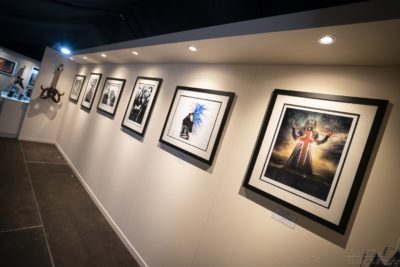 Also making their RAM Gallery debut this year is Peter Sallai of Mortpaint Graphics – http://www.mortpaintgraphics.net/.  Peter is a Hungarian artist who has worked with many bands including the likes of Korpiklaani, Annihilator, Tyr, Mayhem, Powerwolf, Satyricon, Kreator and our Friday headliners, Sabaton.  Also exhibiting for the very first time anywhere is artist/tattoo artist, Danny Edwards with his horror and metal themed pieces – www.facebook.com/Artofdannyedwards/.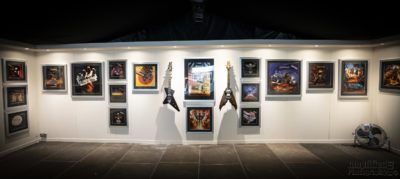 Of the returning artists, we are proud to once again present work by respected British photographer Paul Harries – https://www.paulharries.com/.  A master lensman for well over two decades, Paul is one of Kerrang! Magazine's senior photographers and boasts a portfolio rivalling the best in the business.  We also welcome back a RAM familiar face, Oliver Andrew of Cynosure Guitars – https://www.cynosureguitars.com/ – with five specially-commissioned new pieces which showcase his outstanding skills as both a designer and luthier.  For 2019 he has gone where few guitar builders ever could, creating pieces inspired by the three headline acts at Bloodstock 2019 (Sabaton, Parkway Drive and Scorpions), and the imagery and artwork of festival partners, Hobgoblin.
Cynosure's previously commissioned guitars for the RAM Gallery will also be exhibited.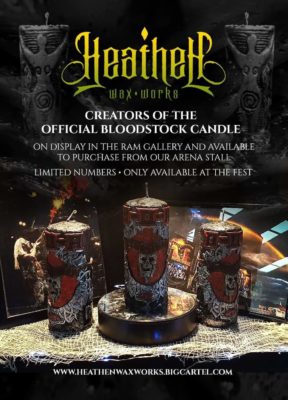 Heathen Waxworks – https://heathenwaxworks.bigcartel.com/ – will once again have their artisan candles showcased in the gallery, although you can also visit their stand in the main arena where they'll be selling their hand-carved and painted waxy wares, including a 2019 limited edition (of 200) Bloodstock candle on a first come, first served basis. 
Lastly, but most definitely not least, Paul Raymond Gregory will be exhibiting some of Saxon's original album sleeve artwork and fine art prints to celebrate Saxon's 40th Anniversary as a band, plus his BLOODSTOCK artwork from down the years and a few other surprises.  You can check out more info on the RAM Gallery at https://www.rockandmetalmuseum.com/.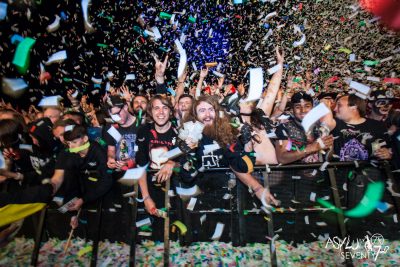 BLOODSTOCK is also pleased to reveal the 'after hours' entertainment taking place over at the Sophie Lancaster stage after the bands finish.  For those of you less keen on sleep, the tent will transition to party night with an array of DJs to soundtrack you into the small hours.  Thursday sees DJ Chunks knocking out the classics and plenty of opening night beer drinking tunes, Friday night we welcome the Feedback Club Night triple assault with DJs DeadDancer, Jammie, and Soundwave, whilst Saturday we're joined by DJ Spoonicus playing metal floor-fillers and sing-along anthems. Sunday night is closed out by DJ Asha playing a wealth of rock and metal hits, including those Journey/Toto/Foreigner classics we all love at 2am after a dozen drinks!  And if a party in the Sophie Lancaster tent doesn't take your fancy and you prefer something more sedentary, there'll be some classic movies screening over in the Hobgoblin New Blood stage every night; Wayne's World 2 (7pm) and Bill & Ted's Bogus Journey (9pm) on Thursday night, Conan on Friday (10.30pm) and Dusk 'Til Dawn on Saturday (10.30pm). 
If you've not got 'em yet, pick up your weekend tickets for £145 (+ fees) and children's weekend tickets at just £35 (+ fees) over at the BLOODSTOCK store.  VIP tickets are now SOLD OUT!  A limited amount of day tickets are also available, priced at £65 (+ fees) for adults and £20 (+ fees) for children aged 4-11. Children under 4 go free!  
Planning your travel to BLOODSTOCK?  Need a ride or driving there and looking to earn some cash for your empty seats?  With GOCARSHARE you can help a fellow metalhead rock out and reduce your carbon footprint at the same time.  Register where you're travelling to/from, or your route, and then wait for drivers/passengers to get in touch!  GOCARSHARE is integrated with Facebook, so you can check out your possible travel buddies and they encourage travellers to post feedback.   You'll also be in with a chance of winning a pair of tickets to next year's festival just by using the GOCARSHARE scheme! Full details available here.  For other travel options, including info on BIG GREEN COACH's multiple pick-up locations around the country, plus trains, planes, taxis, and shuttles, visit: https://www.bloodstock.uk.com/pages/travel-info.
Friday night's headliner SABATON, Saturday's top dogs PARKWAY DRIVE and Sunday's bill toppers SCORPIONS, join ANTHRAX, DIMMU BORGIR, CHILDREN OF BODOM, THE WILDHEARTS, CANCER BATS, POWERWOLF, SOILWORK, CRADLE OF FILTH, THY ART IS MURDER, TESSERACT, METAL CHURCH, SOULFLY, DEATH ANGEL, DEE SNIDER, QUEENSRYCHE, ELUVEITIE, SWALLOW THE SUN, EVIL SCARECROW, ROSS THE BOSS, GRAND MAGUS, KRYSTHLA, ROTTING CHRIST, ABORTED, SKELETAL REMAINS, ALL HAIL THE YETI, LOTUS EATER,  INCITE, HYPOCRISY, TAAKE, THE LAZYS, XENTRIX, and many more on the Catton Park stages this August.  
BLOODSTOCK will take place at Catton Park, Derbyshire on 8th-11th August 2019.  Get additional information over at www.bloodstock.uk.com. 
How useful was this post?
Click on a thumb to rate it!
Average rating 0 / 5. Vote count: 0
No votes so far! Be the first to rate this post.
Related
About the author
Some say Yank My Doodle, It's A Dandy! is a biographical movie based on John. Some have even said that his favorite artist is Chesney Hawke! All we really know is he sleeps inside out and his hair tastes like candy floss.