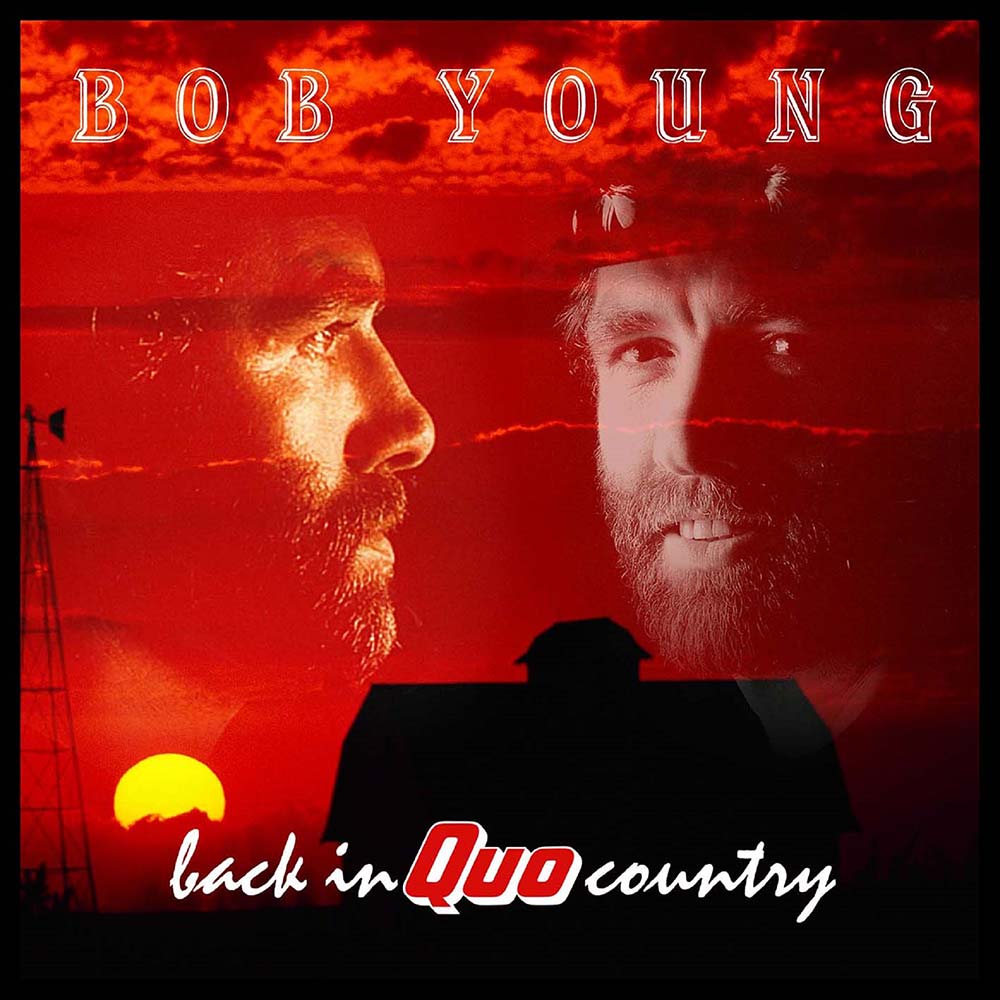 Bob Young Interview
8th February 2017
Bob Young (of Status Quo fame) took time out to grant us an interview.
First of all let me say how very sorry we are to hear of Ricks passing, this must be a very hard time for the band & yourself. Are there any memories of Rick you could share with us?
Thanks and yes it's been quite a tough time since Christmas Eve and even now after a month it still hasn't completely sunk in that he's no longer with us. Everybody's been dealing with it in their own way and for sure he'll never be forgotten. I spoke to him that day he went into hospital and he was really looking forward to 2017 and beyond and getting started on his solo album in Germany this month. His autobiography book deal was on the table and that really would have been a page turner, a real rock and roll story. He was always the good-looking rock star who could grab any headline and you always knew when he walked into a room. There was also 'An Evening With Rick Parfitt' theatre tour being planned which the fans would have loved… I'm glad to have fifty years of countless memories and never a dull moment with him.
I would like to take a look back over the years with yourself being a part of Status Quo, back to around 1969 when you started writing songs with the band, how did all that come about?
I'd moved up to London in 1967 from my home town of Basingstoke when I was 23 years old. I survived by busking and also driving the vans and roadie-ing for one or two bands such as The Attack, The Herd and Amen Corner. In 1968 I met Status Quo on the Gene Pitney package tour at the Hammersmith Odeon and a couple of weeks later their managers tracked me down and offered me a  job as their lone roadie. They were riding on the back of their first hit single 'Pictures Of Matchstick Men' and playing places like the Top Rank ballrooms circuit. A couple of non-hit singles later and their audiences were starting to dwindle in that fickle pop market and they were becoming more and more disillusioned with the way things were going. They knew that I was also a struggling musician and songwriter. Driving the van and gear to a gig in the West Country with bass player Alan Lancaster in the passenger seat strumming his guitar he suggested we write a song together and by the time we arrived we'd written the bones of 'Antique Angelique'. This and three other Lancaster/Young songs made it onto the second Quo album 'Spare Parts'. Francis Rossi and I, soon after, started to write together and on their third album 'Ma Kelly's Greasy Spoon' in 1970, when the band had by now pretty much taken control of their direction and image, we co-wrote four of the ten tracks together. This was the ground breaking album that showed the way their music and gigs were heading, completely away from the pop past and into the rock future. It all began to feel very natural, fun and worthwhile. Skint, on a mission and happy. I remember one gig in a club with an audience of seven Quo fans of the music they were now playing, they played for over two hours and did three encores. So just a couple of years later playing with the same passion and belief to audiences of ten thousand and more came quite naturally. The Quo Army was and still are, fifty years later, very special.
You played harmonica on the track 'The Price Of Love', and in following years you and Francis Rossi wrote a number of songs together which included 'Caroline', 'Paper Plane' and 'Down Down', which of these did you most enjoy writing?
I started playing harmonica when I was 13 or 14 years old and listening to Sonny Terry and Brownie McGhee, Sonny Boy Williamson and Bob Dylan and the likes and my busking days helped a lot with it so when Quo need harmonica on a track I guess I was the obvious first choice. Certainly not the best player around but what I did worked for them and from then on I then played on every recording when needed and also every night on stage for the next ten years although my position as tour-manager remained equally as important to me as I was learning and enjoying every aspect of the music business. It's hard to pinpoint which songs I've most enjoyed writing. Of the dozens I've been lucky to have co-written the three you mention have all been become very special to me for various reasons. They all work really well live which is important for most of the bands songs. I also have a special liking for 'Mystery Song' and 'Living On An Island' which Rick and I wrote together amongst several others over the years.
When writing where do you get your inspiration from?
Unless writing for a specific project such as the 2013 Quo movie 'Bula Quo', when there are certain deadlines, it can come from just about anywhere and at any time. I've always written lyrics and ideas down and that can happen at any time and anywhere and I have note books full of these which I've kept over the years. I've have most of the original handwritten lyrics to the songs I've worked on and have also kept the work in progress demos.
Do any of the songs come from memories/dreams or personal experiences?
 I've often wondered just where songs do come from. Of course there will always be a certain element of personal experiences involved in the process of writing both in the words and/or music. It's all about capturing one emotion or another. What makes one song better than the next or one artist more popular than another? Is it luck, timing, talent? I guess it can be any one or all of these.
Do you prefer to write acoustically?
 I've almost always written with someone else whether Francis, Rick, Micky Moody or whoever and being the rubbish guitarist I am it's always been the other person playing while we write. Usually it's an acoustic guitar and if it's an electric then just through a small amp as on the road it would usually have been in a bedroom. Throughout the first couple of decades many of the Quo songs, as they were being written by any of the band, were recorded direct onto a cassette. I have countless cassettes full of ideas and demos. Things thankfully did get easier and better for songwriters and musicians, particularly those on the road, and today you can carry just about all you need to record a song or a whole album in your back pocket.
In 1978 the book 'Alias The Compass' was released which contains poems and songs you wrote while working with Status Quo. When looking back is there anything you wished you had added to the book?
I decided around 1975 to put a book together of some of the 'poems, thoughts and various other combinations of words' I'd written since my teens. Some of these had developed into song lyrics and many were just the ramblings of life on the road. It took me a couple more years to pull it all together and was very pleased to have Deep Purple's Roger Glover contribute drawings relating to some of the poems and also the legendary DJ (and Quo fan) John Peel agree to write the foreword for the book. I could have added much more back then but there was a point when I needed to complete it rather than have it all sitting around for another few years. I've been ready for some time now (just a mere forty years later) to compile the follow-up. I've managed to make a start with this and have decided to make it 'an autobiographical scrapbook' which basically means I can include poems, lyrics, photos, selected memorabilia, stories and letters to and from various people in my life past and present.
You remained Quos tour manager until 1980, and in 1984 the biography 'Again and Again', which you co wrote with John Shearlaw, reported on your years with Status Quo. Which moments were your fondest memories with the band & are there any embarrassing moments you can share (either on or off the road)
That particular book was a fun look back over the years, a potted authorized history of Quo up to 83'. It was a nice book and very well received. A reminder of the progress of the band over the previous twenty years since Alan Lancaster and Francis first played music together at school and put together a group that eventually became The Status Quo. Other successful Quo books documenting the past three decades followed which I've also enjoyed working on. There's so many fond memories and highlights during my time on the road and also over the past seventeen years since Francis and I started writing together again. A whole book if I don't run out of time…
Being in the music business a long time how do you feel the Internet has impacted music and bands?
The internet has changed so many areas of the music business and noticed more so by those of us that have also worked in the business pre-internet for many years but it's been important to embrace it. Fight it and you get left behind. A lot of us have benefited from the various changes in the past such as the move from vinyl to CD. The record companies, artists, writers, managers and others all hit gold when that happened. The changes now to 'free music available to all' has hit a lot of people especially the creators of music who are the backbone of the music industry. There will always be exceptions but generally gone are the days of artists selling a hundred thousand records in a day and staying in the charts more than a few weeks. It's pretty tough now for new artists to break through with so much competition but certainly not impossible. Live music lives on and is thriving and it's still an exciting business to be in and the young talented and determined, whichever field they happen to be in, will always shine through so long as they keep looking to the future and learning from the past.
Can you tell us a little about what you're working on right now?
As always probably too many things. Writing again with Francis for the past seventeen years has and still is important. I'm currently working with the owners of the Cavern Club in Liverpool and a great designer Adrian Cross on a limited edition coffee table book on the definitive 60 years history of the Club. We're close to completion and planning on a June 2017 publication. The list of artists to have played the club is quite extraordinary, everybody from the Beatles, Rolling Stones and the Who to Stevie Wonder, Queen, Arctic Monkeys and Adele. I've started my 'autobiographical scrapbook' and I also need to carry on checking out a lot of places in the world I can't remember going to. I have a pretty good idea of what I'll be doing for the next few years which I guess isn't such a bad thing.
What was the inspiration behind the country album & how do you feel about this expanded version?
I'd always had it in my head that when I came off the road with Quo one of the many things I would do without the restriction of touring was record a solo album of some of the SQ songs I'd co-written with a band of great players and a leaning towards the country music I liked. My other long time writing and recording partner, Whitesnake guitarist Micky Moody, was the first person I discussed the idea with and he enthusiastically came on board as co-producer and we started looking at which songs I'd like to do and the players we'd like to work with us in the studio. Cherry Red Records were interested in re-mastering, re-packaging and re-releasing the album so I decided on several bonus tracks which I felt would work alongside the original ten and supplied the photos artwork and text for the new booklet and I'm very happy with the final product and extremely pleased with the positive reaction to the release.
It's been an absolute pleasure to talk to you. Thanks Bob
Bob Young Back In Quo Country is available HERE