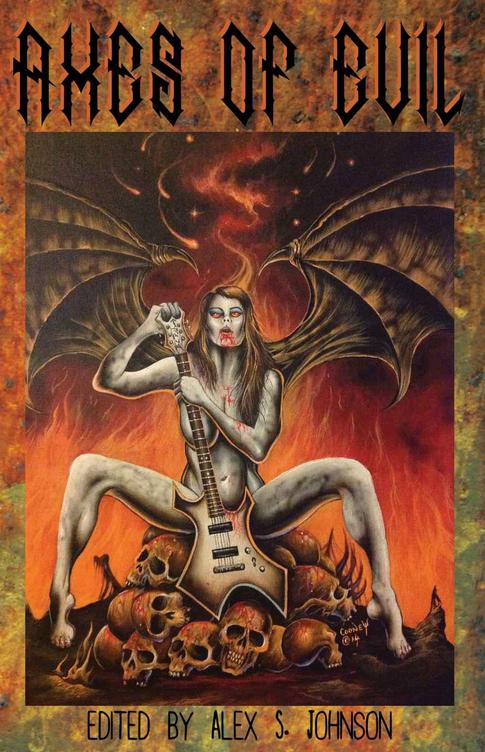 Axes of Evil – edited by Alex S. Johnson
7th April 2014
Well, here's something a bit different!  Axes of Evil is the world's first Heavy Metal Horror Anthology – collecting together 33 heavy metal themed horror stories.
This compilation is edited by Alex S. Johnson who, as well as being a fiction writer in his own right (he's written a number of novels and short stories), is also a heavy metal journalist who has written articles for Metal Hammer and Zero Tolerence magazines among others – and, as you'd imagine, he's done an amazing job of collating the metal themed stories that appear in this blood-soaked tome.
Some of the authors featured are among the finest in the horror field today and include: Lucy Taylor (Bram Stoker Award-winning author for The Safety of Unknown Cities), Sèphera Girón (author of over 15 published books, including The House of Pain, and Borrowed Flesh), Terry M. West (author of What Price Gory, and director of the cult classic horror film Flesh for the Beast), and Del James (author of The Language of Fear).
I've not managed to read the whole collection yet (there are over 500 pages!) but I've read the first few stories, and a few at random – and have enjoyed each and every one of them.  The quality of the writing is first class, and the subject matter is nice and varied – including tales of old gods, serial killers, the supernatural, and – of course – satan himself.
If you're a fan of horror fiction this book is highly recommended !
Score: 9 out of 10
BOOK INFO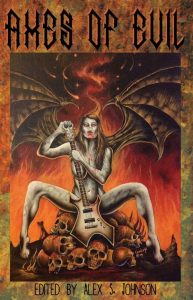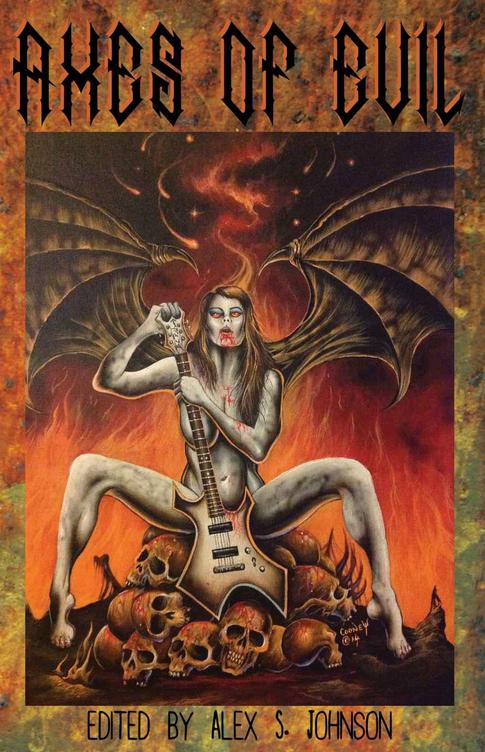 Contents
01.  Introduction by Alex S. Johnson
02.  Mourningstar by Del James
03.  All the Rage by Lindsey Beth Goddard
04.  The Plaster Casters Rise Again by Charie D. La Marr
05.  The Cold and Lonely Tombstone… by Jeff O' Brien
06.  Battle of the Bands by Joel Kaplan
07.  The Doom to Come by Andrew Freudenberg
08.  Sinister Cavan by Jim Goforth
09.  Beyond Death by Chuck Rios
10.  Rio Grande Blood by Chris Kelso
11.  Tones of Skin and Bones by Michael Faun
12.  Seven Goats by Mathias Jansson
13.  Louder, Faster… by John Claude Smith
14.  Ex-Punk by MP Johnson
15.  An Unholy Statement by Kerry Lipp
16.  Keltorrian by Jacurutu23
17.  Let Him Who Hath Understanding by Morgan Sylvia
18.  Frygga: Dreams of Fire by Christine Morgan
19.  Death Call by Christopher Hivner
20.  Gargamathanga by Martin Garrity
21.  Backstage Passes by Anna Haney
22.  Rita by Mimi A. Williams
23.  Die, Clown, Die! By Alex S. Johnson
24.  Once Bitten, Twice Shy by Charie D. La Marr
25.  Rock and Roll All Night by Sèphera Girón
26.  Hardcore Crust by Terry M. West
27.  Unholy Concoction by Robert Holt
28.  Axes of Discordance… by Jayaprakash Satyamurthy
29.  Crush by S. MacLeod
30.  Harbinger Master by G. Arthur Brown
31.  The Dreadheads by Grant Wamack
32.  Before the Ball by Ray Van Horn, Jr.
33.  To Hell With the Metal by Sean Leonard
34.  Extremophiles by Lucy Taylor
Release Date
26th March 2014
Publisher
Chupa Cabra House
Links
Amazon.co.uk – Kindle edition
Amazon.co.uk – Paperback
Amazon.com – Kindle edition
Amazon.com – Paperback
How useful was this post?
Click on a thumb to rate it!
Average rating / 5. Vote count: