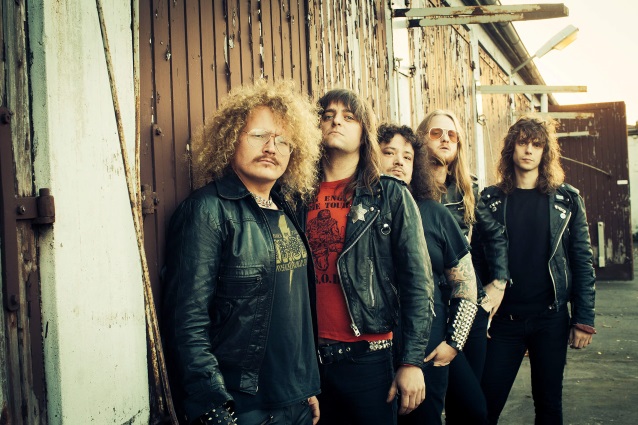 Bullet – Dust To Gold
19th April 2018
0
By
John Deaux
Airborne are to AC/DC just as Bullets new album Dust To Gold is to era Judas Priest. 
With the demise of bands such as Black Sabbath, Slayer and Motley Crue, it's not a bad thing that certain bands, like Bullet are coming through and keeping that style of metal alive for old and new fans alike. 
Dust To Gold is a classic slice of metal with Rob Halford/Axl Rose style vocals. Sonically, this album needs to be enjoyed at the same volume as a monster truck rally.
Beautifully produced and mixed. I was lucky enough to be sent the limited edition 180gm gold-colored record (which incidentally comes with a CD copy of the album). Don't get me wrong, CDs and MP3s are great and convenient, but NOTHING beats the sound of analogue in my opinion. Especially when comparing an album such as this.
Throughout the entire 39 minute recording there's riff after riff of epic proportions, pounding drums, rumbling bass and vocals that make your ears bleed.
There's plenty on this album to make your ears pick out ear worms. The title track and Rogue Soldiers are just a couple of these moments (well, it was for me). 
Although Dust To Gold isn't re-inventing the wheel, it does a very good job at keeping traditional metal alive in an age where most bands seem to have downtuned their guitars and play Panteraesque riffs combined with god awful Djent.
Bullet are a welcome addition to the resurgence of traditional sounding metal.
BULLET are:
Alexander Lyrbo (guitars) 
Hampus Klang (guitars) 
Gustav Hector (bass) 
Hell Hofer (vocals) 
Gustav Hjortsjö (drums)
Score 7/10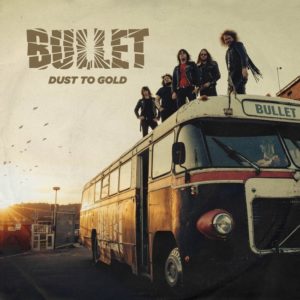 Track List
01. Speed And Attack 
02. Ain't Enough 
03. Rogue Soldier 
04. Fuel The Fire 
05. One More Round 
06. Highway Love 
07. Wildfire 
08. Screams In The Night 
09. Forever Rise 
10. The Prophecy 
11. Hollow Grounds 
12. Dust To Gold
Release Date
20th April 2018
Label
Steamhammer/SPV
 
Available physical formats:
Format:                     CD
Packaging:              DigiPak + poster
 
Format:                     2 LP + CD (in paper sleeve)
Packaging:              Double Gatefold, 180g, printed inner sleeves, golden vinyl 
For all things Bullet, click HERE and to purchase the album, click HERE
How useful was this post?
Click on a thumb to rate it!
Average rating 0 / 5. Vote count: 0
No votes so far! Be the first to rate this post.
Related
About the author
Some say Yank My Doodle, It's A Dandy! is a biographical movie based on John. Some have even said that his favorite artist is Chesney Hawke! All we really know is he sleeps inside out and his hair tastes like candy floss.