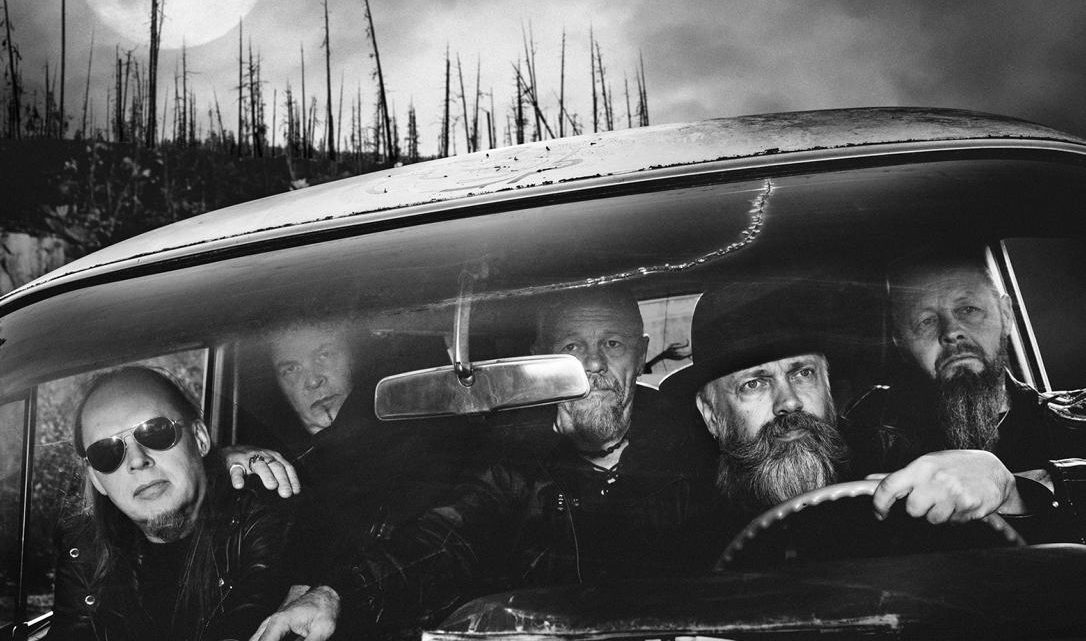 CANDLEMASS – New Video Featuring Tony Iommi
30th January 2019
CANDLEMASS have come full circle: Their first singer Johan Langquist (who left the band after singing on the legendary 1986 debut Epicus Doomicus Metallicus) has returned!
They are set to release their 12th full length album The Door To Doom February 22nd via Napalm Records.
Now CANDLEMASS have dropped the second song from the album featuring legendary BLACK SABBATH guitarist Tony Iommi.
Leif Edling states:
"Here's the video for Astorolus. Monsters and Gods come in different shapes. The eternal wheel of birth and death portrayed in a cool video and great song. Talking about gods, the master himself, Tony Iommi is playing the solo here (part 1+2 out of 3). Immense feeling, wonderful tome, so much presence!  Just incredible! Hats off to him for helping us out. A dream coming true! Looking forward to play it live on the tour with Ghost. We're rehearsing it right now. New stuff and the old classics. Can't wait to go out on this tour. Johan is back singing, "The Door to Doom" is getting brilliant reviews, the band is in great form… Will be a blast "!
Pre order The Door to Doom right HERE!
The Door To Doom unsurprisingly follows the plotline mastermind, songwriter and bass player Leif Edling established in the past years: epic world class doom metal that relies on slow mammoth riffing. With Johan Langquist`s highly dramatic vocal style and the love for details, the band made this album to the next "Epicus". This masterpiece is rounded off by a beautiful guest appearance by none other than Black Sabbath`s Tony Iommi on "Astorolus – The Great Octopus".
Tony Iommi on his appearance:
"Candlemass are a major force in Scandinavian heavy rock and have always ackno
wledged the influence we had on their music.  They asked if I'd contribute to a track which sounded pretty good so I thought 'why not' ".
The Door to Doom Track Listing:
1             Splendor Demon Majesty
2             Under The Ocean
3             Astorolus – the Great Octopus
4             Bridge Of The Blind
5             Death´s Wheel
6             Black Trinity
7             House Of Doom
8             The Omega Circle
CANDLEMASS On Tour:
A Pale Tour Named Death – Candlemass special guest for Ghost:
03.02.19 FR – Lyon / Tony Garnier
05.02.19 NL – Amsterdam / AFAS Live
06.02.19 BE – Antwerp / Lotto

07.02.19 FR – Paris / Zenith
14.02.19 DE – Stuttgart / Schleyerhalle
15.02.19 DE – Bochum / Ruhrkongress
17.02.19 DE – Hannover / Swiss Life Hall
18.02.19 DE – Hamburg / Sporthalle
20.02.19 SE – Gothenburg / Scandinavium
21.02.19 NO – Oslo / Spektrum
23.02.19 SE – Stockholm / Ericsson Globe
Festivals:
13.04.19 BE – Durby / Durbuy Rock Festival
27.04.19 DE – Könighofen / Keep it True Festival
29.04.19 SE – Helsinki-Stockholm / Silja Cruise
11.05.19 DK – Copenhagen / Nordic Noise Festival
07.06.19 SE – Sölvesborg / SwedenRock
21.06.19 BE – Dessel / Graspop Metal Meeting
22.06.19 FR – Clisson / Hellfest
05.07.19 ES – Barcelona / Rockfest Barcelona
13.07.19 DE – Balingen / Bang Your Head Festival
02.08.19 RO – Rasnov / Rockfest Extreme
07.08.19 ES – Villena / Leyendas Del Rock
08.08.19 PL – Vagos / Vagos Metal Fest
CANDLEMASS are:
Leif Edling: Bass
Mats "Mappe" Björkman: Guitars
Jan Lindh: Drums
Lars "Lasse" Johansson: Guitars
Johan Langquist: Vocals
For More Music And Info Visit:
CANDLEMASS.SE
FACEBOOK.COM/CANDLEMASS
INSTAGRAM.COM/CANDLEMASS_SWEDEN
NAPALMRECORDS.COM

How useful was this post?
Click on a thumb to rate it!
Average rating / 5. Vote count: