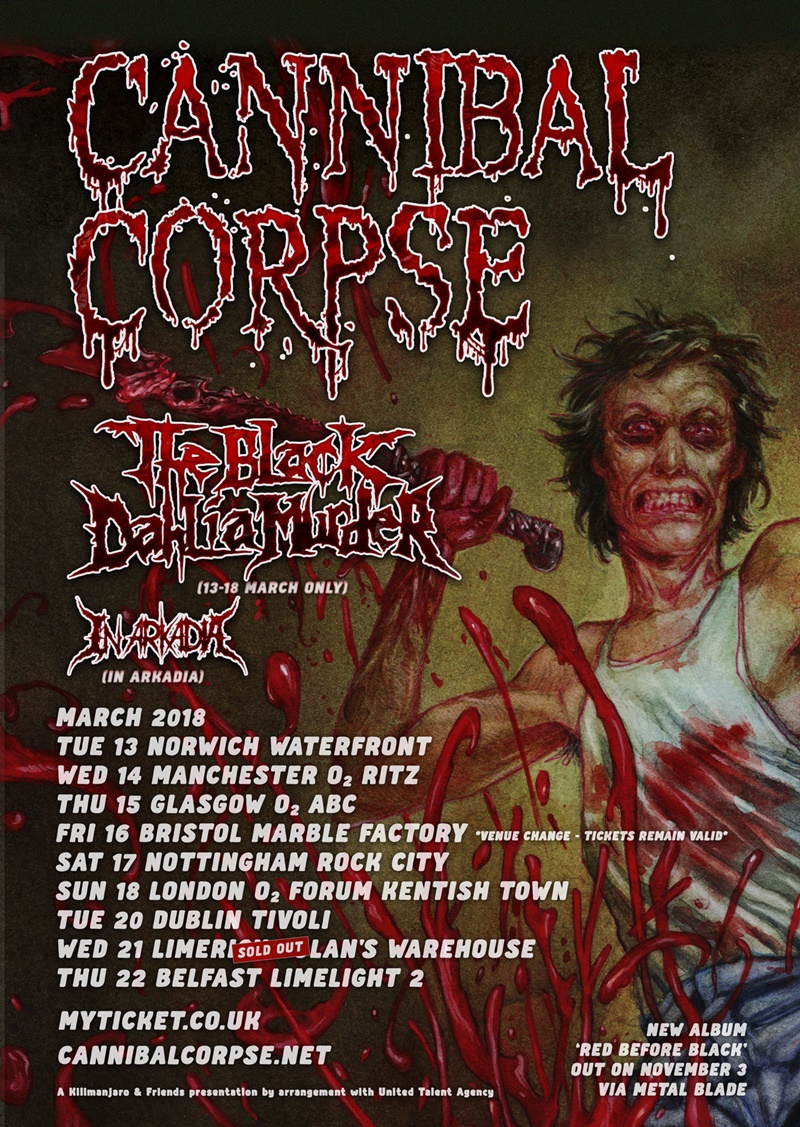 Cannibal Corpse- Kentish Town Forum (18/03/18)
19th March 2018
The sheer brutality of today's line-up is second to none. In Arkadia, a virtually unknown band, are given the chance to open for one of death metals best current bands, The Black Dahlia Murder. Followed by, arguably the most important death metal band in history. To have this event hosted at one of the few London venues well versed in hosting heavy music is the icing on the cake.  
It's hard to say whether that's their fault or the crowd's, but In Arkadia just aren't able to keep the audience as excited as they should be. They have the technical skill, but to succeed in death metal you need to be bringing something different to the table to avoid the curse of sounding samey, and aside from the slightly gimmicky use of two singers, they don't really do that. Having said that, for essentially a 3 piece death metal band (neither singers had an instrument) the depth and quality of their sound was impressive. 
As The Black Dahlia Murder take to the stage, the excitement builds straight back up. Singer Trevor Strnad prowls the stage wearing (for some reason) shorts, despite the flurry of snow outside and despite fronting some pretty extreme music, leaves his glasses on. His smiles and crowd interactions are actually quite heart-warming- he seems like quite a nice bloke, which isn't normally the visage death metal singers go for. Early on in the set, he announces the impressive statistic that this is their 170th show with Cannibal Corpse (and their last for this tour). Quite an accolade in the death metal world.
The band power through a lot from their newest release, 'Nightbringers', which all receives an overwhelmingly positive response from the crowd and includes opening track 'Widowmaker', which was personally one of the highlights of the entire night. Every now and again, Strnad would simultaneously hype the audience and terrify drummer Alan Cassidy up by announcing the next one is a fast one. The look of concentration on the drummer's face as he produced some quite unbelievable blast beats was impressive in itself. About halfway through, we reach the Scooby-Doo named 'What A Horrible Night To Have A Curse', which is one of the few death metal songs to use a 3/4 time signature- like a sort of deranged, guttural waltz. I've never seen a waltz open up a pit before. They end with 'Warborn', the closing track from 2008's 'Nocturnal'. The dense overdrive and fierce shrieks combine to produce a live performance just as good as the 10-year-old recording and conclude an excellent performance.
Set List
Widowmaker
Contagion
When the Last Grave Has Emptied
Jars
Kings of the Nightworld
What a Horrible Night to Have a Curse
Nightbringers
Matriarch
On Stirring Seas of Salted Blood
Catacomb Hecatomb
Everything Went Black
Warborn

Now it was time for the main event and the icons everyone had been waiting for. A band who have remained pretty much at the top of their field for almost 30 years and still have quite a consistent lineup is an impressive feat. Their stage is draped in the never-changing decor of a single flag bearing their logo, and a consistent red light. This is one of my favourite things about their live show. They don't feel like the need to accompany every blast beat with a flashing white light or bring out lasers during a solo. Nothing changes, and that reflects their style of pumping out brutal death metal until they physically can't. They open with 3 incredible tracks from their latest release 'Red Before Black' and the tone for the whole show is set: the pits are on a new level, George 'Corpsegrinder' Fisher spends every moment he isn't singing engaging in some spectacular head banging, and the technical proficiency of the band is second to none.
The tapped riff of 'Evisceration Plague' is the highlight of the night as the track's slow tempo acts as the ballad of the night where the band's virtuosic understanding of their instruments can be appreciated. Corpsegrinder introduces every song they play with one of his trademark guttural growls, and it is a wonder how he keeps it up every night. I try one growl and I have a cough for 3 weeks. Similarly, he seems to have a set headbang-routine for every track, knowing exactly where and when he'll change his pattern, whether it's the simple rocking back and forth of the head or a furious windmill that makes him look as if his head is literally about to fly off into the crowd. And Alice Cooper thought he'd done something daring with the chicken. If I attempted anything the frontman does for 20 seconds, let alone 90 minutes, I'd actually feel my brain clattering against the walls of my skull. Despite the band turning around in unison to get a drink every few songs, leaving the audience in anticipatory silence, they had yet to acknowledge our existence. When the moment finally came, you can't help but laugh at the incredibly normal voice of arguably the best vocalist in death metal history.
Throughout the show I was trying to determine what their most brutal track was, with 'Pounded Into Dust' taking the crown at first through its perfectly replicated, chugging riffage. But it was soon toppled from the throne by one of the oldest tracks of the set, 'Gutted', and then 'Devoured By Vermin', who's blast beats were beyond comprehension. I spend a lot of time watching drummers, and the juxtaposition of the smile on Paul Mazurkiewicz's face and the blur of his hands and feet was quite something to watch. But finally, as predicted by Corpsegrinder himself ('see if you can keep up with this one- you won't be able to, but try') it is the delightfully named 'I Cum Blood' which takes the official victory. The sheer speed and violence of the performance sparked the most energetic mosh pit I've ever seen, with limbs flying everywhere and crowd surfers being thrown around like beach balls at a festival. Of course, the head banging speed was indescribable and at times painful to watch- it really did look like his head was about to unscrew.
The night begins to wind down with 'Make Them Suffer', which is met with screams from the crowd as Corpsegrinder screams it at them himself, and a stunning rendition of 'Stripped, Raped And Strangled' which prompts Trevor Strnad to return to the stage for the final time on this tour to provide his own vocal input as Corpsegrinder continued to mind his own business and head bang to his heart's content. The difference in their vocal performances is really exemplified here, but somehow both work equally well in the context of this track. Finally, it is of course time for the defining death metal song, and quite simply work of art that is 'Hammer Smashed Face'. The bass solo is perfect as ever, the introduction actually does sound like a hammer smashing a face and, in my humble opinion, Corpsegrinder performs the track better than Chris Barnes' original. It is the perfect (and only) way to end a night of sheer brutality, and long may Cannibal Corpse continue to perform and write music in the way they always have.
Set List
Code of the Slashers
Only One Will Die
Red Before Black
Scourge of Iron
Evisceration Plague
Scavenger Consuming Death
The Wretched Spawn
Pounded Into Dust
Kill or Become
Gutted
Corpus Delicti
Devoured by Vermin
A Skull Full of Maggots
I Cum Blood
Make Them Suffer
Stripped, Raped and Strangled (with Trevor Strnad)
Hammer Smashed Face
Score 9/10