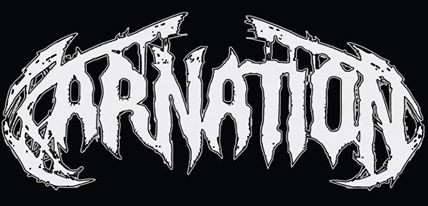 Carnation- Chapel of Abhorrence
13th August 2018
0
By
Tabitha Prisinzano
I initially had high hopes for Belgian death metal band "Carnation's" debut full length release "Chapel of Abhorrence." The Belgian foursome formed only 5 years ago and has already released and EP, a split and a live album, in addition to being signed to the major underground label Seasons of Mist.
I've been a long time fan of the French based metal label, as it's home to many of my favorite bands, such as "Black Tusk," "Destroyer 666," "Horrendous" and even the legendary "Mayhem." I hoped for similar quality from "Carnation's" debut. Unfortunately, I have mixed feelings about this release.
The album kicks off with a feedback laden slow and crushing riff that would immediately catch the attention of even the most jaded extreme metal devotee. The tempo of "The Whisperer" flip flops between grooving guitars licks and pummeling blasts to slow and doomy interludes. As is expected with most good death metal, drummer Vincent Verstrepen's pounding blasts are at the forefront of the sound and add a bestial quality to the overall feel of the recording. "Carnation's" debut is ever fitting with the formula of straight-up old school, European death metal. That said, I think these guys could have deviated just a tad from the formula for originality sake.
For the most part, "Chapel of Abhorrence" is a good debut effort – it's stripped down, old school death metal in the vein of early Entombed, Jungle Rot or even Bloodbath, and there's nothing wrong with that. But the feel of this LP is a bit too simplistic for many, more seasoned, death metal aficionados. That might not be so bad though. This a great beginner extreme metal band for people who are craving something a little heavier than the Metallica they've been brought on. The vocals are intelligible growls that beckon the listener to sing along and the guitars are just distorted enough to give the band that brutal appeal. I think a lot of die-hards are going to find this album to be lacking a bit in complexity, however.
Tracks like "Hellfire" or "Unconquerable Sun," for example, are the kind of driving death metal that forces itself upon the listener, indeed, but they both lack interesting progressions throughout the songs that would, ultimately, make them stand out. I did feel the band gained a bit of momentum at the end of the album. "Magnum Chaos" and "Sermon of the Dead" are among the strongest tracks on the album – with both cuts filtering between pummeling intensity and slow, doomy breakdowns throughout.
Overall, I think this was a decent effort. I'd say this is a band to watch for to see how they grow throughout their career. While "Chapel of Abhorrence" didn't quite excite me, it didn't turn me off either. This album gets an unenthusiastic nod from me. It could be a lot worse.
Score 6.5/10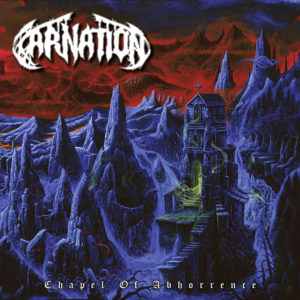 Track-list
1. The Whisperer (6:16)
2. Hellfire (4:17)
3. Chapel of Abhorrence (3:23)
4. The Unconquerable Sun (4:10)
5. Disciples of Bloodlust (3:28)
6. Hatred Unleashed (3:23)
7. Plaguebreeder (3:45)
8. Magnum Chaos (4:41)
9. Sermon of the Dead (4:38)
10. Fathomless Depths (5:38)
11. Power Trip (4:02)
Total playing time: 47:41
Label
Seasons Of Mist
Release Date
17th August 2018
For all things Carnation, click HERE and to purchase the album, click HERE
How useful was this post?
Click on a thumb to rate it!
Average rating 0 / 5. Vote count: 0
No votes so far! Be the first to rate this post.
Related
About the author
Tabitha is elitist metal head who loves cats, fried chicken, horror movies so twisted they make you question her mental stability, reading books from obscure authors and head banging. Favorite bands include: Kroda, MGLA, Destruction, Kreator, Dismember, Shining, Thy Light, and the first five Slayer albums