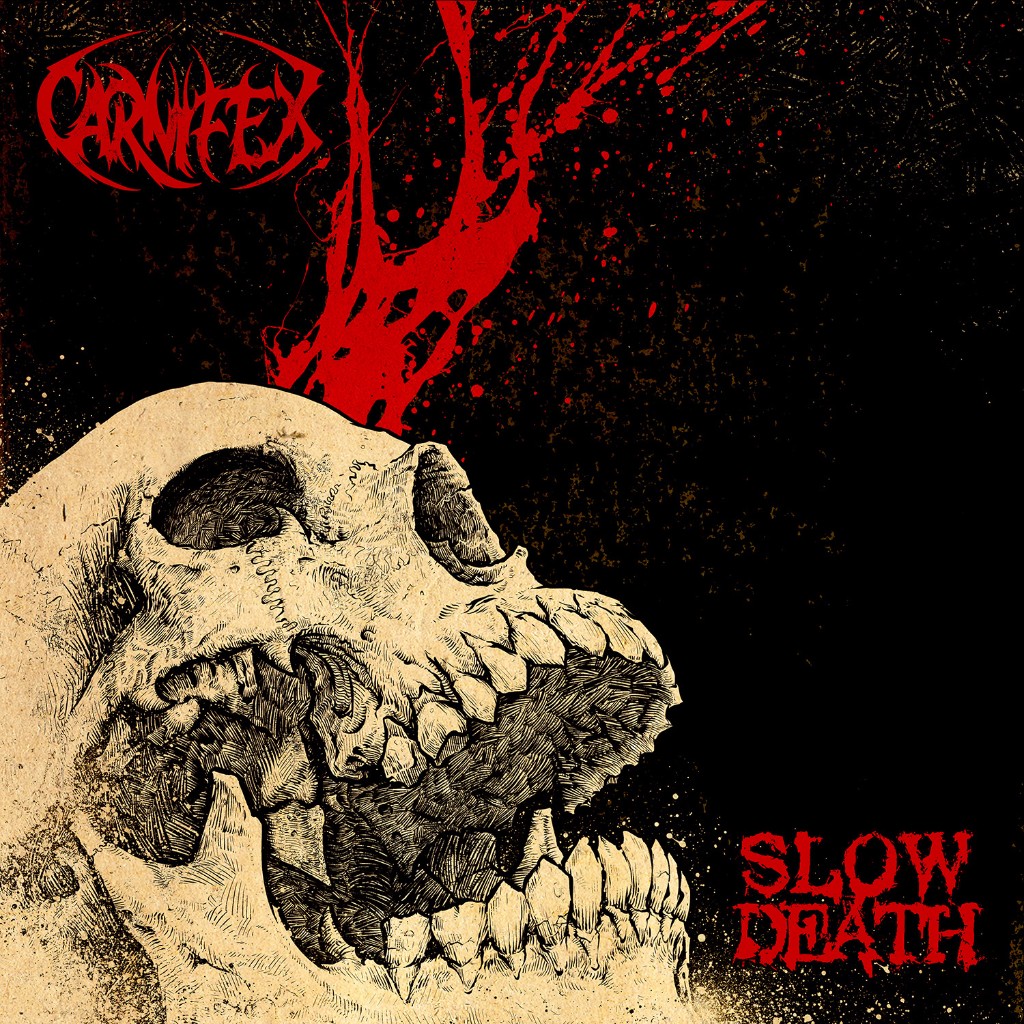 Carnifex – Slow Death CD Review
27th July 2016
Deathcore if oft used as a dirty word in heavy metal, but this was not always the case. With its inception in the mid 00's, it was something new, and fresh. Something that mixed the brutality of death metal and the beat-down groove of hardcore and not yet been properly explored nor unleashed on the unwitting heavy metal public. However, as with everything new that grabs our attention, it became over-saturated with bands that can only be described as deeply mediocre at best. However, the genre heavyweights have always pushed the boundaries and excelled past the beat-down happy mediocrity – the likes of Whitechapel, Despised Icon, Suicide Silence, and, of course, Carnifex, who are on the cusp of releasing their sixth album, Slow Death.
I'll be honest, deathcore has never particularly been my thing. I enjoy a number of deathcore albums, but it was already passed the point of over-saturation by the time I discovered it, and the simplicity of the vast majority of deathcore bored me – and still does. However, Carnifex's newest offering, Slow Death, is far from boring. Carnifex write songs, not just three-minute breakdowns. From the haunting piano that starts off Slow Death in Dark Heart Ceremony to the abrupt closing growl of Servants To The Horde, Carnifex deliver an inspired, groove-laden a simply enjoyable brand of deathcore. Yes, it does have the vilified characteristics of a deathcore record – there are plenty of breakdowns, and more than a couple of chug-based riffs – but Slow Death is built on so much more than that. Many of the riffs are weighed down with the kind of groove one would expect from Lamb of God or Machine Head, and there is a decent mount of shredding in there as well. Slow Death's title track even has a stunning,if short, bluesy guitar passage before it dives into a solo. One of the most notable aspects of Slow Death, however, is the distinctly blackened feel this record has – this black metal influence gives Carnifex a whole new dynamic, and it would be criminal for them to not carry this exploration into new records.
Drown Me In Blood, which was the first track to be released from Slow Death, feels more like a blackened death metal song than a deathcore one when it kicks off with the sinister riff work. The deathcore elements do return with a couple of breakdowns throughout the track, but Scott Lewis' vocals remain tortured throughout. Life Fades To A Funeral is a two-minute excercise in heartache, with melancholic piano taking centre stage and leading in perfectly to Slow Death's highlight, Countess of the Crescent Moon. Countess… is possibly the least deathcore-like track on the album, and feels like pure blackened death metal almost entirely through. There is a couple of brief breakdowns, but after a shreddy solo Carnfiex dive back into the blackened death riffing. Servants To The Horde is the most savage track on Slow Death, and from the opening note to the last growl, it is dripping with visceral hatred.
Slow Death is probably the most imaginative, inspired and enjoyable deathcore record you will hear this year. It still has the tropes that mar the subgenre, but unlike the vast majority of deathcore bands, Carnifex for the most part do not overplay the breakdowns and simplistic riffing – rather they utilise them to break up the savagery that the majority of Slow Death displays. Leaning far more to death metal than hardcore, and with the blackened elements displayed on Slow Death, Carnifex have once again carved their place as the undisputed kings of deathcore.
Score: 8.5 out of 10

Album Info:
Track List:
1. Dark Heart Ceremony
2. Slow Death
3. Drown Me In Blood
4. Pale Ghost
5. Black Candles Burning
6. Six Feet Closer To Hell
7. Necrotoxic
8. Life Fades To A Funeral
9. Countess Of The Screscent Moon
10. Servants To The Horde
Release Date:
5th of August 2016
Record Label:
Nuclear Blast Records
For Fans of…
Whitechapel, All Shall Perish, Suicide Silence